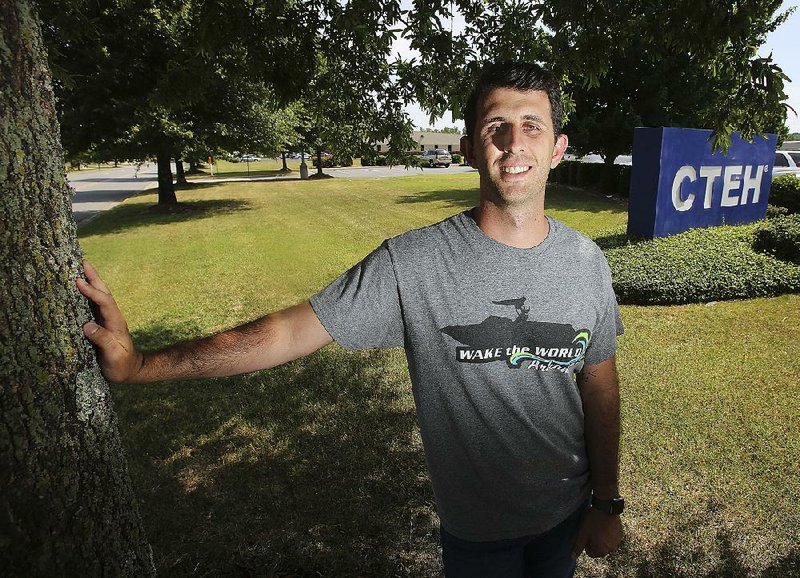 Jake Bird will take more than 90 children and adults to Lake Ouachita later this month — some who will experience swimming and boating for the first time. He is a state coordinator for Wake the World, a national program that exposes children in need as well as handicapped individuals to watersports. ( Arkansas Democrat-Gazette / Thomas Metthe)
Jake Bird of Hot Springs plans to take dozens of kids to Lake Ouachita on July 21, and for some it will be their first time on the water.
Bird is a state coordinator for Wake the World, a national nonprofit organization founded in 2008 that provides water recreation opportunities for children in need, as well as handicapped individuals and wounded veterans.
His desire to introduce people -- especially children -- to boating and watersports happened after he and his wife, Sarah, bought a wake board boat in 2016.
The Hot Springs couple first formed Love.Christ.Ride, a Christian program where they take people out on their boat to enjoy a day on the lake while talking about their religious convictions. The Birds are members of First Baptist Church in Hot Springs.
Later, Bird started a Wake the World event.
"We wanted to use our boat to show people what watersports is," he says. "Show people that you can have fun on the water without drinking, without drugs and without partying," says Bird, who is director of logistics and operations support for CTEH.
CTEH is a science-based consulting firm that offers readiness, response and recovery services -- from environmental data collection to human health risk assessment -- to protect workers, communities and the environment.
The Love.Christ.Ride ministry began when Bird met people at gas stations, on a boat ramp or just about anywhere and invited them to go out to Lake Ouachita.
"It's teaching people watersports, loving on them. Everything is free. We do everything because we want people to experience what we fell in love with," he says. "We have been using our passions to share with others, and in that process, we want to tell people about Jesus."
The Birds' 5-year-old son Benjamin learned to water ski at 13 months. Benjamin is on the lake frequently with his parents.
"After I had my son I knew I had to use the blessings that I had and my passions to give back to people who didn't have that. My son gets to experience that all of the time, and some of these kids may never have gotten that experience before," he says. The Birds also have a newborn daughter, Andi.
Bird began searching for a way to take more kids on his boat who are not as privileged as Benjamin. "What my kid experiences every day might be the best day of another kid's life." After some research, he found Wake the World.
"I was looking for ways we could start an event to meet new people, to have more people come," Bird says.
In 2017, Bird helped James and Bridgette Eason of Maumelle with an adaptive event for disabled people. James is a quadriplegic who was able to wake board again at a 2012 Wake the World event.
In 2018, Bird contacted Compact Family Services and made arrangements to take about 60 children and employees from Hillcrest Children's Home in Hot Springs to Lake Ouachita through Wake the World. The home serves homeless, abused, abandoned, neglected, orphaned and maltreated children.
"We give them a day on the lake," Bird says. Some of them have never swum before. "They are scared to get on the boat. We might spend half the day working with them to get on the boat dock."
Brian Page, administrator of Hillcrest Children's Home, says he was attending a funeral and was not able to attend last year's Wake the World event. When he returned, he was "blown away" by comments from his staff and children about the event.
"They were saying this was one of the best events they have ever been to," Page says.
Page says some of the children were scared to get on the boat. Others were scared to get in the water. But after that day on the lake, the children are counting down the days until they can do it again.
"Jacob puts together an incredible team and they do an amazing job," Page says.
To make it all happen, Bird contacted 10 other boat owners who volunteered their time to take the kids out. The volunteers also provided their own gasoline and drinks.
After the day at the lake, Bird received a letter from an 18-year-old girl who told him, "This is the first time I felt like a normal kid."
For the July 21 Wake the World event, Bird has lined up 70 volunteers and 23 inboard-motor boats. More than 90 kids and employees of Hillcrest Children's Home have signed up. The boys and girls range in age from 6 months to 18 years old.
The Easons are among the volunteers.
"Jake has a love of watersports and a strong faith, and he just wants to share that with everybody," Bridgette Eason says.
The kids and employees from Hillcrest Children's Home will spend the day at Mountain Harbor Resort and Spa. The outing includes boat rides, watersports, lunch and dinner.
"We are there to form relationships with these kids and their houseparents, too. We just want to be part of their family -- their lake parents," Bird says.
Wake the World will host almost 60 events in 28 states and Canada this year. More information on Wake the World is at waketheworld.org. Contact Jake Bird at (501) 366-3074.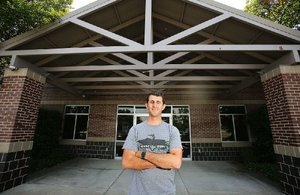 Photo by Thomas Metthe
After buying a boat in 2016, Jake Bird started looking for ways to expose children in need to watersports. He found the answer through Wake the World and is now a state coordinator for the nonprofit.
High Profile on 07/07/2019
Print Headline: Wake the World nonprofit shares boating with kids
Sponsor Content