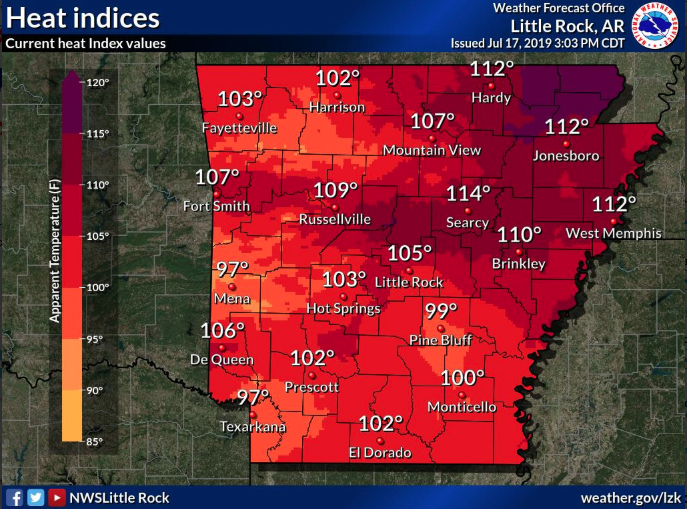 A National Weather Service map shows heat indices across Arkansas on Wednesday.
Heat advisories across parts of northern and eastern Arkansas were upgraded Wednesday afternoon to excessive heat warnings, the weather service said.
Forecasters said the excessive heat warnings will remain in effect until 7 p.m. or later in affected areas.
The weather service also plans to issue a heat advisory Thursday for much of the northern half of the state, which will be in effect from 11 a.m. to 8 p.m.
Heat indices across much of the state on Wednesday were above 100 degrees at 3 p.m. with some areas reaching as high as 114 degrees, according to the weather service.
"It's a steamy one out there," the National Weather Service in North Little Rock wrote in a tweet.
The national weather service in Memphis, which also covers portions of east Arkansas, urged people to avoid being outdoors, bring pets inside and seek air conditioning.
Cooler temperatures are expected to make their way to Arkansas in the coming weeks, forecasters said.
"We'll be looking at relief early next week," said Jeff Hood, a weather service meteorologist.
Hood said forecasters predict temperatures next week across much of the state to be between 80 and 90 degrees, a drop in average temperatures for this time of year, which are usually 90 degrees or higher.
Sponsor Content