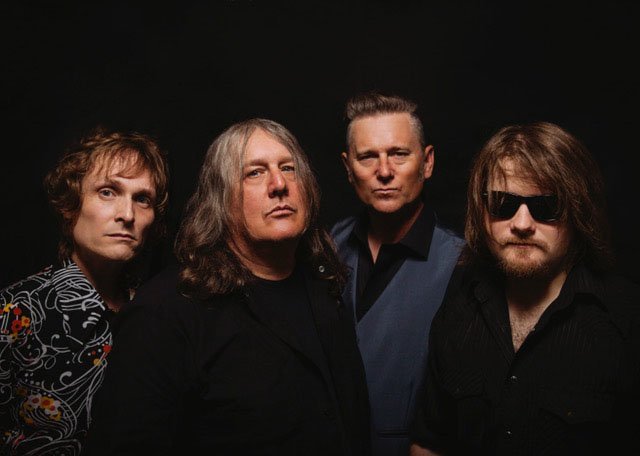 Georgia-based rockers Drivin N Cryin -- (from left) Dave V. Johnson, Kevn Kinney, Tim Nielsen, Laur Joamets -- perform Saturday at Rebel Kettle in Little Rock.
Drivin N Cryin co-founder and bassist Tim Nielsen is about to hang 10, but first there is work to be done.
"I'm tying up the last-minute details in the changes to our European tour plans, and then I'm going surfing," says the 55-year-old Nielsen from his home in Charleston, S.C.
Drivin N Cryin
7:30 p.m. Saturday, Rebel Kettle Brewing, 822 E. Sixth St., Little Rock
Admission: Free
(501) 374-2791
Wait. A hard-touring, rock 'n' roll lifer from Drivin N Cryin surfs?
Sure.
"I catch a couple of waves. My kids are out there surfing and I'm out there flopping around like a seal," he says with a laugh. "I bring my surfboard out there like a champ every day, though."
Nielsen formed Drivin N Cryin in Atlanta in 1985 with singer-songwriter Kevn Kinney, molding alternative and Southern rock with folk and country accented by Kinney's hard living, grit-lit lyrics and high-pitched vocals.
They've recorded 10 studio albums and a handful of EPs. With constant touring and albums like 1989's breakthrough, Mystery Road, Fly Me Courageous from 1991 and on tracks like "Straight to Hell," "Honeysuckle Blue" and others the band developed a loyal following. They were also the subject of a 2013 documentary, Scarred But Smarter: Life N Times of Drivin N Cryin.
The group, with drummer Dave V. Johnson and new guitarist Laur Joamets, will return to Rebel Kettle Brewing in Little Rock for a show on Saturday. They're on the road in support of the just-released Live the Love Beautiful, which was produced by former member Aaron Lee Tasjan.
"It made it very enjoyable," Nielsen says of having the group's former guitarist, who is also an acclaimed singer-songwriter, behind the board. "He gets it. He gets Kevn and he knew what he wanted to do and what he wanted the results to be."
The album is vintage Drivin N Cryin. Kinney, who remains a sometimes overlooked songwriting force, turns his pen on class issues ("Free Ain't Free"); sobriety ("Step by Step") and nostalgia ("What's Wrong With Being Happy") as the group locks into its enthusiastic, Southern-soaked, alt-rock groove throughout.
Recorded in Nashville, Tenn., the record took about a year to complete, with Kinney supplying his demos and the band fleshing them out.
"We all went to Aaron's house in Nashville and Kevn was pulling up snippets of lyrics and riffs that he'd recorded on his phone," Nielsen says. "We had about eight songs that we were happy with at that point. A month later we got to the studio and we wound up with 13 songs. We were all overjoyed with the creative process that was happening right there in the studio. We were all contributing stuff. It came together real nicely and we got 11 great songs that we decided to keep."
Among those is "Ian McLagan," a road-dog ode to the legendary keyboardist of scrappy English pub rockers and Drivin N Cryin spiritual forbears Faces, who died in 2014.
In the song, Kinney recounts seeing the Rock and Roll Hall of Famer McLagan loading his gear in the rain after a set at a club in Austin, Texas, and reminisces about hearing Faces' classic "Ooh La La" for the first time. The track is augmented nicely by Joamets' tasty slide guitar and former Georgia Satellite Dan Baird sings backing vocals.
"That's my favorite one," Nielsen says. "It's a true story. Kevn did see Ian McLagan dragging his gear down the alley in Austin."
The image of one of his rock 'n' roll heroes engaged in such a mundane task was inspiring to Kinney, Nielsen says.
"He thought, 'That guy must really love to play music,' and that's the premise of that entire song. Don't just do one thing in your life and then sit around and brag about it. Keep going, keep making music.'"
It's a lesson that can also be learned from Drivin N Cryin, who have gone from gold records and major labels to DIY touring in a van.
"We just decided to put out Live the Love Beautiful ourselves and we couldn't be happier," says Nielsen, who also manages the band. "We charted on the Billboard charts, we're doing well on SoundScan. We're very pleased."
They've also had some help from their friends. Darius Rucker, a longtime fan and pal, covered the beloved "Straight to Hell" last year with Luke Bryan, Jason Aldean and Charley Kelley, and Drivin N Cryin gets regular love on Sirius XM Radio's Outlaw Country channel.
Oh! Remember when Nielsen was talking about changes to their European tour plans? Well, the day before this July 3 interview, the band learned they would be opening for Rucker's group, Hootie and the Blowfish, on the United Kingdom leg of their reunion tour.
"I consider [Hootie guitarist] Mark Bryan one of my best friends. It's a great opportunity for us to play in front of a lot of people."
In the meantime, look for them at Rebel Kettle, where Drivin N Cryin helped the venue celebrate its second anniversary last year.
"Those guys are super cool to us and we're looking forward to being there," Nielsen says.
Weekend on 07/18/2019
Print Headline: Drivin N Cryin to help Rebel Kettle celebrate
Sponsor Content