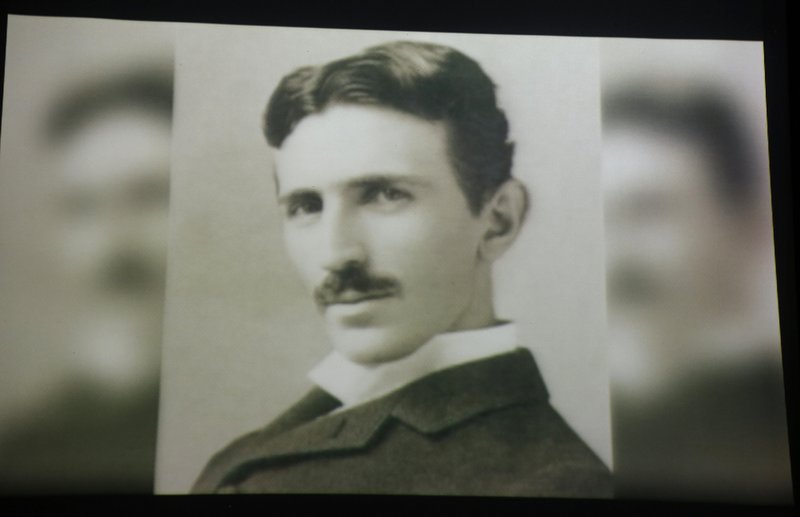 Nikola Tesla's fascination with electricity lives on. The world's largest Tesla coil, a lightning-producing machine, makes its Arkansas debut Saturday night at Shock the Rock. Arkansas Democrat-Gazette/John Sykes Jr.
As a general rule, no one knows when or where lightning will strike.
But on Saturday night, it will strike on the grounds of the Clinton Presidential Center. And everyone is invited to watch.
Shock the Rock
6 p.m. Saturday, Clinton Presidential Center grounds, 1200 President Clinton Ave., Little Rock
Free admission
(501) 396-7050
Lightning can be a scary thing — a wild, uncontrolled destructive force. But for inventor Nikola Tesla, lightning was full of possibilities.
"His goal was to distribute [electricity] through the air wirelessly through lightning," explains Kelley Bass, chief executive officer of the Museum of Discovery. "He created these Tesla coils to shoot lightning."
Now, the largest known Tesla coil, 40-feet tall, is coming to Little Rock for Shock the Rock, a Museum of Discovery-sponsored event at the Clinton center.
The coil was built by California engineer and scientist Greg Leyh in 2018 and other than an appearance last weekend in New York, this will be its first showing outside California.
The director of Guinness World Records, John Corcoran, will be in attendance to certify the coil as the world's largest.
The Tesla show will start at 8:45 p.m. and last for 45 minutes under the direction of Leyh, who will unleash what he calls "lightning on demand."
"The main part of the show will be him firing off these amazing 60-foot bolts of lightning and talking about the technology behind them," Bass says.
One of the demonstrations, meant to show how the lightning can fuel electric devices, will feature a small electric car that runs thanks to the coil's bolts.
The coil will be set up on the western edge of the grounds, a safe distance from the crowds.
It will be loud, Bass warns, and while the museum will provide earplugs, he recommends people supply their own if they have them.
Before the show, there will be plenty of other activities to get the audience primed for "fireworks."
The grounds open at 6 p.m. and beginning at 6:30 there will be museum-provided entertainment: demonstrations of a Van de Graaff generator and small, hand-held Tesla coils; and hands-on activities with static electricity and circuit blocks. There will also be music and food and beverage trucks. Lawn chairs and blankets are recommended.
That's not the only Tesla-theme event presented by the museum. The adult-centric Science After Dark at 6 p.m. July 25 will be a Tesla birthday party. Tickets are $5.
But Shock the Rock is free and open to all who have any interest in the innovative world of electricity.
Bass says, "This is a once-in-a-lifetime opportunity to see very cool, world-record technology at work. It will be pretty awe-inspiring."
Weekend on 07/18/2019
Print Headline: Giant Tesla coil to light up the Saturday night sky
Sponsor Content