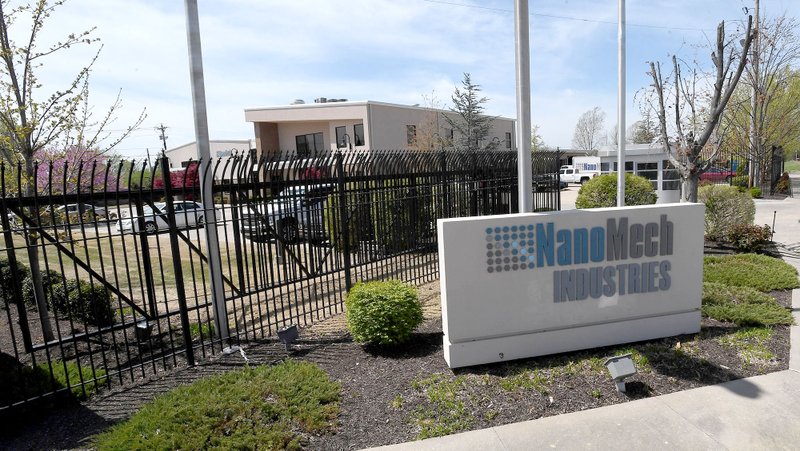 NanoMech of Springdale has filed for Chapter 11 bankruptcy reorganization. The preliminary filing by the nanotechnology firm estimated both its debts and its assets as between $10 million and $50 million. ( NWA Democrat-Gazette / J.T. Wampler)
NanoMech in Springdale said Thursday that it's canceling an auction for the bankrupt company's assets and designating P&S Global Holdings as the successful bidder.
In a court filing, NanoMech gave notice that no other qualified bidders materialized for the company, making P&S' stalking-horse bid the successful bid.
On Wednesday, the court gave the go-ahead for P&S Global Holdings, a subsidiary of petrochemical company Vinmar International Ltd. of Houston, to become the new stalking-horse bidder for NanoMech. NanoMech's largest creditor, Michaelson Capital of New York, was acting as the stalking-horse bidder, the entity that typically sets the minimum price for a company.
According to the order signed by bankruptcy Judge John Dorsey, the $8 million initial bid for NanoMech remained in place. The court also approved Vinmar making a credit bid of up to $13.08 million for NanoMech's assets. The court documents filed Thursday didn't specify the exact amount of the P&S bid.
According to court documents, after Michaelson Capital was named the stalking-horse bidder, Michaelson and Vinmar hashed out a deal to have Vinmar take up Michaelson's pre- and post-petition debt and replace Michaelson as the stalking horse.
A hearing to approve the sale is scheduled for Tuesday.
Vinmar is a global marketing, distribution and project-development company serving the petrochemical industry, according to its website. According to a 2017 news release, the company was founded in 1978 and generated $5 billion in revenue in 2016.
Founded in 2002, NanoMech develops nanotechnology for use in machining and manufacturing, lubrication, packaging, biomedical implant coatings, and the development of specialty chemicals. Nanotechnology is the manipulation of matter at the atomic and molecular level.
NanoMech claims $7.2 million in assets and owes nearly $19 million to its creditors, according to bankruptcy filings. Property includes $2.9 million in inventory; $3 million in intangibles and intellectual property including patents, trademarks and trade secrets; and nearly $350,000 in cash. Total liabilities stand at $18.9 million with $12.5 million owed to creditors secured by property and $6.4 million in unsecured claims. Typically secured creditors take priority and are paid first in a bankruptcy.
Business on 07/19/2019
Print Headline: Lone bid for NanoMech succeeds
Sponsor Content