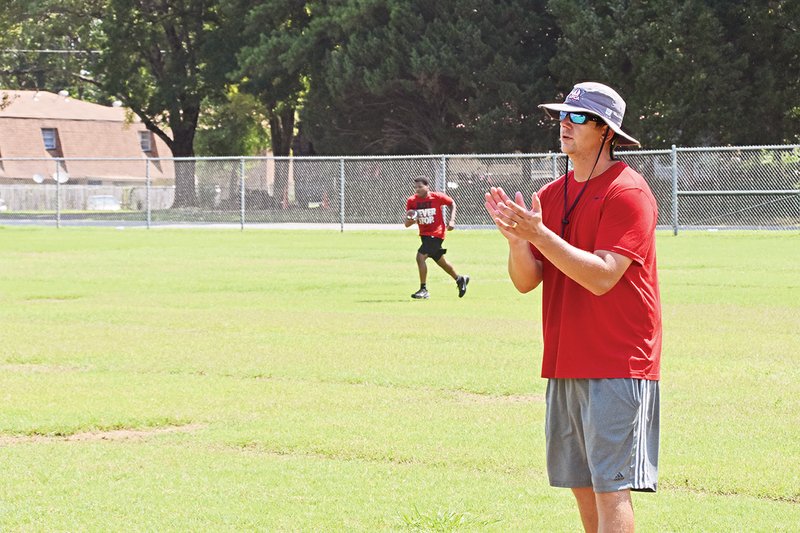 Jacksonville Titans interim head football coach Jordan Johnston watches his players near the end of drills Wednesday morning. Johnston was named interim coach after Barry Hickingbotham resigned to become transportation director for the Jacksonville North Pulaski School District. ( Staci Vandagriff)
JACKSONVILLE — Jordan Johnston was hired in the spring to be the offensive coordinator for the Jacksonville Titans. Now he's the football team's interim head coach.
Johnston, 26, replaces former coach Barry Hickingbotham, who resigned to become transportation director for the
Jacksonville North Pulaski School District. Hickingbotham was coach for four years, compiling a 10-30 record, including 3-7 a year ago.
Johnston is a 2011 graduate of Bald Knob High School. His father, Paul, was the longtime head coach of the Bulldogs. Johnston played two seasons at Arkansas State University in Jonesboro before injuries forced him out, and he concentrated on becoming a coach.
"I decided I didn't want to to do anything but coach because I love the game so much," Johnston said.
Johnston was an assistant football coach at Cedar Ridge High School for one year and at Marion High School for two years before serving as an assistant football and head baseball coach at Riverview during the 2018-19 school year.
"I was offensive coordinator under Jed Davis at Marion," he said. "He was fantastic. [The number of players was] really low in the 30s. We ended up getting numbers back in the 60s and 70s. We hosted playoff games in back-to-back years. I got to learn under a great offensive mind, a great motivator. I learned a lot from him."
After his second year at Marion, Johnston and his fiancee, now his wife, Elliott, who is from Searcy, wanted to get back closer to the area, so he took a job at Riverview.
"Jacksonville, at the same time, offered me a job, but we couldn't get the details worked out before I had to sign on at Riverview, and I didn't want to be without a job," Johnston said. "I met with Coach Hickingbotham and coach [Scott] Waymire (Jacksonville's athletic director). We interviewed in the spring."
At that point, Johnston, who runs a Spread offense, went over his philosophies with them.
"Jacksonville had a dang good defense last year," Johnston said. "They just couldn't put any points on the board. They had one of the best defenses in the 6A-East."
Waymire said the district wanted to do what was best for the student athletes.
"With the timing of the situation — and sometimes, you can't control those things — when you start the second week of July, a lot of coaches are under contract," he said. "By the time you bring someone in and install new stuff, it puts you in a situation where our kids are even further behind."
Waymire said looking for an interim coach internally was the best choice.
"We brought Coach Johnston in during the spring," Waymire said. "He's taken a leadership role during this time, with Coach Hickingbotham taking a new job. [Johnston has] been leading the practices and leading the schedules. It seemed like a good fit. He's a young, energetic coach who comes from a coaching background.
"Coach Johnston is very organized. We need that. We need his energy and enthusiasm, and I think he'll bring that to our program."
Johnston said he started working with the offense three days a week at 6:30 a.m.
"We started to get a good turnout of players," he said. "I think I related with the kids well. They wanted to work and get better."
After Hickingbotham took the transportation job, Johnston said, he thinks his work ethic really helped him land the interim head coaching position.
"It showed the administration that I was serious about the program getting better," he said. "We've just got to build it from the ground up.
"There's a lot of talent. There's a lot of talent in the school that hasn't been playing football. I'm hoping we can get those guys to come out. We have two or three kids who have solid college playing potential. You just don't get that everyday on a normal high school football team."
One thing that Johnston has going for him is new facilities. A new stadium is scheduled to be ready in time for the home-game opener.
"I'm ready to get rolling," he said. "I'm pretty excited about the opportunity. We're getting brand-new facilities. They will probably be some of the nicest in the state. It will be something that Jacksonville will be proud to have. I think the kids will be proud to be Titans."
Jacksonville will open the season Sept. 6 at Little Rock Mills. The home opener at the new stadium will be Sept. 13 against Little Rock Catholic.
Staff writer Mark Buffalo can be reached at (501) 399-3676 or mbuffalo@arkansasonline.com.
Sponsor Content