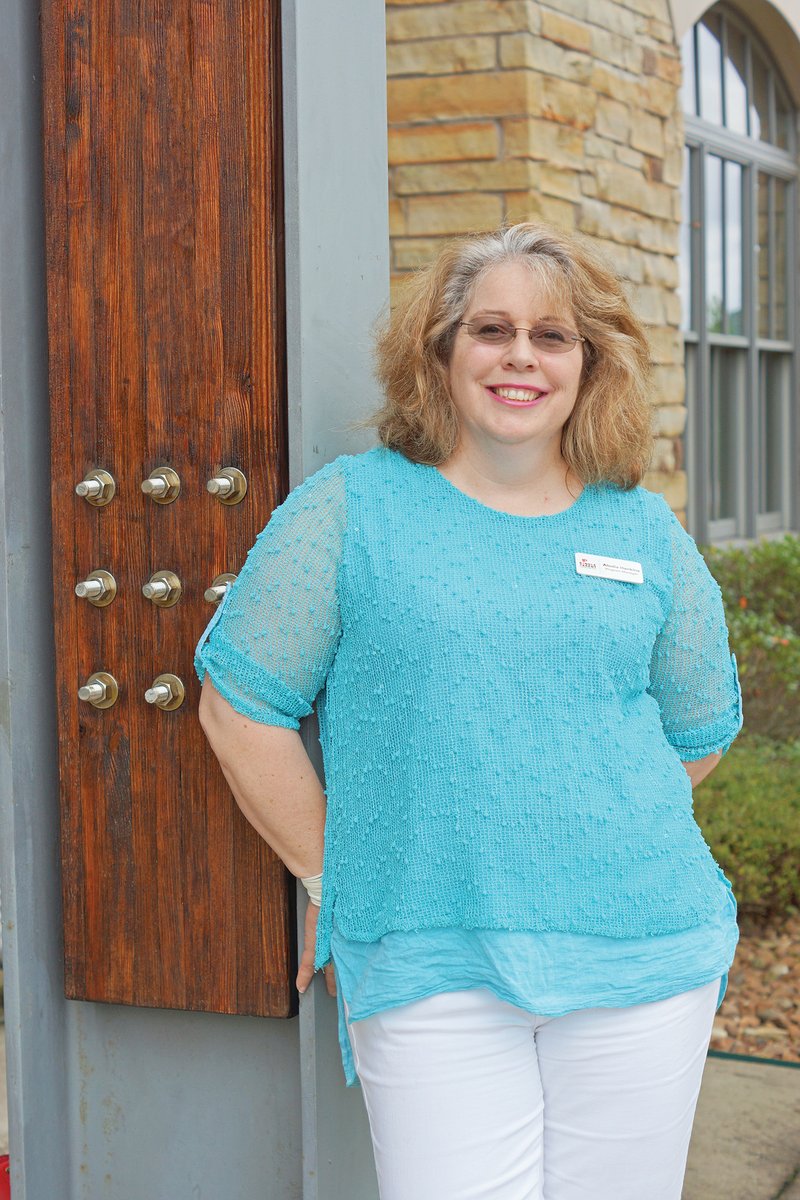 Alodia Hankins of Mountain View became the program manager 1 1/2 years ago for Region 2 of the Arkansas Single Parent Scholarship Fund. Single parents, men or women, can apply for scholarships of up to $1,000. Hankins said that in addition to scholarships to universities and colleges, the money can be used for trade programs to become a plumber, electrician or obtain a commercial driver's license. ( Jennifer Ellis)
Alodia Hankins takes satisfaction in helping single parents, whether it's providing them with a college scholarship or a set of jumper cables.
Hankins, who lives in Mountain View, is program manager for Region 2 of the Arkansas Single Parent Scholarship Fund. It includes Cleburne, Fulton, Independence, Izard, Jackson, Sharp, Stone and Woodruff counties.
"It is very rewarding," Hankins said. "All of our students, they have different backgrounds; they have different needs."
The scholarships range up to $1,000 for each semester of school. And school can mean a university, college or trade program — and the money can be used for tuition and books or other needs, such as utilities or car maintenance.
"We call it a barrier-removal program," Hankins said. Barriers to single parents getting their degrees might be the cost of car maintenance, for example.
"They use our scholarship for everything: tires for their vehicles, getting their cars repaired, paying their electric bills …," Hankins said.
"We support them every semester till they earn their bachelor's degree," Hankins said.
Stacy Awbrey Lewis of Heber Springs is one of those students. A single mother of three children, ages 8, 10 and 19, she has received a $1,000 scholarship each semester since spring 2017, when she enrolled at Arkansas State University-Heber Springs.
"It has been a blessing beyond words to me and has contributed toward books, Christmas gifts, tires, gas and groceries, as well as my oldest son's freshman college tuition at ASU-Beebe," she said.
Lewis was asked to speak at a scholarship presentation in Heber Springs in fall 2017 at which Gov. Asa Hutchinson was in attendance.
Hankins said Lewis "had everyone in tears."
Lewis said she told the group that when she and her husband divorced, she moved with her three children from Iowa to her hometown of Heber Springs. Her older son, Drew, was unhappy about being uprooted, she said.
"He's the one I cried over and worried over and prayed over the most," Lewis said, getting emotional again.
"Shortly after [moving to Heber Springs, I decided to enroll in college on a whim. I was trying to pull myself up by my bootstraps. I didn't even want to go to college, to be honest. I thought, 'It will buy me some time till I figure it out,'" she said.
Lewis said one day she and Drew were in the car going somewhere, and "I was half-listening, and he said he and his friends were talking about my college classes." Lewis said she was surprised and asked why they were talking about that.
"He said, 'Cause I'm proud of you, Mom,'" she said. "Him going quickly from so mad at my ex-husband and me because we had uprooted him to talking to his high school friends that he was proud of his mom was like a redemption."
Lewis said she decided at that moment, "I wasn't just going to get my degree. I was determined to keep Drew proud of me, and my college career was going to be exceptional. I worked hard for a 4.0 [grade-point average]. It lit a fire under me that I wasn't going to be ho-hum about it — this was going to matter."
Lewis expects to graduate in May 2020 with a degree in marketing and management. She also recently started working in a management position at the family-owned L.T. Davis Flooring Co. in Heber Springs, where she will also serve her college internship.
"L.T. and Aprille are very supportive and extremely flexible with regard to my school schedule, and they are regular contributors to the Single Parent Scholarship Fund," Lewis said.
"We try to help out everybody as much as we can. I know a lot of single moms need a lot of help," L.T. Davis said. He said Stacy is an excellent employee.
"She's a hard worker and tries real hard and is willing to do pretty much anything," he said.
Lewis also praised the scholarship organization's board.
"I am a big fan of each and every one of the single-parent [volunteer committee]. They have been so supportive and encouraging," she said.
Jessica Marks of Batesville said the scholarships helped her realize her career in education. Marks is a resource English teacher at Southside High School in Batesville and has a 13-year-old son.
She received a Single Parent Scholarship first when she was earning her two-year degree in 2012 at Ozarka College. Then she worked for a while before enrolling in 2016 in an online college so she could work at her own pace.
The Single Parent Scholarship Fund was crucial in helping her again. In 2017, she received $500 for two consecutive semesters.
"It was a financial benefit for me because there were tests I had to take before I could get into the teaching program. I was so taken aback, 'OK, God. How am I going to pay for these tests and live?' That [scholarship] helped me tremendously … as far as living in general."
Some of the benefits from the Single Parent Scholarship Fund are not financial. Hankins said she provides workshops for single parents on topics such as budgeting and car maintenance.
Hankins laughed when she recalled one single-parent scholarship recipient from Izard County who came to a car-maintenance program in May in Batesville. She told Hankins she already knew what was being taught.
Thanks to a grant, Hankins said, participants left with totes full of emergency items — jumper cables, a mini air compressor, flashlights, safety triangles, flares, duct tape and more.
A couple of weeks later, the woman was driving on a back road on her way to visit her parents, and her car died. She had her 18-month-old child with her.
Hankins said the woman told her she "just sat and cried for 10 minutes." An older man stopped by and said if she had jumper cables, he could help her. "She said a light bulb came on that she had jumper cables given to her at the Single Parent Scholarship Fund event."
Hankins said the woman told her that having the jumper cables might have saved her life because she has health problems, and it was a hot day.
Although every student's need is different, the scholarship program is consistent, Hankins said.
She said the Arkansas Single Parent Scholarship Fund has been revamped to be unified in every county … from the criteria for selection to the amounts awarded. The number of recipients is growing, too, Hankins said.
"As an organization, we have awarded more than 42,000 scholarships statewide since ASPSF was started in the '90s," Hankins said.
She said that in Independence County, specifically, the 2019 spring scholarships, totaling $9,400, were awarded to 15 recipients. Independence County has awarded more than 610 scholarships totaling more than $260,000 since 1990, when the Arkansas Single Parent Scholarship Fund started in Independence County.
"What the Single Parent Scholarship Fund has done is move from individual counties operating 501 (c)(3)s to one umbrella, a nonprofit organization in Springdale," she said.
When single parents would move to another county, the scholarship deadlines and amounts were different, and the change was made to remedy that.
Hankins, a married mother of two, was hired 1 1/2 years ago as a program manager for the Arkansas Single Parent Scholarship Fund after a career in technology and nonprofit organizations.
She grew up in Harrison and attended the University of Central Arkansas in Conway, where she majored in English and history, and was certified as a paralegal.
"I was kind of looking at becoming an attorney. I had an inclination toward technology; I loved it a little bit more," she said.
Hankins said she worked as the marketing director for eight years at a "cutting-edge fax-software company" in Little Rock. Then her work began in nonprofits. She worked for eight or nine years as executive director of the former Ozark Interpretive Association, a nonprofit organization that was in partnership with the U.S. Department of Agriculture. She was responsible for five states.
The association ran the gift shops and ticket booths in forest-service visitor-information centers and put together education programs at those locations, she said.
After Hurricane Katrina, many of those outlets were damaged.
"We went from 32 visitor centers with volunteers to 13 visitor centers," she said.
Hankins was caught up in the downsizing and said she took some time off to spend time with her son and daughter.
Her next job was as a program-eligibility specialist with the Arkansas Department of Human Services, which involved a lot of technology, helping process Medicaid applications and more.
Hankins said a friend told her about the position with the Arkansas Single Parent Scholarship Fund and said, "You would be great at this."
A self-described workaholic, Hankins decided she wanted to spend more time with her daughter, who graduated from Mountain View High School in May.
"I did a lot of soul searching," Hankins said. "Looking back over my career, I loved the nonprofit world more than anything because I loved working with children, loved making a difference. It's always been a good fit. I've always loved that work."
And she loves this position for the Arkansas Single Parent Scholarship Fund because she gets to make a positive impact on the adults, as well as their children, she said.
Hankins said she has several goals for the program, which relies heavily on volunteers.
"My job as a program manager is to support the volunteers at a local level," she said. "Our goals are really to define our support program for our single parents to serve them better, to support them better, and to increase our volunteers in every county. Our volunteers are mentors — they mentor [scholarship recipients]; they do the interviews. They review resumes to help them get jobs; sometimes they just coach them on how to dress professionally. … They make the program happen."
Anyone who wants to volunteer can call Hankins at (870) 214-2460 or go to the website, aspsf.org, and fill out a volunteer form, which she will receive.
The next deadline for fall scholarships is Sept. 15. More information is available on the website.
Hankins said her overall goal for single mothers and fathers is to do whatever she can to "just help them make it."
If that means giving them a scholarship or a set of jumper cables, she's glad to do it.
Senior writer Tammy Keith can be reached at (501) 327-0370 or tkeith@arkansasonline.com.
Sponsor Content