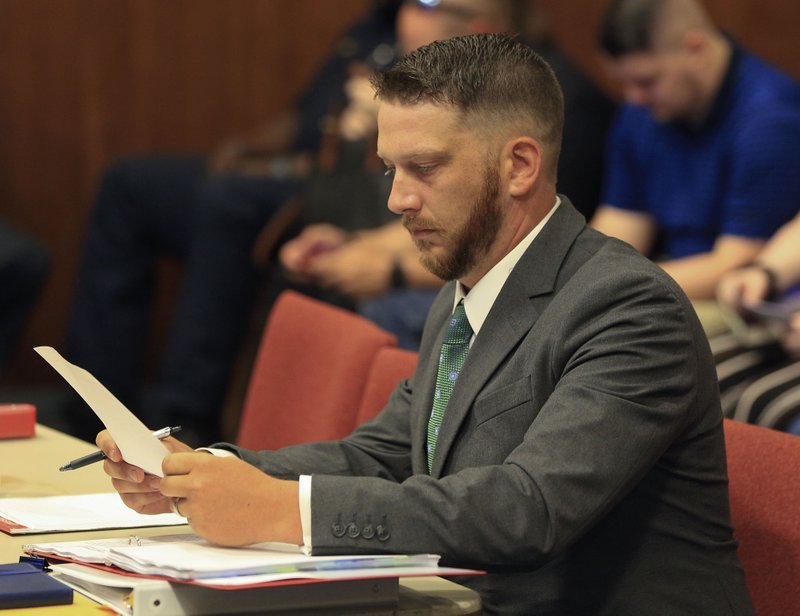 FILE — Former Little Rock Police officer Charles Starks waits for the beginning of his appeal hearing before the Little Rock Civil Service Commission. ( Staton Breidenthal)
8:20 p.m.
The second day of an appeal hearing for a fired Little Rock police officer was canceled late Thursday after the officer's attorney was injured, a city hall spokesman said.
Officer Charles Starks' hearing to appeal his May 6 firing will be delayed until a new hearing date can be scheduled, Little Rock Human Resources Director Stacey Witherell said late Thursday.
Stark's attorney, Robert Newcomb, fell down the stone steps in city hall during a break from a nine-hour hearing Thursday, bringing the meeting to a halt.
Newcomb was treated on site by first responders before leaving with a sling on his arm.
Witherell said the hearing will be rescheduled once Newcomb is back at work.
7:10 p.m.
The first of two hearings for a fired Little Rock police officer was cut short Thursday after his legal representation was injured in a fall down in city hall.
After more than eight hours of testimony and interviewing people in the Civil Service Commission's appeal hearing for former officer Charles Starks, commissioner Jeff Hildebrand said attorney Robert Newcomb had an "unfortunate accident" at approximately 5:30 p.m. in a break between sessions.
First responders rendered first aid to Newcomb before he left in his own vehicle. The hearing is was dismissed and is scheduled to resume at 8 a.m. Friday.
4:23 p.m.
Little Rock Police Department Assistant Chief Hayward Finks testified that many aspects of the investigation were "rushed or not completed" due to pressure from the Little Rock mayor's office to finish the inquiry and "fire Officer [Charles] Starks."
Finks is the second assistant chief to mention Little Rock Mayor Frank Scott Jr.'s involvement in the investigation.
Assistant Chief Alice Fulk said Scott asked on Feb. 22, the day of the shooting, if Starks could be immediately fired. She said she and another assistant chief explained that the department follows a process when disciplining officers. 
During the internal investigation, each of the four supervisors in Starks' chain of command recommended that he be exonerated, saying his actions were justified given the nature of the incident, according to copies of the recommendation letters.
Police Chief Keith Humphrey, who has final say in officer disciplinary matters, terminated Starks in May.
At the time of the firing, Starks' attorney mentioned that he felt there was an outside influence on the chief's decision.
"The mayor [Frank Scott Jr.], he basically promised this from the beginning," attorney Robert Newcomb said in May. "Collectively, Starks' chain of command had more than 100 years in the Little Rock Police Department, and they all said he should be exonerated."
During that time, Scott's spokeswoman Stephanie Jackson said the mayor respects Humphrey's decision and has no authority over the Police Department's internal hiring or firing choices.
"The mayor did not tell Chief Humphrey to terminate Officer Starks," Jackson said. "Nor did he influence that decision."
Finks is the fifth witness to testify in the disciplinary appeal hearing.
Finks contradicted Humphrey's testimony. The police chief answered "Absolutely not," when asked whether he spoke with Scott about the investigation.
The hearing is in its eighth hour, with Friday also reserved for testimony.
3:01 p.m.
City Attorney Tom Carpenter called the hearing for former police officer Charles Starks to a halt to tell the Little Rock Civil Service Commission that the ban on recording needs to be withdrawn.
"We recommend at this juncture the ban be withdrawn by the commission," Carpenter said.
Reporters have commenced recording the proceedings.
This was the second time that the hearing for Starks was interrupted. The first was for a report of gunfire near City Hall. Starks shot and killed a 30-year-old man earlier this year.
2:09 p.m.
The Little Rock Civil Service Commission hearing for a former police officer who shot and killed a 30-year-old man earlier this year was interrupted after dispatch received a call about gunfire somewhere close to the building.

Officers with the Little Rock Police Department received a call about shots being fired in the area of 500 West Markham Street, spokesman Michael Ford said.
"We don't have a lot of details yet," Ford said. "We are trying to see where it was from and what happened, but nobody was injured."
An Arkansas Democrat-Gazette reporter at the scene said the hearing for former officer Charles Starks didn't stop, but commissioners were notified of the report.
Ford said the hearing was ongoing.
Also at the hearing, a local television news reporter was told by a Little Rock official to stop live-tweeting the proceedings, KATV's news director said.
News director Nick Genty said reporter Marine Glisovic was live-tweeting Starks' reinstatement hearing when Lamor Williams, the city's communications and marketing manager, texted her and told her to stop.
He said the text stated "please stop live-tweeting. I told y'all no transmission." A screenshot of the text message was not available.
This came in the midst of debate around the Little Rock Civil Service Commission's new ban on recording public hearings.
"This has never happened before," Genty said. "In a true court of law we have been told not to tweet or record, but never in a commission meeting."
The news director said the lawsuit has been drawn up and they are hoping to file it by the end of the day.
[Video not showing up above? Click here to watch » https://www.youtube.com/watch?v=Z2Zya2srIyc]
1:02 p.m.
The Little Rock Police Department's attorneys called Wayne Kelly, a 23-year veteran of the department, as their second witness.
Kelly worked for 14 years in the department's training academy and attorneys for both the city and former officer Charles Starks asked whether Starks' actions during the fatal shooting of Bradley Blackshire complied with department procedure.
Although Kelly said he would not have positioned his car in front of the stolen vehicle Starks was investigating on Feb. 22, he included the caveat that the situation in which Starks found himself did not align well with any of the department's training scenarios.
Department attorney Mike Moore asked what the department's procedure for a felony stop is, and whether Starks should have waited for backup before approaching the stolen vehicle.
Kelly said department procedure dictates Starks should have waited for at least one other officer to arrive.
Following questions from both attorneys, members of the civil service commission also had an opportunity to interrogate Kelly.
"I just need some direction on what should he have done differently?" Commissioner Cara Boyd-Connors said. "Pursuant to what policy or training would you have performed in this scenario?"
Kelly said he could not think of a specific policy that would dictate Starks' actions in this scenario.
"Are you just going off of your instinct and judgement in that call?" Boyd-Connors asked.
"Yes," Kelly responded.
EARLIER:
A former Little Rock police officer testified Thursday that he feared he "was going to be run over, shot or both" when he shot and killed a 30-year-old man earlier this year.
Charles Starks, who was fired on May 6, is appealing his termination in a hearing before the Little Rock Civil Service Commission. The hearing is expected to continue into Friday.
Starks was fired after shooting Little Rock resident Bradley Blackshire eight times during a traffic stop on Feb. 22 in west Little Rock. During the traffic stop, Blackshire's vehicle rolled forward, striking Starks and injuring his knee.
[Video not loading? Click here to watch » https://www.youtube.com/watch?v=vMj5QyAW9Hc]
Starks was the first witness to take the stand and testified that he was sure Blackshire had a gun during the traffic stop, making the officer fear for his life.
Starks began his testimony around 9 a.m. and was still testifying as of 10:35 a.m.
In opening statements, the Little Rock Police Department's legal representation, Khayyam Eddings, said Starks placed himself in a dangerous situation.
"In this case the testimony will show that Officer Starks voluntarily placed himself in the path of a vehicle that turned in his direction," Eddings said. "He continued to put himself in danger … Officer Starks could have avoided the necessity of coming in contact with the stolen vehicle by using deadly force."
BAN ON RECORDING
The commission earlier this week altered its rules and regulations to allow the body's chairman to ban recording at the request of witnesses or attorneys. Starks' attorney Robert Newcomb requested the session not be recorded.
Two people were escorted from the Little Rock city board room by officers within the first five minutes of the meeting.
Nick Genty, news director for KATV in Little Rock, said his station reached out to two other Little Rock news channels about filing a lawsuit challenging the ban.
"Our job is to record and document for the public," Genty said. "By eliminating the media's ability to do so then they are taking away from the public and what they expect."
City attorney Thomas Carpenter said his office is aware of a possible filing and is looking into the situation.
"I can see the argument, and I can see the counter to the argument," Carpenter said. "Both sides have merit. This will be something that will probably have to be decided by a court."
The attorney said he alerted Little Rock Mayor Frank Scott about the situation, but he hasn't personally talked to him as of Thursday morning.
"We alerted the mayor's office because he has been big on transparency," Carpenters said.
Check back for updates and read Friday's Arkansas Democrat-Gazette for full details.
Stephen Simpson contributed to this story.
Sponsor Content