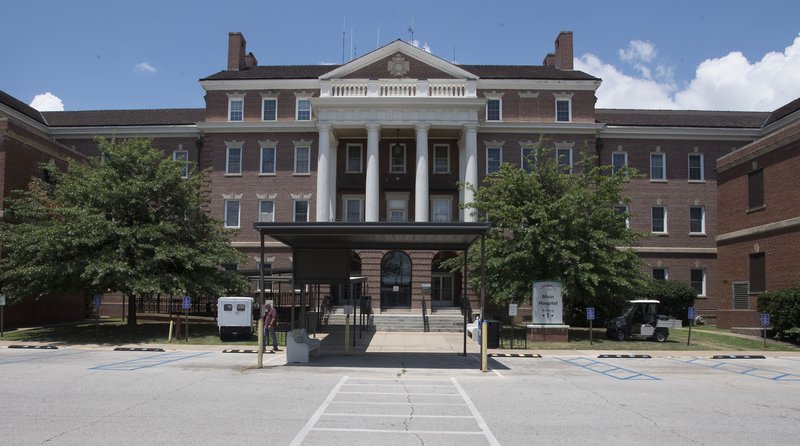 NWA Democrat-Gazette/J.T. WAMPLER Veterans Healthcare of the Ozarks July 2018.
FAYETTEVILLE -- A year-long review of the 33,902 pathology results found 30 missed diagnoses posing serious health risks to patients, according to results released Friday by the Veterans Health Care System of the Ozarks.
The review by outside pathologists discovered 3,029 errors in results of a single pathologist from 2005 to 2017, said Kelvin Parks, director of the system. Most of those mistakes carried little consequences, he said.
Review hotline
For more information on the review, call the Veterans Health Care System of the Ozarks pathology hotline at (866) 388-5428 between 8 a.m. and 4:30 p.m.
Source: Staff report
The pathologist involved was suspended and later dismissed after reports he worked while impaired.
The 3,029 errors out of 33,902 cases make for an error rate of 8.9% compared to a pathology practice average of 0.7%, Parks said. That works out to an error rate more than 12 times the average, figures show.
In the most serious 30 cases, all but one of the patients or their families have been consulted by system staff and the last will be Monday, he said. Fifteen of those patients are deceased, but it isn't known if any of those deaths are due to the missed diagnoses, Parks said.
Other patients have met with system staff and gone over results or been consulted by telephone when travel was difficult, he said.
Letters to remaining patients whose test results were subject to review will start going out Monday, including those in which no mistakes were found, Parks said. Some will receive more than one letter because patients will receive a letter for each test done over the years, he said. One patient had 16 tests run and reviewed by the same pathologist involved, he said.
"This process is going to take until late August or early September to complete," Parks said. "We believe this is the best way to ensure that no mistakes are made and every veteran is notified. We thought about sending just one letter to each patient with all results, but wanted to make sure every single test result was dealt with. This will ensure that."
He expects about 700 letters a day to go out. The letters will go out by order of the year in which the test was done. So a patient who, for example, received one medical test in 2008 and another in 2012 should receive a letter about the 2008 test first.
The system will also keep open its call center for inquiries about the pathology review at (866) 388-5428. The center will remain open until the last of the letters go out and calls taper off, probably another two weeks, he said.
Michael Kalagias of Rogers is one of the veterans notified in June of last year his case was under review.
"I've still not gotten a letter telling me if the test was right," he said Friday. "It would be nice to have gotten some word sooner, but my heart goes out to those who had severe problems who then found out they got a wrong result. The damage is done."
The review began in June of last year. Two more reviews are still under way, both by the Office of the Inspector General of the federal Department of Veterans Affairs, according to previous department announcements. One is a clinical and administrative review of what went wrong to allow this situation. The other is a criminal investigation.
Third District Rep. Steve Womack of Rogers and 4th District Rep. Bruce Westerman of Hot Springs were both present at the June 2018 news conference announcing the review's launch, along with U.S. Sen. John Boozman of Rogers and a representative of U.S. Sen. Tom Cotton of Dardanelle.
"It concludes a sad and deeply unfortunate chapter in the history of an otherwise outstanding VA Medical Center," Womack said of the pathology review Friday. "America's veterans deserve better. We are all saddened by the hardships imposed on our heroes by one doctor and accountability isn't limited to his dismissal. The entire chain of command must ensure this situation never repeats itself."
Boozman regretted the pathologist's errors, but praised the system's response once the problem was found.
"It's extremely troubling that veterans were misdiagnosed because of the misconduct and negligence of a former VA pathologist," Boozman said Friday. "I am encouraged to know that this physician no longer works at the Fayetteville VA Medical Center and won't be working for the VA ever again."
Likewise, Cotton praised the Ozark system's response. Westerman said the situation should never have happened.
"It is unacceptable that a doctor who had a record of impairment on the job continued to practice, which resulted in several deaths and thousands of errors and misdiagnoses," Westerman said. "It's imperative that the VA implement the lessons learned so a situation like it never happens again."
Patients who believe they have a claim against the system can use the department's tort claim procedure, Parks said. According to VA procedure, that requires filing a Standard Form 95, which is available online.
The pathology review includes every case pathologist Dr. Robert Morris Levy of Fayetteville worked on since his hiring in 2005. Levy confirmed he worked while impaired with alcohol in 2016, but said he did not work while impaired afterward. A review of his work in 2016 found no errors. The veterans system will not confirm Levy as the pathologist, saying it is a personnel matter.
Levy was suspended in March 2016 for being impaired, but he returned to work that October after counseling and after a check of his work found no errors. Levy was again taken off clinical work in October 2017 after what the hospital described as a second instance of working while impaired. His dismissal in April came after a personnel review.
The University of Arkansas for Medical Sciences, the University of Oklahoma's College of Medicine, outside pathologists, specialists within the VA in the region and one pathologist from the Air Force Academy joined the review process.
The Veterans Health Care System of the Ozarks serves veterans in 23 counties in Northwest Arkansas, southwest Missouri and eastern Oklahoma.
NW News on 06/01/2019
Print Headline: VA pathology review: 30 serious misdiagnosed cases
Sponsor Content