Eleven years ago, Newport made the arts part of the Jackson County city's economic development plan.
"We started an arts festival in the old train station," says Jon Chadwell, director of the Newport Economic Development Commission. "We had 17 artists participating and 189 people attended it. We thought we hit a home run."
Delta Arts Festival
Friday and Saturday, downtown Newport
Hours: 1-6 p.m. Friday, 10 a.m.-5 p.m. Saturday
Free concert: 7 p.m. Friday featuring Seeing Red
Ghost tour: Postmaster Spirits, in the old post office, is open for tours and a vodka tasting, $5 admission. Tours begin at the start of every hour during the festival.
Admission: free
Information and a schedule of events are available at newportarcity.org/tourism/annual-events-festivals/delta-arts-festival or facebook.com/events/2218558391538853; call (870) 523-1009
Then held in February, Chadwell says the event has "exploded," with an attendance passing 2,000 in the past couple of years.
This year the gathering has moved to June with a new name -- The Delta Arts Festival. This Friday and Saturday, some 3,000 are expected to attend, weather willing, he says.
"The festival has spread to a six-block area of downtown indoor and outdoor sites," Chadwell says. Local businesses and churches have opened their spaces to the festival, in addition events held at outdoor sites. He expects some 230-plus artists to show their work in the nonjuried event. There also will be authors reading from their books, musical acts on two stages, food trucks and a tour of the former post office, which is now home to Postmaster Spirits distillery. The building has passageways used by federal agents during Prohibition to catch people trying to ship alcohol through the postal service.
Artists at this year's festival are from around the state, including Newport, McCrory, Jonesboro, Fayetteville, Hot Springs, Little Rock, Searcy, Lepanto, Pine Bluff, Cherokee Village, Yellville and others.
"We've had a large number of artists who have said this festival was where they sold their first piece of art," Chadwell says.
Adult artists have been invited to participate in a "This Is the Delta" art contest; winners will receive cash prizes.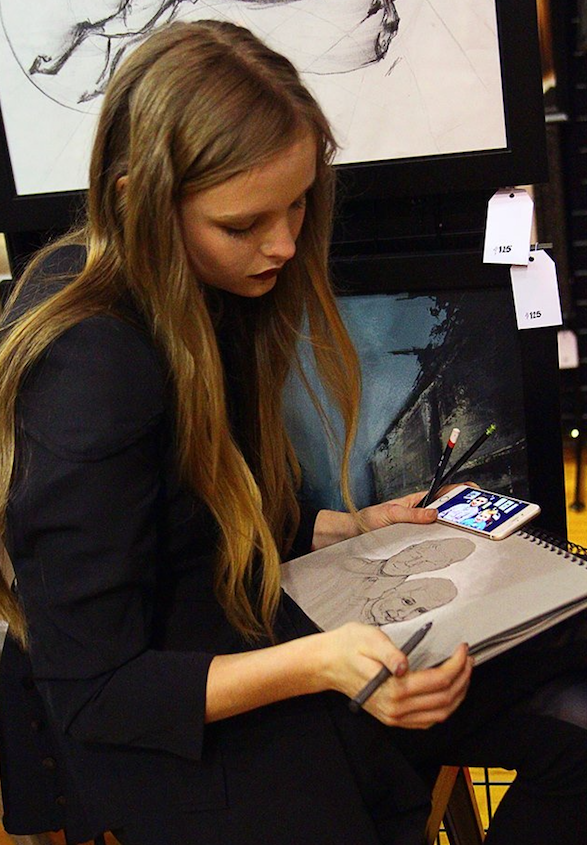 Little Rock artist Maggie Maddison will return to the Delta Arts Festival, which takes place Friday and Saturday in Newport. (Courtesy of D.R.I.V.E. and Alton Walker)
Music acts include a Grateful Dead cover band, Grateful Impressions, and blues performer Ben "Swamp Donkey" Brenner.
Writers include poet Sadie H. Jones of Searcy and Tayla Boerner of Fayetteville reading from her book The Accidental Salvation of Gracie Lee.
While economic development is a goal, Chadwell says the festival has a three-fold mission "to nurture emerging artists, to bring art and art opportunities to the Delta and art education."
During the festival, there will be four art workshops for adults and children. The workshops are free for the first 40 who show up and the festival provides all materials. Artists participating in the festival often teach the workshops.
"We don't charge the artists to participate and we don't take a commission from their work," Chadwell says. "The artists can made a donation for next year's show if they wish and some artists have been very generous."
In addition, the festival provides lunch and dinner on Friday, breakfast and lunch Saturday for the artists. No wonder the festival was booked solid by artists two weeks after the 2018 event.
Chadwell says the waiting list for this year's festival topped 40.
How does Newport do all this?
"Our sponsors are very generous," he says. Many of the current sponsors also supported Portfest, the former festival that was held at this same date.
The Delta Arts Festival is a key part of a summer filled with activities including concerts, films, improvisation comedy and more. Throughout the summer, free art classes are held for adults and children.
"We're making good progress," Chadwell says. "It's great to see people coming from the smaller towns in the state to get exposure to the art and have a nice time."
Style on 06/02/2019