Police on Tuesday evening found human remains at former Arkansas state Sen. Linda Collins-Smith's home in Pocahontas, and on Wednesday called it a homicide investigation. A gag order issued hours later confirmed that the former lawmaker died but didn't indicate the cause of death.
The Randolph County sheriff's office responded Tuesday evening to a home belonging to the 57-year-old Republican in a residential Pocahontas neighborhood along Arkansas 90. The Arkansas State Police said they're investigating a death at the home as a homicide but haven't identified the deceased person.
Court documents filed Wednesday barring the release of key information confirmed only that authorities are investigating Collins-Smith's death.
In a brief news conference, county sheriff Kevin Bell said the condition of the body deputies recovered prevented investigators from immediately identifying the person.
Bell declined to answer reporters' questions after speaking for fewer than two minutes, including whether police have made any arrests or suspect anyone in the death.
State police spokesman Bill Sadler said the state Crime Lab is performing an autopsy, and the agency would identify the person when the results are completed.
Circuit Judge Harold S. Erwin signed off on a gag order Wednesday morning preventing the release of major material in the investigation, including law enforcement and medical reports.
The document refers to the investigation into Collins-Smith's death but provides no additional information about how she died.
Prosecutors asked the judge to sign off on the seal, writing in a motion that releasing documents typically public in any criminal case "could hamper the ability of the court to impanel a fair and impartial jury by prejudicial pretrial publicity."
Henry Boyce, prosecuting attorney for the Third Judicial District, did not immediately return messages seeking further comment.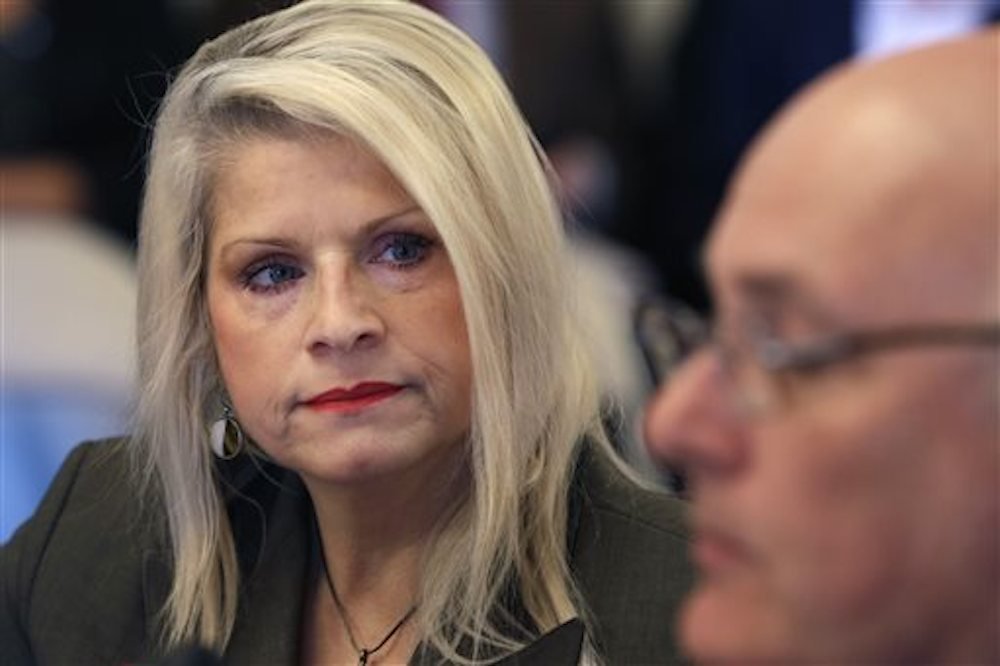 FILE — Sen. Linda Collins-Smith, R-Pocahontas, listens to testimony at a meeting of the Senate Committee on Public Health, Welfare, and Labor at the state Capitol in Little Rock on Wednesday, Jan. 28, 2015.
Property records show Collins-Smith's home is also owned by her ex-husband, Philip Smith, a retired judge whose district covered Randolph County.
The couple separated in 2016 before filing for divorce the following year, according to court records.
Divorce records showed disputes over a large sum of money and property the couple owned. Observers described the divorce as bitter.
Collins-Smith's former communications director Ken Yang said the ex-legislator was a mother and had been planning to help on upcoming 2020 campaigns.
He said people became concerned when her social media presence abruptly dropped off at the end of May, a stark contrast to frequent posts she'd usually make.
"She was always strong personally," Yang said. "I couldn't imagine this happening."
He said Collins-Smith's family requested privacy on Wednesday.
Collins-Smith's district included Independence, Izard, Sharp and portions of Fulton and Randolph counties, from 2015 until this year when she lost to her GOP primary challenger.
She previously served in the Arkansas House from 2011 to 2013, serving the earlier part of that term as a Democrat.
Her death saw an outpour of condolences from prominent state and congressional lawmakers.
Gov. Asa Hutchinson said in a statement he was "stunned and saddened" by her death.
"She was a good person who served in the public arena with passion and conviction," he said. "The first lady and I extend our deepest sympathies to her family and friends during this difficult time."