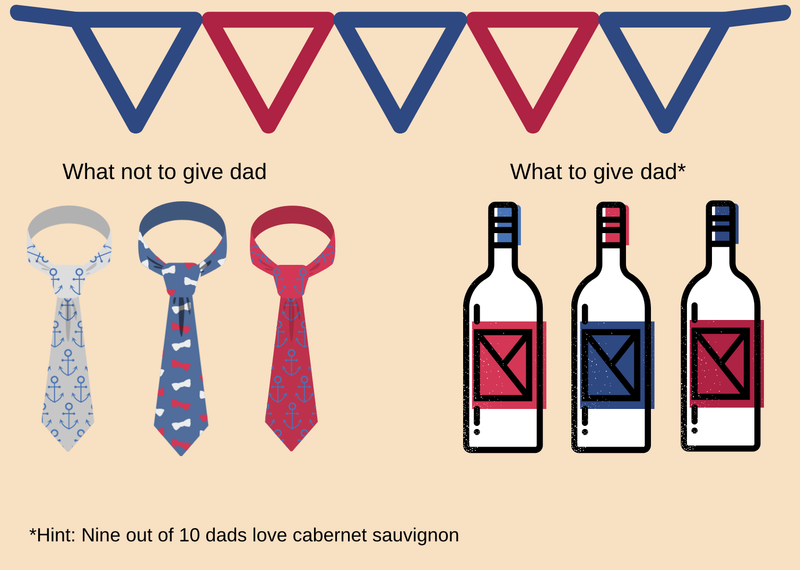 Illustration by Kelly Brant
Father's Day gifts do not have to be all about the stereotypical ties and socks. If you know your father enjoys wine, why not buy a gift you know he will appreciate?
■ His new favorite bottle. Finding an ideal wine is easy because according to the surveys I consulted nine out of 10 dads love a great bottle of cabernet sauvignon. There's no need to break the bank here with an exorbitantly priced bottle. There are many great wines for under $40. Stay with regions that have a history of quality bottles such as Bordeaux, Napa Valley and Australia.
■ His "camping" wine glass. No one should have to drink wine from a flimsy plastic cup. New trends in outdoor glassware include insulated tumbler styles and even stainless-steel wine glasses. The one I found with the best reviews was the stainless-steel nesting wine glass. It's lightweight and stores easily into camping gear without the worry of breakage.
■ Wine Barrel Staves for Grilling. Just as wood influences the wine you drink, grilling staves have a tasty effect on food. The staves are from used red wine barrels and offer a unique fuel to your father's next grilling adventure.
■ A Wine-Beer Hybrid. If your dad loves beer and wine, this is the drink for him. Several breweries are crossing the grape-grain divide by combining these different but equal beverages with excellent, if not intriguing results. If he enjoys the beer drinking experience but still orders that chilled crisp pinot gris this gift will be a unique taste for exploration.
■ A serious but comical wine book for his library. Master Sommelier Richard Betts took his passion for wine (less the wine-speak) and created a fun scratch-and-sniff way to explore the world of wine. The Essential Scratch and Sniff Guide to Becoming a Wine Expert explores the basic components of wine, the fruits, woods, earth and allows the reader to discover the differences in grape varieties. The illustrations bring a humorous approach and put the fun into wine fundamentals.
■ A bottle with a story. An incredible bottle of wine with a great story behind it is always a great gift. I always think of Steve Reynolds of Reynolds Family Winery as one of those bottles for Father's Day. It could be that he is an amazing winemaker but also that his business card says, Steve Reynolds, "owner/winemaker/dad." It was his father being a hobby winemaker that introduced him to the craft early in his life. In 1994, Reynolds left his career as a dentist and with his wife, Suzie, bought a 100-year-old chicken ranch that needed "lots of love" to have potential for fine winemaking. As a tribute to their substantial hardships, the stigma of being a newcomer to Napa Valley, arduous startup politics and other challenges, Reynolds named one of his red blends "Persistence."
Lorri Hambuchen is a member of London's Institute of Wines and Spirits. Contact her at the Arkansas Democrat-Gazette, P.O. Box 2221, Little Rock, AR 72203, or email:
uncorked@thewinecenter.com
Food on 06/12/2019
Print Headline: Father's Day gifts for the man who has wine on his mind
Sponsor Content