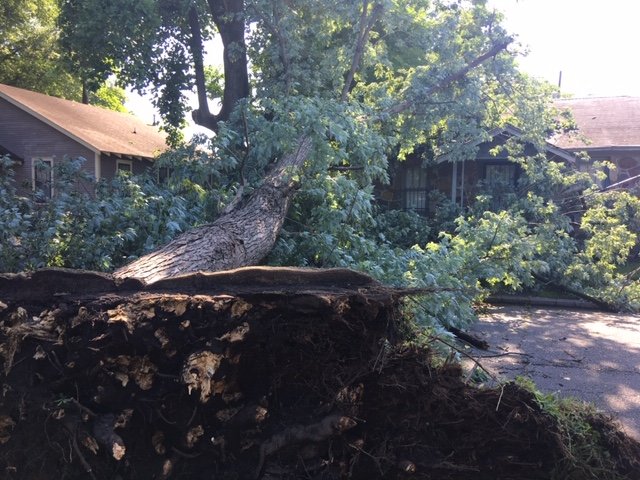 A downed tree is seen on Thursday morning in the 700 block of Orange Street in North Little Rock. ( Staton Breidenthal)
UPDATE (8:30 p.m.): Several Little Rock School District sites are still without power, according to Pamela Smith of the district's communications department. Sites with power will be in session Friday.
The following sites will be closed: Bale, Jefferson, Meadowcliff, and Rockefeller elementary schools; Henderson and Mann middle schools; and McClellan High School.
All other summer school / program sites will be open.
Gallery: June 19 storm damage
Tens of thousands of people in Arkansas are without power after strong storms moved through late Wednesday night into Thursday morning, downing trees and power lines.
Entergy at 8:15 p.m. reported 38,630 in the dark with about 20,300 of them in Pulaski County.
"I don't think anyone thought these storms were going to come in this hard and fast," said Entergy spokeswoman Kerri Jackson Case, adding that the utility company called in hundreds of contractors to restore power. "We're working as quickly as possible."
[PHOTOS: Submit your shots of storm damage here]
Workers observed a mix of wind damage, fallen trees and lightning strikes that knocked out power overnight, she said.
Gov. Asa Hutchinson said on Twitter that he was monitoring the outages, noting that nearly 80,000 were in the dark at one point but that "these numbers should be reduced soon."
The National Weather Service said official measurements showed winds peaked as high as 64 mph in Little Rock, though one trained storm spotter in central Arkansas recorded a gust of 70 mph. Large hail was also seen, including some that measured an estimated 4 inches in diameter in Vandervoort in Polk County. There was hail damage in Perry County.
The strong winds downed numerous trees, including some that fell on homes and vehicles. In Lincoln County near Avery, a pole barn was destroyed. In Florence in Drew County, a mobile home was damaged. Winds hit 80 mph in Drew County, officials said. It wasn't immediately clear if anyone was injured in the storms.
In Little Rock, trees fell in a number of locations. One large tree blocked part of Kavanaugh Boulevard in Hillcrest for a time, and another fell through a fence of an apartment complex along Sixth Street near Sherman Street.
Entergy said its system suffered "significant damage" and "extensive" outages. As of Thursday afternoon, the utility did not have an estimate for when power would return to Pulaski County.
"At this time, we cannot reliably predict when your power will be restored," the utility said in a statement sent earlier Thursday. "We will provide an estimated restoration time and other information about your outage as soon as we are able to safely assess the damages. We apologize for this inconvenience."
Jackson Case said the utility has provided estimated restoration times to everyone it could.
National Weather Service forecaster Jeff Hood said the storm had been pushing through Arkansas throughout Wednesday, leaving behind a trail of downed trees and power lines.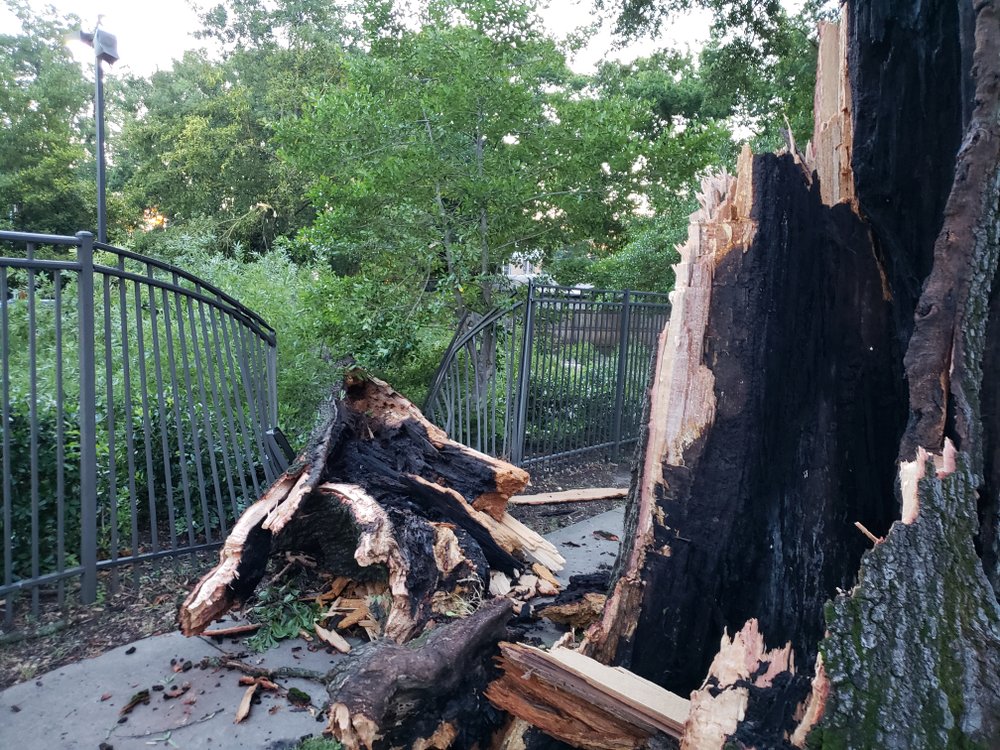 A large tree fell through a fence at an apartment complex along Sixth Street near Sherman Street in downtown Little Rock.
"It really just came right across the central part of [Pulaski] County, down I-30 through the heart of Little Rock and up through Jacksonville with wind speeds of at least 60 mph," Hood said. "Some pockets will have stronger wind gusts."
Hood said the National Weather Service saw "quite a bit" of damage reports throughout the day, though those were primarily downed trees and some power lines. Forecasters did not observe any tornado activity during the storms.
The Arkansas Department of Transportation said in a release late Wednesday that downed trees had blocked traffic on Interstate 440 near mile marker 7.3 east of Little Rock, U.S. 67 near Exit 16A, U.S. 270 west of Arkansas 227 and Interstate 530 at Dixon Road.
The Department of Transportation also reported multiple downed power lines across U.S. 63 north of U.S. 62 in Fulton County and U.S. 70 east of Arkansas 88 in Saline County.
Check back for updates and read Friday's Arkansas Democrat-Gazette for full details.
This story was originally published at 6:15 a.m.
Youssef Rddad, Clara Turnage and Gavin Lesnick contributed to this report.
Sponsor Content