If you want to conquer a new deer hunting frontier this fall, big bore air rifles can take you into virgin territory.
In 2018, Arkansas became the 12th state to allow deer hunting with big-bore air rifles. Rifles must be at least 40 caliber with projectiles delivering at least 400 pounds of energy at the muzzle. Rifles must also be charged from an external tank of compressed air.
Until 2014, Arkansas hunting regulations only allowed air rifles for hunting small game and some birds. In 2012, Rowland asked the commission to formally legalize big bore air rifles for deer hunting. Instead, the commission excluded them, forcing Rowland to pursue his passion out of state.
In 2018, Rowland tried again. The Arkansas Game and Fish Commission's enforcement and wildlife management divisions had new leadership, and most of the commissioners were new, as well. Those that remained from 2012 didn't remember why they banned air rifles to begin with, so they listened to Rowland with open minds.
Importantly, Rowland enlisted Howard Robinson of Mansfield, an outdoor legend in Arkansas, to help. Robinson, a longtime hunter education instructor, two-time president of the Arkansas Wildlife Federation and state field director for the Sportsmans Alliance, has been familiar among commission field staff for decades.
In range tests, Rowland convinced Ralph Meeker, the AGFC's deer program coordinator, that big bore air rifles are effective for taking whitetails. He also presented ballistic charts that demonstrated air rifles being comparable to deer-legal centerfire options.
"For pistol, you could use 25 ACP and 32 ACP," Rowland said. "Of course, there weren't a lot of people doing that, but it didn't make sense that those could be legal and mine wasn't."
That's how Meeker saw it, too. With his support, the path to legalization was smooth, but with caveats. The AGFC conspicuously noted that air rifles are not subject to the Federal Aid in Wildlife Restoration Act excise tax, a vital source of funding for state wildlife agencies.
"That fund is important, but we still buy sporting accessories that they do tax," Rowland said. "The state wants their part of the money, but it was nice of them to allow Arkansans the opportunity."
Eric Henderson of Dallas persuaded the Texas Department of Parks and Wildlife to legalize air rifles for big game in his state. He said the Pittman-Robertson concern is a non-issue because so few hunters use them, but he said air rifle enthusiasts would gladly pay an additional fee or license if it would help their cause.
Hunting with a big bore air rifle has many advantages. It is quiet compared to a centerfire ignition rifle or handgun. A big bore air rifle discharges with a pneumatic crack that is not discordant with ambient woodland noise.
"Deer just don't equate it with gunfire," Rowland said. "I sat next to a buck I shot counting points, and within 10 minutes, two more bucks walked right up. They looked right at the deer, so they were looking right at me. They just didn't equate the sound with anything threatening."
Henderson said that lack of noise and accuracy also makes air rifles suitable for hunting in urban and suburban environments where ordinances prohibit centerfire weapons. Also, air rifle bullets usually pass through a deer and leave an exit wound, hastening quick, clean kills.
Heber Springs, Cherokee Village, Fairfield Bay, Hot Springs Village, Horseshoe Bend and Russellville annually hold archery-only deer hunts. Little Rock is also considering holding a controlled hunt. Big bore air rifles could also be used safely in these environments.
The Missouri Department of Conservation allows air rifles for Missouri's urban deer hunts. In 2008, Jeff Cox, then 14, was the first person to kill a deer with an air rifle in Missouri, during an urban hunt near St. Louis.
"If the goal is to eradicate deer in urban areas, you have more of a chance with an air rifle than with archery," Henderson said.
Another advantage is lack of recoil. This, combined with the lack of muzzle blast and concussion, contributes to proper shooting technique and, by extension, greater accuracy.
"I'm careful with live animals, but I really stretch out for target shooting," Rowland said. "For silhouettes I can stretch out to 500 yards and really test myself."
The main barrier to hunting with big bore air rifles is cost. The guns are expensive, but all of the costs are front loaded, Rowland said.
"When I was getting set up, I realized that I had bought all bullets I would ever need. I don't need to buy powder. I don't need primers or brass anymore. All need is lead and air."
You can get an introductory level big bore air rifle for about $800. You'll pay a lot more for a premium rifle, but Rowland said the price range is comparable to crossbows, some of which (Ravin R20 and R29) cost $2,500.
"When think about what you spend on duck hunting or fishing - accessories, gear, guns, tackle, boats, motors, travel and what not - it's just another aspect of a new sport."
You'll also want to splurge on a quality air compressor, which Rowland said starts at about $500.
"This isn't your standard shop compressor," Rowland said. "You're going to need to generate 3,000 psi. You're not going to get anywhere close to what you need with a shop compressor."
With a 4,500 psi SCBA cylinder, Rowland charges his rifles to 3,000-3,500 psi.
"That will give you three good shots," Rowland said.
Taking one deer with a puff of air is all it takes for a full-blown addiction, Rowland added.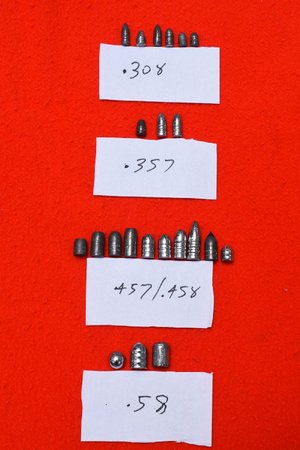 Photo by Bryan Hendricks
Air rifle bullets come in all shapes and sizes, including hollow points, spitters, round nose and even round balls.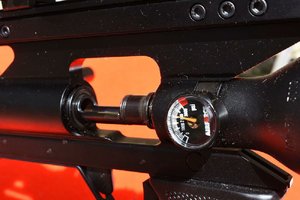 Photo by Bryan Hendricks
The Air Force Texan is a modern design with tactical styling and a gauge that shows air chamber pressure.
Sports on 06/23/2019