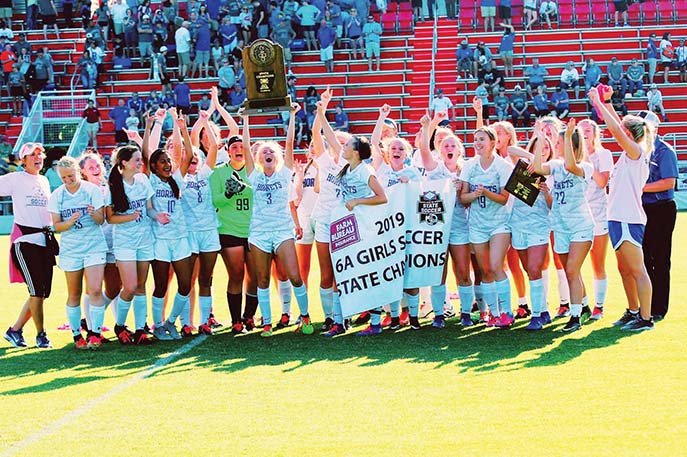 Madison Humbard, No. 3, hoists the Class 6A girls soccer state-championship trophy above her head as she and the rest of the Bryant Lady Hornets celebrate the team's victory. Alyssa Fason, third from right, front, was named MVP.
BRYANT — In just two years of coaching soccer at Bryant, Nicole Inman has led the Lady Hornets to a state runner-up finish in 2018 and a championship in 2019.
Bryant finished 19-2 this year, avenging its only two losses to Conway in the Class 6A championship game at the University of Arkansas' Razorback Field.
But don't count on Inman to know her career record.
"I have no idea," she said. "I don't focus on that. I am probably a very different kind of coach as far as the record, who scores, different things like that. People have to remind me of those things because I am looking out for the whole group — it's about the girls, not me.
"I can't even tell you the scores this year. Once we play, it's over, and I just focus on what I can do to make these girls better. If I can coach them to be the best we can be, we can beat anybody."
• • •
That was true in 2019.
The Lady Hornets finished 12-2 in the 6A-Central, dropping only a pair of close losses to Conway — on penalty kicks April 9 and 3-2 on May 6. As the Central's second seed to the state tournament, Bryant had a first-round bye, then beat Fayetteville in the quarterfinals, 1-0; and Bentonville in the semis, 2-0, to set up a third meeting with the Lady Cats in the championship game.
"As I told the girls before we went out to play, we had more motivation because we'd lost two [games] to them, and we could release that," Inman said. "All we had to do was come out, work hard and trust that we could win. We had nothing to lose. The expectation of everybody else was that we'd lose.
"I told our girls I wanted them to own the first five minutes, and we did."
Alyssa Fason put Bryant ahead 1-0 with a goal at 35:37 in the first half. The Lady Cats tied it 16 minutes later, but Fason notched the deciding goal on a penalty kick 16:31 before halftime.
Fason was named MVP.
Bryant, which lost the 2018 state final to Rogers, won its first title since 2015.
Six seniors led the way — forward Fason, midfielder Mary Catherine Selig, defender Ashlyn Thompson, midfielder Madison Humbard, defender Rachel Studdard and midfielder Sierra Edelmann.
"We are going to miss those ladies, their leadership and experience," Inman said. "They have done a good job basically making a path for the girls to follow. I'm excited to just see them do the things they want to do going forward and to see the footprints as we move ahead without them."
She said some of those graduating seniors helped her with tryouts for next year shortly after the state championship.
"They really helped me a lot by being good leaders," she said.
Humbard will play for Ouachita Baptist University next year; Fason will join the University of Central Arkansas program.
• • •
Soccer was a big part of life for Inman as she grew up in Minnesota. As a freshman at Wayzata High School, she played for first-year coach Tony Peznecker, who had played professionally for the Minnesota Kicks of the North American Soccer League and the Minnesota Thunder of the USL and was named a 2003 Coach of the Year by the National Soccer Coaches Association.
"A lot of my coaching style comes from my high school coach, who took a team that, the year before he got there, had been terrible," she said. "The school had never won anything. He came in and said, 'I'm picking the best players to play, and I don't care if they're freshmen.'
"My freshman year, we were state runner-up, and my sophomore year, we were state champs. Now we're taking the same path."
After high school, she chose Quincy University, a small liberal arts school in Quincy, Illinois, that competes in NCAA Division II.
"I chose Quincy because of all the schools recruiting me, that was the only one with a chance to win a national title, and I had a chance to play right away," she said.
While the Hawks didn't win that national title during her career, they reached the DII Final Four her freshman and sophomore seasons. Inman earned a degree in broadcasting and Spanish, with a minor in business.
She'd already dabbled in coaching, starting with club teams when she was 15, but she didn't take it up again until she and her husband, Scott, moved to central Arkansas when he took a job at KATV.
"When we moved here, I started coaching in Little Rock, but soon after that, I had a baby, so I didn't coach for four years," she said. "When it was time for [my son, Garrett] to start playing, I started coaching again at the club level."
Garrett graduated this spring. She coached his team until the boys were 14. Although he gave up soccer after his sophomore year, she enjoyed watching those players she'd coached reach the 2019 Class 6A championship game, where they fell to Springdale, 3-0.
The Inmans have twin daughters, Abbey and Ashton, two years younger than Garrett, and with her involvement over the years in coaching all of her kids' teams, it was natural that she'd be called on to help with the Bryant High School team. She said she had planned to be in the stands cheering on the twins and their teammates when their freshman season rolled around in 2018, but the head coaching position opened.
"A lot of the girls I'd been coaching in club soccer were going to be freshmen, so when the position opened, I wanted to make sure they got somebody who knew soccer," Inman said.
The only problem was she wasn't certified to teach.
"Nobody at the high school coaches without teaching," she said. "I thought I'd get my master's in something so I could teach, but miraculously, the one job I could do without an education degree came open."
Inman said her job teaching film production is considered a technical one, thus not requiring certification.
"I have a five-year contract; then I'll see," she said.
Abbey and Ashton were sophomores on the state-championship team this spring. Younger son Nathan, 9, doesn't play soccer.
"He's been on the soccer field since he was 6 weeks old, and I think that's enough for him," Inman said, chuckling. "He never wanted to play."
He's not like his mother in that regard.
"This is what I was supposed to be doing," she said.
The Bryant program would agree.
Sponsor Content