A recent book tells the story of the Arkansas native who grew up in poverty and went on to become one of America's greatest publishers.
Empire: The House that John H. Johnson Built was written and published by Margena A. Christian, who worked as an editor and reporter for Johnson's weekly Jet magazine and Ebony magazine, the monthly that was also created by Johnson.
Christian is a distinguished lecturer in the English department at the University of Illinois at Chicago and the book began as her dissertation on Johnson, who died in 2005 at age 87. After more research, she completed the book in 2018. It can be purchased at margenachristian.com.
In her preface, she writes: "He wanted to reach people in ways and in places that others did not dare to go by showing the beauty of being black and being able to do anything. He especially wanted to touch those who were poor, ignored, and looked down upon, as he once was as a kid growing up in Arkansas City, Arkansas.
"At some point, in 2010, the same year I started graduate school ... I decided to find a way to make certain that Johnson would never be forgotten."
First with the scholarly Negro Digest in 1942 and later with Ebony and Jet, Johnson provided a voice for black America through his privately held Johnson Publishing Company. Ebony and Jet would become the black community's answers to Life and Reader's Digest, reporting on a part of America rarely covered in the white press.
Christian writes that the company was "a university of sort in that there were many classrooms (magazines, a cosmetic line, TV show, fashion show, radio station, etc.) and modes of teaching people about African-American consumers."
She went to work as an assistant editor for Jet in 1995.
"It was still in its heyday," she says during an interview. "It was always hustling and bustling with the best and the brightest. It was an exciting time in the history of the company."
The digest-sized Jet was known as The Little Black Bible, and its editorial staff met with Johnson daily.
"We saw him each and every day," Christian says. "He signed off on every page of Jet. It didn't matter what time we finished, he needed to see the last proof and sign off on it."
Talking about Johnson's cultural impact, Christian says: "It was global. It moved across oceans. Archbishop Desmond Tutu often talked about how his life was changed as a little boy in South Africa. He said he had grown up believing that people of color could not do certain things, and he said he remembered the day he saw a crumpled issue of Ebony in the street."
Seeing a black person on the cover of the magazine, which was banned in South Africa, was a revelation to the future activist, Christian reports.
"He said that issue of Ebony changed his life."
Ebony and Jet also "educated people who did not look like us," says Christian. "It was how so many people learned African-Americans are just like anybody else. A lot of people quietly used these magazines like textbooks."
Growing up in segregated Arkansas City, Johnson read smuggled copies of the black-owned Chicago Defender newspaper, and learned about the world beyond Arkansas.
School for black students in the Arkansas City Colored School System ended at eighth grade, so Johnson's mother saved enough money to take her son to Chicago, where he could continue his education.
After starting Negro Digest -- its debut issue featured articles by Langston Hughes, Chester Himes, Gwendolyn Brooks, Richard Wright and Zora Neal Hurston -- Johnson founded Ebony in 1945, followed by Jet in 1951.
"He truly believed that nothing was impossible," Christian says of her former employer, who was named in one publication as one of America's 10 Toughest Bosses. "He could be demanding. But he was fair. He did micromanage, but in some ways that was a good thing. He never took his hands off his baby, which was his empire."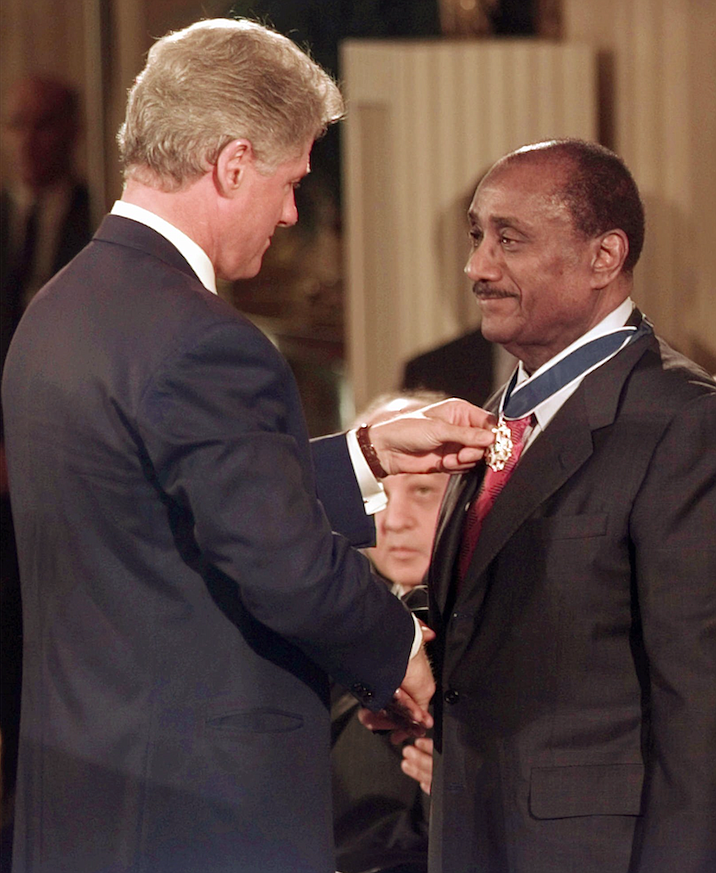 John H. Johnson (right), chief executive officer of Johnson Publishing, received a Presidential Medal of Freedom from President Bill Clinton in 1996. (AP)
Johnson had audiences with Presidents John F. Kennedy and Lyndon Johnson, and in 1996 was awarded the Presidential Medal of Freedom by Bill Clinton, who campaigned at the offices of Johnson Publishing during his first presidential campaign and who attended Johnson's funeral.
"He actually walked Eunice Johnson, Mr. Johnson's widow, into the funeral, and stayed by her side," Christian says. "It was a testament of two Arkansas sons from very different people who shared a common bond that was very special."
Johnson's company was passed to his daughter, Linda Johnson Rice, after his death.
Like many publications, the magazines had difficulty keeping up as the Internet grew, and Christian includes a timeline of the company's struggles at the end of her book. Ebony, Jet, Ebony.com and Jet.com, were sold to Texas-based CVG Group in 2016, and Johnson Publishing Company, which owns the magazines' archives and Fashion Fair Cosmetics, filed for Chapter 7 bankruptcy protection in April.
Looking back on her time working for Johnson and writing his biography, Christian says now she has even more appreciation for him.
"I learned that we take people for granted when we work with them," she says. "I always admired and respected him, but my respect and admiration took on a different level in terms of a scholarly perspective. It made me view him in a different way and forced me to have this determination to introduce him into the academic canon."
Style on 06/23/2019