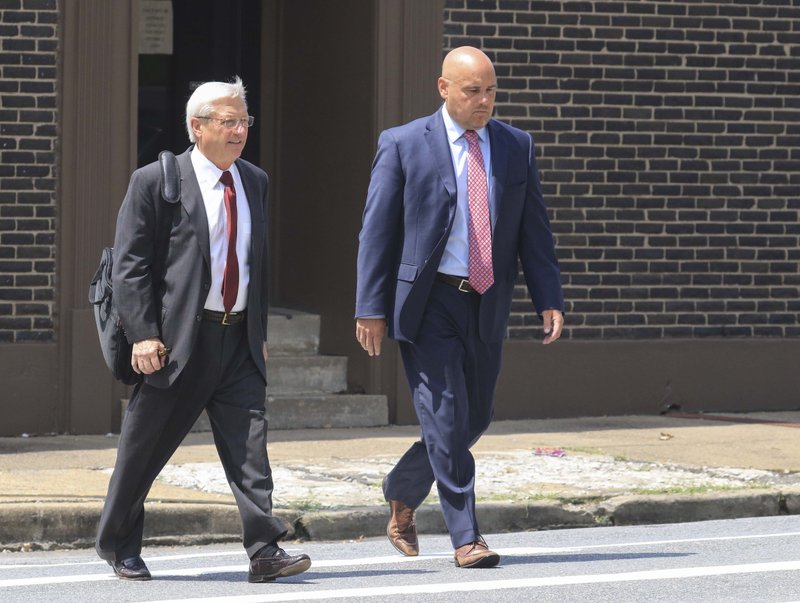 Former state Sen. Jeremy Hutchinson (right) arrives Tuesday at the federal courthouse in Little Rock with his attorney, Tim Dudley. ( Staton Breidenthal)
Former Arkansas Sen. Jeremy Hutchinson pleaded guilty to accepting bribes and falsifying tax records, affirming during a Tuesday court hearing that he received thousands of dollars from lobbyists seeking to influence state policy.
Hutchinson changed his plea in U.S. District Court in Little Rock stemming from a federal corruption probe into his financial dealings while in office. He is also expected to enter a guilty plea to a separate charge filed in a western Missouri federal court on July 8.
"The investigation into the rampant pay to play corruption scheme present in our state capitol is ongoing," said U.S. Attorney for the Western District of Arkansas Duane Kees in a statement following the afternoon hearing. "This plea represents a serious watershed in exposing this use of sham retainers and consulting arrangements to influence the passage of law."
Hutchinson faces a maximum sentence of 13 years in prison between the three charges.
Other counts against the Republican from Little Rock will be dismissed under an agreement he reached with prosecutors.
The veteran lawmaker, who is a nephew of Gov. Asa Hutchinson, resigned his Senate seat after a federal grand jury indicted him last August for misusing campaign money and knowingly underreporting thousands of dollars in taxes.
Hutchinson changed a previously entered innocent plea to the tax fraud charge and also pleaded guilty to a conspiracy to commit bribery charge filed on Monday afternoon by federal prosecutors in Fayetteville.
Document
Jeremy Hutchinson plea agreement
View
He recently sought to have some charges dropped, arguing that investigators illegally searched a laptop that was later destroyed.
U.S. District Judge Kristine Baker accepted the 45-year-old ex-lawmaker's guilty plea.
The bribery charge accused Hutchinson of accepting $157,000 from four businesses co-owned by an unidentified "Individual A" between February 2014 and November 2016, according to the charging document.
The conspiracy involved efforts to change the state's Dental Practice Act, the charging document says.
Prosecutors read evidence they gathered that included text and email messages between the unidentified lobbyist and business owner. They said the person "paid to carry out legislative objectives" while Hutchinson was in office.
A text message between people seeking to change state dental requirements read "We own them."
Hutchinson affirmed those allegations and details but spoke mainly in one-word responses with his voice cracking at times.
Federal prosecutors also charged him with accepting money in a bribery conspiracy with former executives of Preferred Family Healthcare Inc., a large behavioral health care provider for Arkansas Medicaid patient based in Missouri.
Hutchinson — who served a total of 16 years in the Arkansas House and Senate — didn't speak as he arrived at the courthouse with his attorney before noon. He also declined to comment after leaving Baker's courtroom and the courthouse.
Asa Hutchinson said in a statement following the hearing that he was "deeply saddened" by his nephew's "breach of the public trust."
"As a public official, I know the damage this does to public confidence and trust in our elected officials," the governor said. "We should all double our efforts to do the right thing in public office and to restore the public trust."
Read Wednesday's Arkansas Democrat-Gazette for full details.
Eric Besson contributed to this story.
Sponsor Content