3 astronauts end 6-month spaceflight
MOSCOW -- Three astronauts safely returned to Earth on Tuesday after spending more than six months aboard the International Space Station.
The Soyuz capsule with astronauts from Canada, Russia and the United States landed in the steppes of Kazakhstan at 8:47 a.m., less than a minute ahead of the scheduled time, on Tuesday after a 3½-hour flight from the orbiting lab.
Two of the astronauts had completed their maiden flights: Anne McClain of the United States and David Saint-Jacques of Canada. The expedition commander, Oleg Kononenko of Russia, has ended his fourth space mission. All three spent 204 days in space.
Americans Nick Hague and Christina Koch and Russia's Alexey Ovchinin remain aboard the space station.
The space veteran Kononenko, who was the first one extracted from the capsule, looked tired and pale. McClain and Saint-Jacques were more energetic and gave a thumbs-up to the recovery team that greeted the three with applause.
American sentenced in Vietnam coup try
HANOI, Vietnam -- A Vietnamese court has sentenced an American to 12 years in jail for what was described as an attempt to overthrow the Communist nation's government.
The state-owned Tuoi Tre newspaper reported Tuesday that 55-year-old Michael Nguyen was also convicted of inciting people to participate in protests with the intent to attack government offices in the capital, Hanoi, and in southern Ho Chi Minh City.
Two Vietnamese men, Huynh Duc Thanh Binh, 23, and Tran Long Phi, 21, were sentenced to 10 and eight years in prison, respectively, on the same charges after a half-day trial Monday in Ho Chi Minh City.
They were arrested last July in Ho Chi Minh City after returning from Hue in central Vietnam, where they had traveled to recruit more anti-government protesters, according to the state media report. The protests Nguyen is accused of planning did not occur.
The U.S. Embassy in Hanoi said in a statement Tuesday that it was disappointed by the verdict and will "continue to raise our concerns regarding Mr. Nguyen's case, and his welfare, at all appropriate levels."
Protests are rare in Vietnam, where the Communist authorities do not tolerate criticism of the government.
Yemen food aid blocked, agency says
CAIRO -- Yemen's rebels last month turned back a World Food Program shipment meant to feed some 100,000 families in the war-torn nation, a spokesman for the aid agency said Tuesday.
The rejection of the shipment came as the World Food Program was in tense talks with the rebels, known as Houthis, who had blocked the agency's attempt to register millions of Yemenis in need of aid by using biometrics as a means of preventing food-aid theft. The aid program has mainly blamed the rebels for stealing the food aid. The rejected shipment will also deprive thousands of families of badly needed aid.
The conflict in Yemen began with the 2014 takeover of the capital, Sanaa, by the Iranian-backed Houthis who drove out the internationally recognized government. Months later, in March 2015, a Saudi-led coalition launched its air campaign to prevent the rebels from overrunning the country's south.
In the campaign, Saudi-led airstrikes have hit schools, hospitals and wedding parties and killed thousands of Yemeni civilians. The Houthis have used drones and missiles to attack Saudi Arabia and have targeted vessels in the Red Sea.
Last week, the World Food Program partially suspended aid as talks with the Houthis went nowhere and after the agency accused the rebels of continuing to loot aid and using millions of dollars of international donations for their war economy.
U.K.'s top fighter jet flies first missions
NICOSIA, Cyprus -- Britain's most advanced military aircraft, the Lightning F-35B, has flown its first missions over Syria and Iraq as part of ongoing operations against remnants of the Islamic State, the U.K.'s defense secretary said.
Defense Secretary Penny Mordaunt said in a statement released Tuesday that the jets' first operational mission from a British air base in Cyprus was made after a highly successful training period.
"Their first real operational mission is a significant step into the future for the U.K.," Mordaunt said.
Six F-35B aircraft from 617 Squadron, flown by three British Royal Navy and three Royal Air Force pilots, arrived at RAF Akrotiri on May 21 for a six-week deployment as part of Exercise Lightning Dawn.
British military officials had said there were no plans for the aircraft to conduct combat missions during their stay at RAF Akrotiri.
But it was decided that they were ready to make their operational debut as part of Operation Shader -- the U.K.'s contribution to the fight against the Islamic State -- because of their "exceptional performance."
Officials said the aircraft didn't fire any weapons when flying alongside Typhoon jets during the missions over Syria and Iraq.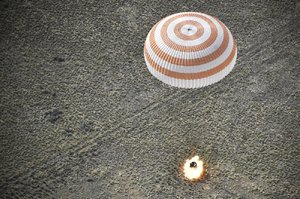 Photo by AP/ALEXANDER NEMENOV
A Russian Soyuz space capsule lands with a final burst of flames from its braking thrusters Tuesday on the steppes of Kazakhstan. U.S. astronaut Anne McClain, Canadian David Saint-Jacques and expedition commander Oleg Kononenko of Russia returned safely from 204 days aboard the space station.
A Section on 06/26/2019