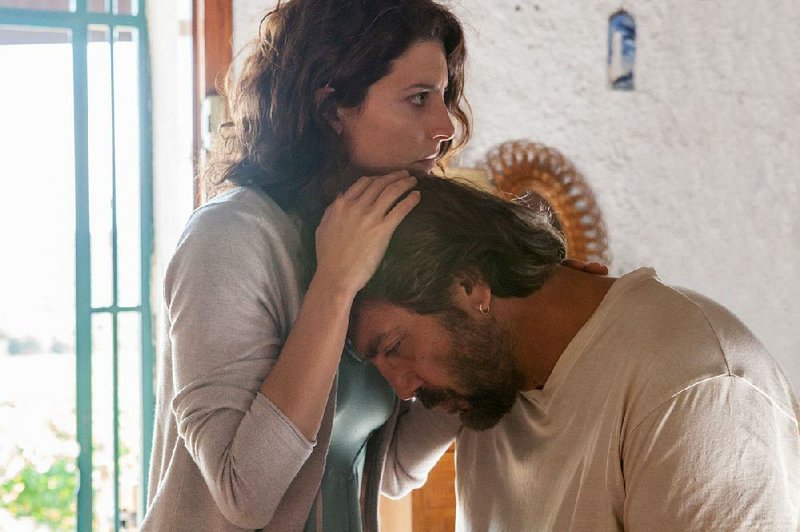 Bea (Barbara Lennie) is wary when husband Paco's (Javier Bardem) childhood friend and ex-lover returns to their Spanish hometown in Everybody Knows, a psychological thriller directed by Iranian filmmaker Asghar Farhadi.
You can leave a small town, but never really escape it. Even if you haven't set foot there for decades, the secrets, the feuds and the jealousies practically become part of your genetic code.
When Laura (Penelope Cruz) returns to her hometown outside of Madrid, everybody greets her and her two children with deference. That's easy to understand. Her Argentinean husband, Alejandro (Ricardo Darin), put up the money for repairs to the local church.
Everybody Knows
88 Cast: Penelope Cruz, Javier Bardem, Ricardo Darin, Eduard Fernandez, Barbara Lennie, Inma Cuesta, Elvira Minguez, Ramon Barea, Carla Campra
Director: Asghar Farhadi
Rating: R, for some language
Running time: 2 hours, 13 minutes
Everybody else in the town would probably love to get their hands on that cash.
Before the wedding parties have ended, Laura discovers that someone has kidnapped her daughter and is demanding a steep ransom. Unfortunately for both the abductors and Laura's daughter, the nest egg back in Argentina is long gone.
To deal with the crisis Laura turns to her former boyfriend Paco (Javier Bardem), who still nurtures a crush on her. He knows some of the quirks in local law enforcement and seems to be one of the few villagers who doesn't want a handout from Alejandro.
Because the rural Spanish setting and the characters who inhabit it are so vividly realized, it's a little jolting to discover that Everybody Knows is written and directed by two-time Iranian Oscar-winner Asghar Farhadi. His previous movies like The Past, A Separation and The Salesman featured pointed comments on being an Iranian exile or on the challenges of living in contemporary Tehran.
Unfortunately for human nature but fortunately for his movies, the same foibles that plague Iran exist everywhere else on the planet. The village in Everybody Knows and the apartment complex in The Salesman feed on rumors and prejudices. The Catholics in the new film mistake their own egos for a higher calling just as the Muslims do in the previous one.
Casting three great leads certainly helps Farhadi bridge any cultural divides. Cruz and Bardem are married off-screen, and they effortlessly convey a couple who can't quite let go of their old attractions. Because my Spanish education stopped in high school, I can't judge the dialogue, but there's no denying that the two can convey more information with sidelong glances than most thespians can with the entire works of Cervantes at their disposal.
Against the two Oscar winners, Darin more than holds his own. He easily switches from smugness to self-pity in seconds. Alejandro is a recovering alcoholic who mistakes outward piety for deeper faith.
The good fortune that used to serve as justification for his arrogance is long gone, and his inability to keep his daughter safe nearly breaks him. If you've seen an Argentinean movie in the last 20 years, Darin has probably starred in it. His work here is equal to anything he has done in Nine Queens or The Secret in Their Eyes.
Farhadi's slow pacing is a surprising asset. There are lots of characters with ulterior motives, and it takes a while to get a feel for the town. When the jolts do come, they have more impact.
Because he's Iranian, Farhadi was unable to personally accept his second Academy Award. At the same time authorities in Tehran are wary of him because his movies reveal that life in the city is far from ideal. Maybe his movies travel because so well because they eloquently deliver message we might not want to but must hear.
MovieStyle on 03/08/2019
Print Headline: Everybody Knows
Sponsor Content