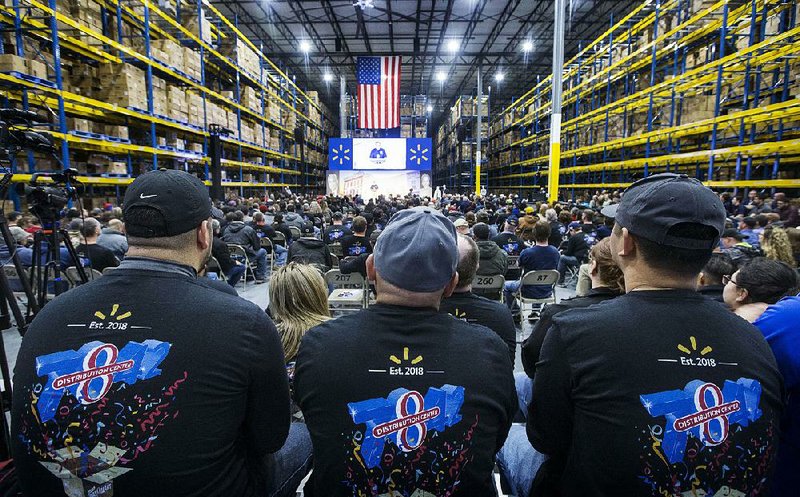 Walmart employees wear commemorative shirts at a ceremony last week opening Walmart's distribution center dubbed DC 7842 in Bentonville. ( NWA Democrat-Gazette/BEN GOFF / Ben Goff)
BENTONVILLE -- With nearly as much hoopla and enthusiasm as a Walmart Inc. shareholders meeting, the retailer celebrated the opening last week of its new fashion distribution center in Bentonville.
Many of the nearly 600 employees who work at the mammoth facility, dubbed DC 7842, turned out for the festivities, along with some of Walmart's top brass and Bentonville Mayor Stephanie Orman. At the beginning and end of Tuesday's ribbon-cutting ceremony, they led attendees in a rousing Walmart cheer.
The new warehouse at 5800 S.W. Regional Airport Blvd. represents the culmination of 18 months of work to merge an apparel distribution center in Bentonville and a footwear warehouse in Fort Smith. Workers from both former locations now operate the shiny new $170 million facility loaded with some of the latest equipment in supply chain technology.
The building is the first fashion distribution center Walmart has opened in more than 20 years, officials said. It will serve regional distribution centers in 15 states and, eventually, 1,000 stores.
DC 7842 exemplifies the work Walmart is doing to better serve customers through innovation and process improvements, said Greg Smith, executive vice president of the supply chain division of Walmart U.S.
"We know the retailer that has the best supply chain is going to win," Smith said. "And that retailer will be Walmart."
Steve Bratspies, chief merchandising officer for Walmart U.S., called the nearly 1.3 million-square-foot warehouse an "ecosystem" and "a direct investment in our supply chain." As an omnichannel retailer, he said, Walmart is becoming more efficient at ensuring that customers can find what they want no matter when or how they choose to shop.
Combining the two smaller distribution centers is more efficient, company officials said. With the greater volume of merchandise shipping from DC 7842, Walmart will be able to move more product in fewer truckloads. This will also help the retailer move freight faster and with better quality control.
The building has 82 doors for receiving and 62 for shipping. Sitting on nearly 120 acres, there's enough parking space to accommodate more than 1,000 trailers.
On a tour of the facility after the ribbon-cutting, a guide pointed out the six rows of bright yellow shelving throughout the warehouse that rise high overhead. The building offers 40 feet of usable height for stacking pallets of merchandise, he said, compared with the 32 feet available in the typical distribution center.
All of the equipment is fueled by hydrogen, and "filling stations" throughout the warehouse serve the 147 forklifts that are powered by hydrogen fuel cells. Hydrogen is a cleaner and more efficient energy source than other types of fuel, the tour guides said.
At the receiving dock, footwear is unloaded to one side and apparel to another. Islands of conveyor belts, chutes and sorting equipment dot the building's interior, rising up and twisting down and around like some sort of carnival ride.
But every item is unpacked, sorted for a particular store, and then repacked for shipping with choreographed precision. An overhead box trolley system carries empty boxes for packers to fill, seal and label for shipping to the appropriate store.
Once the order for a store is completed, a worker puts it on the conveyor belt that carries it to the shipping area. The distribution center has 30 shipping lanes, with capacity for 28 more. An extendable loader takes the boxes to within 4 feet of the truck for loading.
Neal Maguire, assistant general manager of DC 7842, said worker safety is always the top consideration, and new employees are trained first in basic safety. Plus, he said the automation takes on much of the heavy lifting, easing the physical burden for workers.
Also at Tuesday's event, grants totaling $6,000 were presented to several Northwest Arkansas nonprofits from Walmart and the Walmart Foundation, its charitable arm. Organizations that received the grants were the Bentonville West High School Chamber Choir, which performed the national anthem to open the ceremony; Special Olympics; Kendrick Fincher Hydration for Life; and Sharing and Caring of Benton County.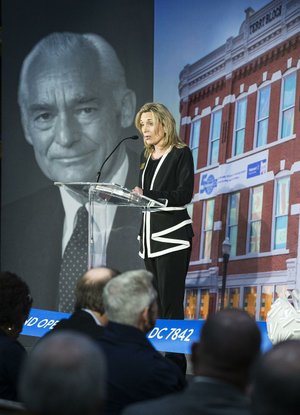 Photo by Ben Goff
Bentonville Mayor Stephanie Orman speaks Tuesday at the opening of Walmart's 1.3 million-square foot warehouse.
SundayMonday Business on 03/10/2019
Print Headline: Walmart touts new fashion hub
Sponsor Content