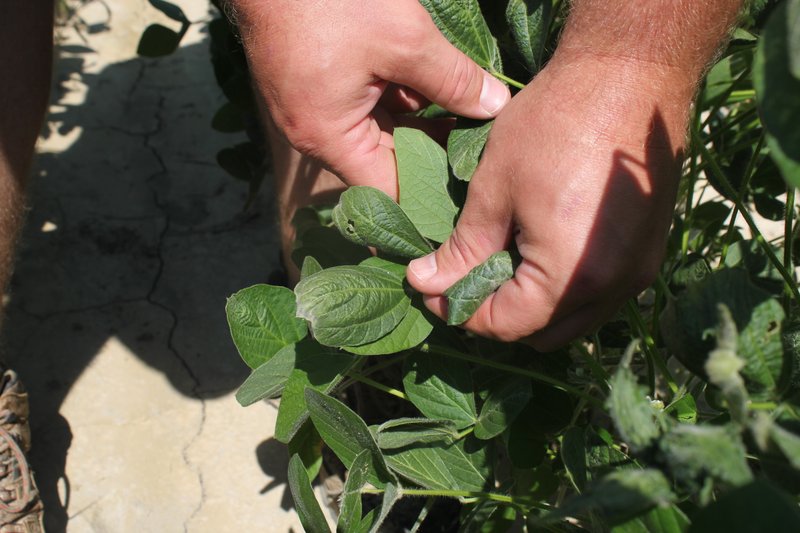 FILE - East Arkansas farmer Reed Storey shows the damage from dicamba to one of his soybean plants in Marvell, Ark., in July 2017. (AP Photo/Andrew DeMillo File)
The state Plant Board voted unanimously Friday to adopt a 120-day emergency rule to clarify its actions last month during a public hearing on the use this summer of dicamba.
The new rule says older, generic formulations of the herbicide -- considered to be more volatile and prone to off-target movement -- can't be used from April 16 through Aug. 13.
The August date had to be included because an emergency rule is good only for 120 days. The board will meet again, likely in June, to adopt a permanent rule prohibiting use of the older formulations after Aug. 13.
The board overlooked that issue Feb. 20 when it voted 9 to 6, after a nine-hour public hearing and special board meeting, to allow farmers to spray dicamba on dicamba-tolerant soybeans and cotton through May 25. Farmers had an April 15 cutoff date last year, and dicamba critics said that cutoff was needed again this year to protect fruits, vegetables and other crops susceptible to the herbicide.
"We didn't address the burn-down conditions," Greg Hay, the board's chairman, said, referring to a period when farmers prepare their fields, including spraying herbicides, before planting.
The emergency rule also clarifies that only three new formulations of dicamba can be used on dicamba-tolerant groups from April 16 through May 25 -- FeXapan by DowDuPont; Engenia by BASF, and XtendiMax by Monsanto, now owned by Bayer. Those three are considered by weed scientists to be somewhat less susceptible to off-target movement than older dicambas.
A fourth new dicamba formulation -- Tavium by Syngenta -- also will be allowed in Arkansas once the federal Environmental Protection Agency approves it. Syngenta representatives said Friday that they expect EPA approval soon.
The emergency rule also says the new formulations cannot be applied by air, an issue also left uncertain from the Feb. 20 hearing and vote.
Aside from the May 25 cutoff, restrictions this year include:
• A mile buffer, in all directions, from university and federal research stations, certified organic crops, and commercially grown specialty crops, which are defined as operations with more than 1,000 plants or average crop sales of more than $25,000 over the three previous years.
Farms that are undergoing the three-year process to be certified organic through the U.S. Department of Agriculture would be protected under the mile buffer requirement, the board said Friday. Some farmers had said the board's Feb. 20 actions didn't give that level of protection.
• A half-mile buffer, in all directions, from other crops, including conventional soybeans and cotton not tolerant of the dicamba.
The EPA has said soybeans are the broadleaf plant most susceptible to dicamba, yet soybeans are getting the least protection, David Hundley, manager of Ozark Mountain Poultry's soybean operations in Craighead County, said after the meeting.
Ozark Mountain Poultry, now owned by George's Inc., pays premiums to farmers for soybeans not genetically modified, as part of the company's business strategy of raising poultry without GMO feed. The company and other farmers believe those soybean varieties should be protected by the mile buffer.
Newly operating hemp farms in Arkansas and the state's five medical-marijuana cultivators also will be under the half-mile buffer protection.
The board also approved a list of 26 questions and answers devised by staff regarding dicamba's use that will be posted on the website of the board and the Arkansas Agriculture Department.
The questions, which had been posed by board members and members of the public, include: "Does the half-mile buffer zone for non-dicamba tolerant crops include gardens?"
The board, through its staff, said backyard gardens do have that protection.
It is up to farmers and applicators to determine the location of those dicamba-susceptible crops and gardens and the distances from fields where dicamba will be sprayed, mostly through an online program called FieldWatch, the board said.
The May 26 ban doesn't apply to dicamba's use around the home. It also can be used on pastures and rangeland but only with the half-mile and mile buffers.
The proposed emergency rule now goes to the governor for review and, if approved there, to the Joint Budget Committee and its rules and regulations subcommittee.
Business on 03/23/2019
Print Headline: State board adopts rule on dicamba; 120-day curb put in as emergency
Sponsor Content