FAYETTEVILLE -- What began Friday as a two-car crash on College Avenue ended with one of the vehicles in a coffee shop and at least five people at hospitals.
College Avenue was closed from Maple to North streets while emergency crews cared for the injured and then removed the car from Baba Boudan's at 701 N. College Ave.
A maroon Suzuki XL7 crashed into the coffee shop about 11:18 a.m., according to police. Central EMS, firefighters and officers were there about two minutes later.
Five people were injured, said Sgt. Anthony Murphy, public information officer for the Police Department.
Murphy said it appeared the two vehicles were both northbound when they collided on College. Skid marks on the pavement stretched from just north of the Trenton Boulevard intersection with College to the front of the coffee shop, a distance of about 180 feet, police said.
Murphy said the driver of the Suzuki, a juvenile, will be cited for careless driving, no driver's license in possession and inadequate insurance.
The Suzuki demolished a wall and came to a stop inside the shop. Crews were pulling the car out of the building at 12:15 p.m. The other vehicle was sitting in the parking lot with damage to the left rear corner.
Bradley Haj, a former employee, said he was sitting outside at a picnic table when the crash occurred.
"I heard what sounded like an accident down the street, down around Starlight, the skate place," Haj said. "I looked and saw the car just fly across two lanes and slam into the building."
Stan Lancaster and Jennifer Summers own the shop. Summers said her son, Birch Lancaster, was one of the people taken to the hospital. Summers said she and her son were behind the counter when the car hit the building. She said she injured her shoulder when she fell to the floor.
"I heard an accident, and the next thing I know, this car sped through the plate glass door and window," Summers said. "Then there was a car in the building."
Summers said she's concerned about keeping the building safe and secure while she works to open. She said Friday's crash was the second time a car has hit the building she knows of, but she has no plans to move. She said the coffee shop has been in the building for at least 27 years.
A vehicle also crashed into the building and caused major structural damage on July 6, 2006, according to newspaper archives.
Police said wrecks in that stretch of College Avenue aren't uncommon, with drivers stopping to turn left into businesses a frequent cause. There is no left turn lane on the street in that area. Vehicles pulling onto College Avenue from Rebecca Street, which is just across College from the coffee shop, is another common factor in accidents.
No information on the number of crashes in that area was immediately available.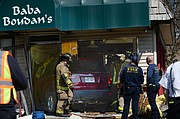 NW News on 03/23/2019