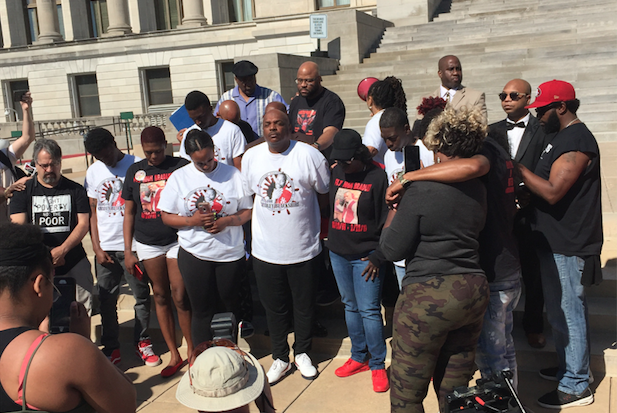 Protesters called for action Monday morning in the death of Bradley Blackshire, who was shot by a Little Rock Police Department officer in February. ( Stephen Simpson )
People who rallied last week outside the state Capitol, protesting a fatal officer-involved shooting of a black motorist in Little Rock, were denied a permit for the rally by the secretary of state's office.
Although a permit is not required to gather at the Capitol, the state can withhold the use of its equipment if no permit is obtained. Rizelle Aaron, organizer of the Justice for Bradley Blackshire rally, said he applied for a permit but his request was denied, he was told, because it was not received 30 days in advance of the April 22 protest.
"She said there was no other event on that date, and later that day, she said they would not be able to approve the application because of a 30-day rule," Aaron said, referring to his conversation with T. Leighanne Harvey, events coordinator for the secretary of state.
However, a review of state Capitol permit applications to the secretary of state's office shows that no requests this year were denied because of the 30-day requirement — until the Justice for Bradley Blackshire request. Until Aaron submitted his application, 46 applicants — out of 113 total — did not meet the 30-day requirement but received approval.
His was the first, and only, one denied.
"I said I wanted to do this the right way, and they denied us that way," said Aaron, who is Blackshire's uncle.
When asked why the secretary of state's office denied a permit for the Justice for Bradley rally when all of the previous applications submitted that did not meet the 30-day requirement were approved, Chris Powell, press secretary for Arkansas Secretary of State John Thurston, said in a written statement that the office does not "deny the free-speech rights of anyone."
"The use of state property, such as podiums or public address systems, will not be supplied to any group that does not apply at least 30 days in advance," he wrote. "This policy will be enforced for all applicants."
Powell declined to address why the 46 applications received before Aaron's were approved and his was not.
Despite the application denial, the Justice for Bradley Blackshire rally went on as scheduled, with about 50 people attending the two-hour event held under heavy security, Aaron said. Participants provided their own sound equipment.
"The Justice for Bradley rally proceeded as scheduled," Powell wrote in his email. "The Secretary of State did not prevent it."
POLICE MEETING
Emails between the secretary of state's office and other officials, provided to the Arkansas Democrat-Gazette via a Freedom of Information Act request, show a concern that the rally would incite violence, despite protesters saying they intended to be peaceful.
Harvey asked colleagues and Capitol Police Chief Darrell S. Hedden on April 8 for advice on how to handle the rally, and one official suggested that she cite the 30-day rule and that the secretary of state's office "change the event form to reflect a requirement of a minimum 30 day notice for events like this (Rallies and or Protest)."
Ahead of the peaceful protest, the Capitol Police met with the FBI, Arkansas State Police, Arkansas Department of Emergency Management, Little Rock Police Department, Pulaski County sheriff's office, Little Rock Fire Department, Metropolitan Emergency Medical Services, "and other agencies concerning the Blackshire Rally," one email said.
On April 22, the day of the rally, about 50 protesters walked onto the Capitol steps to find police officers lining their path, perched along nearby rooftops and carrying large, clear riot shields. In addition, the state Capitol had been shut down.
"I have a real concern and a real problem that anyone can just say 'no' without a reason," said state Rep. Vivian Flowers, D-Pine Bluff, who aided Aaron in applying for the permit. "We have these protocols, and we are supposed to apply them evenly, equally.
"All of our citizens should have a voice. They are Americans. They are Arkansans. They should be able to use the Capitol grounds and facilities just like anyone else."
30-DAY WINDOW
In the two months since Blackshire's death, his family has held multiple rallies and protests calling for the prosecution of officer Charles Starks, who shot Blackshire eight times after encountering Blackshire in a stolen vehicle.
Since his death, Blackshire's family has called for the purchase of body-worn cameras for all Little Rock police officers and for the implementation of a citizen review board for the Police Department.
Long before the Pulaski County prosecuting attorney's office announced on April 19 that Starks would not face criminal charges in the shooting, the Blackshire family said it wanted to protest on the Capitol steps.
On April 3, Aaron said he spoke with Harvey, who told him that there was no other event scheduled on April 22 and that she would email him an application form to submit.
"I asked her about applying to hold the rally on April 22," Aaron said. "Initially, she was very accommodating, and I said it was for the Justice for Bradley movement and she seemed not to know very much about what that was."
Later that day, Aaron received an email saying the application would not be approved.
"Unfortunately, that date falls under our 30 day window on reserving the front steps for your event," Harvey's email said. "We require a 30 day notice to anyone wanting to reserve the front steps or any other part of the building. If you would like to move your event to May 4 or any time after that date, we will be more than happy to assist you."
Atop the application for use of Arkansas state Capitol facilities, the form says the secretary of state's office "prefers" to receive the paperwork at least 30 days before the planned event.
"It clearly states at the top of the application there is no 30-day requirement," Aaron said. "It states they 'prefer' 30 days notice."
Aaron emailed Harvey saying he intended to hold the rally on April 22 with or without the permit, and that all his group needed was a sound system, which he could provide if necessary.
Harvey did not respond, according to email records.
LEGISLATOR'S HELP
Aaron contacted Flowers and told her about applying for the permit, and on April 5, Flowers turned in the application. Flowers said senators and representatives often partner with interest groups to help them set up events.
In an email that same day, the Capitol Police's Hedden said the Little Rock Police Department had notified him of the coming rally.
"I have spoken to Ms. Harvey and she advises she has not approved this event as of this date," Hedden's email said. "I would recommend we change the event form to reflect a requirement of a minimum 30 day notice for events like this (Rallies and or Protest) or it will not be scheduled."
Three days later, Harvey forwarded Aaron's email to Bill Huffman, chief deputy secretary of state; Dwight Southerland, chief of staff; Kenneth Burleson, chief legal counsel; Hedden; Sgt. Charlie Brice of the Arkansas state Capitol Police; and Brent Stamp, director of Capitol facilities.
Arkansas' secretary of state was not included in the email.
"Thoughts!!!" Harvey's email said. "If we don't go ahead and give them the front steps they are going to … end up coming into the building as they have in the past. I just need to know how to reply."
Harvey sent the email about three hours before Hedden was scheduled to meet with local and national law enforcement agencies "concerning the Blackshire Rally."
"LRPD stated the organizers are saying this will be a peaceful rally but there will be a civil disobedience protest held at an undisclosed location (most likely the same day) where arrests are likely," Hedden said in one email. "LRPD is expecting problems in many areas around Little Rock."
When Harvey asked on April 10 if she should respond to a follow-up email that Aaron sent concerning the rally's permit application, Huffman said, "no response is necessary."
Thurston was included among the recipients in that email chain.
CAPITOL CLOSED
Aaron said he didn't know that the permit had been denied until less than two hours before the protest was to begin.
While driving to the Capitol around 9:15 a.m. on April 22, a Monday, Aaron said he called the secretary of state's office.
Toward the end of the conversation, Aaron said he'd arrived at the Capitol building and parked to finish the phone call.
"If they're not going to let us have a little peaceful rally on the steps like we requested, then all of us that are coming to the rally will most likely decide to take a tour of the inside of the Capitol," Aaron said, according to a recording of the phone conversation posted on Facebook. "Not a rally, not a protest, just a tour."
After a few more seconds of talking, Aaron said he hung up and walked up the long path to the Capitol.
"I don't know what message she relayed to the Capitol Police, but by the time I got to the Capitol doors, the building had been shut down," Aaron said.
"A peer of mine had already been in the state Capitol that day, so we know it was open before that phone call. There were about 10 officers standing in a line inside the door, and they cracked the door open a little bit, and they told us that the Capitol was closed."
Powell declined to say why the Capitol was closed, but said the building closing during a weekday was "not without precedent."
Aaron said that as he prepared for the protest, he saw at least 50 police officers milling around the area.
During the rally, protesters called for justice for Blackshire, recalled stories about him and spoke of future protests. The rally was peaceful, Aaron said, and ended around noon.
There were no arrests.
"I think there was a lot of misinformation in reference as what the rally would be," Aaron said. "The rally had always been billed as peaceful."
ACLU LETTER
Two days after the rally, the American Civil Liberties Union of Arkansas sent a letter to Thurston saying the secretary of state's "extreme measures raise serious constitutional concerns and indicate a fundamental disregard for the First Amendment rights of the people you have sworn to serve."
Holly Dickson, legal director for the Arkansas ACLU, said officials have reviewed the secretary of state's permit records and found dozens of accepted applications submitted fewer than 30 days before an event.
"I would like for them to explain what their concerns were, to explain this activity and to explain the closing of the state Capitol," Dickson said. "My own experience tells me they do not require 30 days. They do it all the time on very short notice, and that's what their records indicated."
Several of the applications for permits to use the Capitol grounds were similar to Aaron's. The Save AR Students rally, which anticipated more people than the Justice for Bradley rally, and requested the same podium and sound system access that Aaron asked for, was accepted on March 1, 10 days before the event.
Flowers said she asked multiple times why the permit had not been accepted and never got a full answer.
"In all of my time, since the mid-90s, I've never heard of an instance where a legislator has requested the use of Capitol grounds and been denied, and if they are denied, that legislator should at least be given the benefit of the reason for the refusal of the application," Flowers said. "It just didn't make sense to me. I didn't feel like I was getting all of the information."
Aaron, however, said he thought the reason was clear.
"Clearly, this was done to prevent us from coming to the state Capitol," he said. "There's a lot of folks who are afraid when black people organize. When we come together in an organized group, the people who should be supporting us are sometimes intimidated."
Aaron said he has been consulting with the Arkansas ACLU in the days since the rally and if it advises him of a "legal remedy" for the situation, he intends to pursue it.
"They need to adhere to their own policies," Aaron said of the secretary of state's office. "If they want to make a 30-day requirement, it needs to be in black and white, and it needs to be across the board."
Photo by J.T. Wampler
Rizelle Aaron of Little Rock and president of the Arkansas NAACP speaks Sunday Feb. 23, 2017 at St. James Missionary Baptist Church in Fayetteville.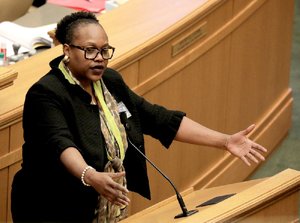 Photo by Democrat-Gazette file photo
State Representative Vivian Flowers is shown speaking at the state Capitol in Little Rock in this file photo.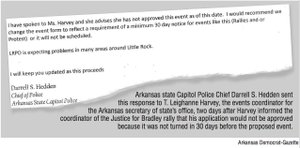 Arkansas state Capitol Police Chief Darrell S. Hedden sent this response to T. Leighanne Harvey, the events coordinator for the Arkansas secretary of state's office, two days after Harvey informed the coordinator of the Justice for Bradley rally that his application would not be approved because it was not turned in 30 days before the proposed event.
Print Headline: Rally at Capitol over Little Rock police shooting gets cold shoulder
Sponsor Content