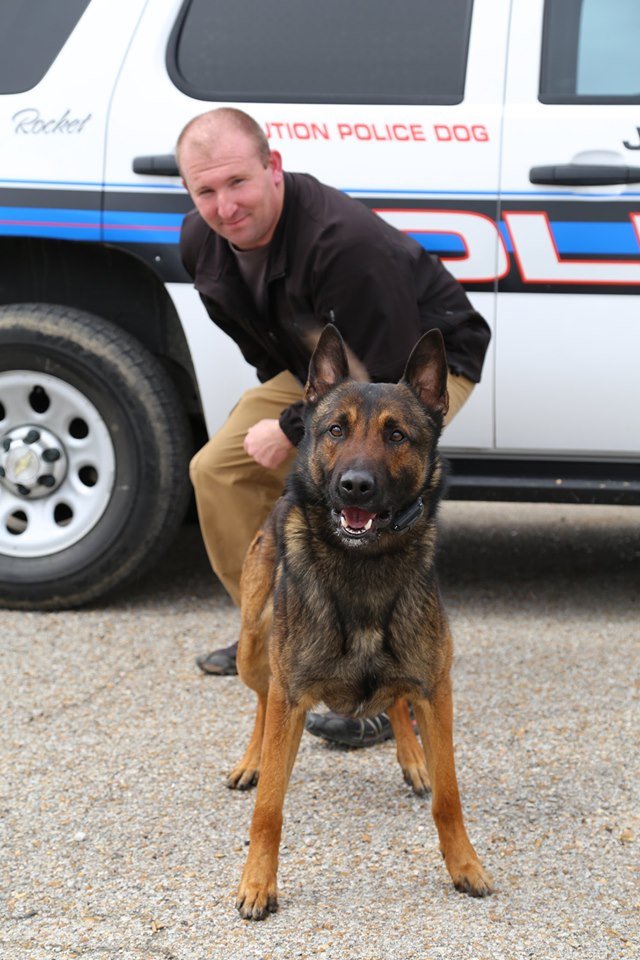 K9 officer Rocket and his handler Jason Myers
A northeast Arkansas police department suspended an officer after his unleashed dog ran toward gunfire at a shooting range and another officer shot it in the shoulder, officials said.
Jonesboro Police Chief Rick Elliott said Tuesday that he suspended Officer Jason Myers after he brought his police dog Rocket to a shooting range late last month. Officials said the dog ignored its trainer's commands, ran out of a vehicle into oncoming gunfire and lunged at an officer before it was shot.
Elliot issued a written reprimand and suspended Myers for one day without pay, saying he should have put a leash on the dog despite the officer believing the shooting exercises had stopped.
"Myers has been an exemplary K-9 handler for many years, but because of the outcome of this incident, a suspension is warranted," the department said in a statement.
The dog was released from an animal hospital after undergoing surgery, and a full recovery is expected.
The shooting prompted city leaders to examine how the police department releases information following a groundswell of community criticism that mainly touched on the delay in detailing publicly what happened.
Jonesboro Mayor Harold Perrin vowed to make all incident reports available on the department's website.
"Unfortunately, a perception has developed that our police department is not fully transparent," Perrin said in a recent statement. "This has come to my attention through conversations with our residents, but also in opinions expressed by our local news media."
City officials haven't set a timetable for the changes.
The shooting happened on April 30, but police didn't release information about it until last week. NEA Report, an online news site covering northeast Arkansas, first reported the shooting.
A police spokeswoman cited an internal investigation that concluded on Tuesday for the delay in releasing information.
Sponsor Content