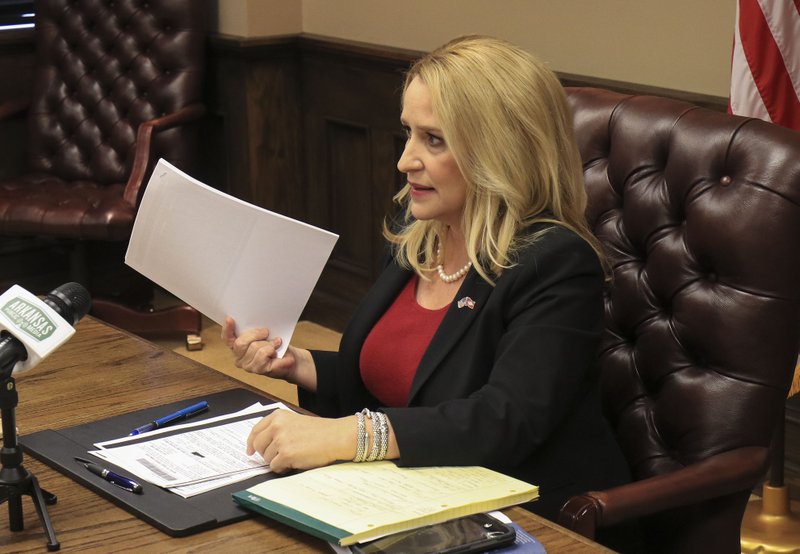 Arkansas Attorney General Leslie Rutledge is shown during a press conference at her office in Little Rock in this file photo. ( Democrat-Gazette file photo / Staton Breidenthal)
A west Little Rock spa that abruptly shuttered last year will pay $200,000 to settle a lawsuit with the state after its closure drew multiple complaints from customers who said they weren't refunded for prepaid services.
Arkansas Attorney General Leslie Rutledge said Wednesday that her office reached a deal with the owners of Indulgences by Body Bronze, a spa previously located at 14524 Cantrell Road. It shut down last January.
Under the agreement, owners Lila Riggs and Molly Verbrugge will pay nearly half of the amount toward repaying customs and the remainder in penalties and fines, Rutledge said. Riggs and Verbrugge are also permanently banned from running a spa or similar business.
"Arkansans who were hurt financially by Indulgences by Body Bronze will now be made whole," Rutledge said in a statement Wednesday. "The owners are being held accountable for soliciting and accepting prepayments from customers without regard to whether the company would be able to provide customers the goods and services they purchased."
Body Bronze's closure drew fire from some 250 customers who complained they weren't able to use pre-paid memberships and other services that the spa heavily promoted during the holiday season, according to court records.
The customers reported spending more than $98,000 at the spa for unmet services, ranging from skin treatments to laser hair removal, according to the civil complaint filed in Pulaski County.
The lawsuit alleged that the spa violated the Arkansas Deceptive Trade Practices Act.
A circuit judge signed off on the agreement on Tuesday, which avoided a trial and ended any other civil liabilities for the spa and its owners.
Sponsor Content