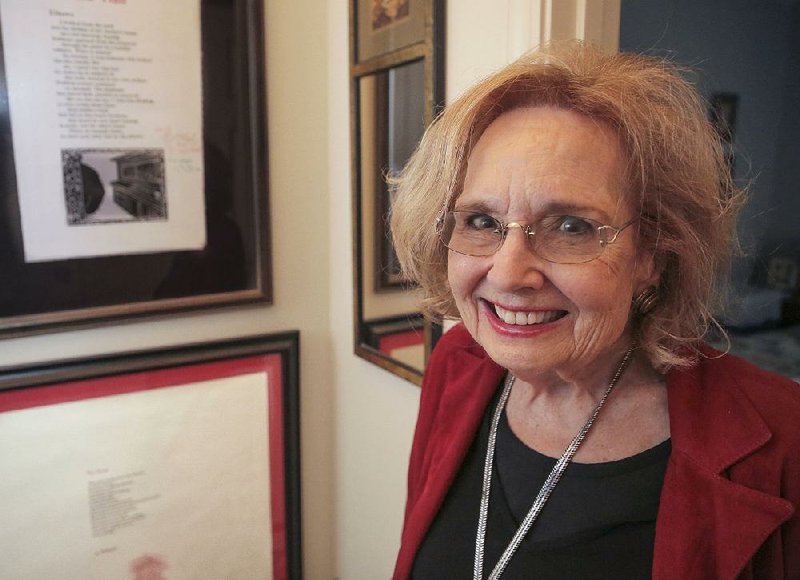 "Jo's poems have this beautiful spareness. Every word counts — and every white space. She's got a great eye for detail, for nailing images in a way that calls an entire scene to mind." — Poet Hope Coulter
Everybody understands the path to literary notoriety runs through the occupants of a literary salon holding court in a dark and seedy big city bar. Or it runs through the hothouse incubators of Ivy League graduate programs. The golden path for a writer isn't usually laid out before the eldest daughter of an Arkansas Delta rice farmer. Writers don't generally emerge out of a domestic life on a farm dominated by the daily tasks of raising children and keeping house.
The rise of Jo McDougall, the current poet laureate of Arkansas, doesn't follow the typical trajectory from obscurity to recognition. The six collections of poems published under McDougall's name -- beginning in 1987 with The Woman in the Next Booth -- and the accolades and honors that continue to come her way are proof of her exalted literary status.
The latest laurel wreath for McDougall arrives June 20 when she is given the Lifetime Achievement Award by the Porter Prize at a gala at the Clinton Presidential Center. Former Gov. Mike Beebe will give the keynote address.
"It was a super surprise when I was told some months ago, and I still can't quite believe it," McDougall says. "I am grateful for it."
The Porter Fund's Lifetime Achievement Award is given out every five years to an Arkansas writer with a substantial and recognized body of work. McDougall is the fourth Arkansas writer to be given the Lifetime Achievement honor following Donald Harington in 2004, Miller Williams in 2009 and Charles Portis in 2014.
"Jo's poems have this beautiful spareness," said McDougall's friend and fellow poet Hope Coulter, director of the Hendrix-Murphy Foundation at Hendrix College. "Every word counts -- and every white space. She's got a great eye for detail, for nailing images in a way that calls an entire scene to mind."
"I hope to give [readers] little surprises along the way and keep them reading," McDougall says. "I hope they can find something to take home that relates to their lives."
Growing up on her family's rice farm, McDougall's early life would seem almost alien to many young people today. A world without electronics, social media or television wasn't a bereft or despairing place. McDougall filled in the space with her growing imagination.
"[My childhood] was a lot of wonderful solitude," McDougall recalls. "We didn't have the concerns of safety back then as we do today. I was allowed to be out hours on my own. I walked all over the farm. As I walked, I was always saying things to myself -- not necessarily poems but ideas. Somehow I had the rhythm of words in my head. I would tick them off on my fingers. That farm and that world are the basis of my writing."
Examples of writers and writing were all around McDougall as she grew up.
"My mother would read to me every night from a set of books called My Bookhouse. I went to Sunday School and church and heard the Bible. My mother subscribed to a book club so there were lots of books around."
The standards set for McDougall and her sister were high. McDougall's parents expected their girls to go to college and that "an A was good but an A plus was better." It was a lesson that took root.
"I was an overachiever," McDougall notes.
The naturally observant future poet was well aware when her mother deviated from the standard domestic path.
"She taught in high school but she also opened up her own antique shop. She liked to have her own spending money. She didn't have to do that, but she was an independent woman."
In high school, McDougall's interest in writing was kept alive through classes in journalism. She thought that might be a career where her emerging skills could find a home.
"I would have been a terrible journalist," McDougall says flatly. "I like to embellish too much."
High school was where she met her future husband, Charles. Their bond wasn't instantaneous, but it has stood the test of time.
"When I was 15, we dated on and off. He was quite handsome and tall with a smile as big as the United States. He was calm, and I was a hyper personality. It seemed to work. We just adored each other. We have been married 63 years."
However, before young Charles could marry young Jo, he had to make a promise.
"He had to promise my father that I would finish college," McDougall states. "And we were married when I was 19. We both graduated (from college) as a married couple."
NIGHT OWL
Degrees in hand, McDougall and her husband traded the mountains of Fayetteville and the University of Arkansas to return to their home, the flat farmland of the Delta. Their time would be consumed with tending to the business of a rice farm and raising children -- a girl and a boy -- who would soon arrive.
Somewhere in that whirlwind of activity McDougall devoted whatever energy was left over to writing poems. Often she would type deep into the night when everybody else in the house was asleep.
"I wrote my first poem when I was 12 and my father framed it and put it on his desk," McDougall recalls. "That's probably what got me started. I thought that was pretty good recognition. I published a few poems in the college magazine."
During those late nights at the farm, McDougall pushed forward because of her passion to write. She did so even as she was learning about her own limitations.
"I didn't have anybody to talk with and, at the time, I didn't have any teachers. I was self-taught. I read a lot of anthologies. Free verse was prominent then in the '60s and '70s, and I became a free verse poet. But I didn't have a voice, and I knew that I didn't know what I was doing."
There were other signs that McDougall couldn't ignore.
"My sister said, 'You know I like what you write but I can start reading from the bottom and it makes the same sense as reading from the top.' So when I heard that I thought I needed help."
A writer's conference in Little Rock introduced McDougall to two young men, Miller Williams and Jim Whitehead. She heard them talk about a Master of Fine Arts creative writing program that was underway at UA, Fayetteville. It didn't matter that it was hundreds of miles away from where her family had settled down. She didn't hesitate to apply and was accepted.
"We moved to Beaver Lake in Northwest Arkansas, and I began my pursuit of a creative writing MFA."
Miller and Whitehead, who McDougall notes was an "ex-football player for Vanderbilt and looked like it -- he was huge," shared their infectious passion for poetry with their students.
"They lived it and loved it, slept it and ate it. And their ability to articulate what they loved about poetry and why made them great teachers."
LABOR DAY
"Like most great writers, [McDougall] is able to extract the tragic and sublime from the ordinary, mundane and frequently absurd details of what passes for ordinary life," says Phil McMath, novelist, playwright and one of the founders of the Porter Prize. "Yet seeing this is never enough; one must also possess the genius of expressing it in a beautiful, original and profound way. This Jo does brilliantly -- in fact has spent a lifetime doing -- writing, teaching, reading and serving others."
Creative writers long for a signature voice. To write is to try to communicate and to be able to do so in a way that a reader can instantly recognize who is speaking. In her poetry McDougall's voice is striking -- wise, warm, dark and often quite funny.
McDougall points to two moments that helped define her singular view of the world reflected in her poems.
"In addition to teaching one or two classes while I was a graduate student, I was also asked to transcribe Mary Celestia Parler's folklore notes from students in her folklore class." Parler developed and implemented the most extensive folklore research project in Arkansas history, according to the Encyclopedia of Arkansas History & Culture.
"That influenced my work. I knew I was interested in the bizarre and the surreal and the folk behind it. There were things [in those notes] like a formula for curing a fever with the help of an eel swimming a river. Things like that sparked my imagination."
The other moment came from her professor at UA.
"[Williams] said to me, 'It's time for you to stop writing the surreal and get into the real world.' I thought about it all summer. There is a watershed poem that came out of that conversation. It's called Labor Day. I showed it to him and he said, 'That's it, that's what I'm talking about.'"
McDougall says "circumstances changed" the plan for only writing poems after earning her graduate degree. She started teaching and eventually spent 11 years as professor at Pittsburg State University in Kansas. She co-directed the school's creative writing program while warming to her new home in the middle of the country.
"Teaching exposed me to a different culture," McDougall notes. "I would have never gone to live in the Midwest if I hadn't gotten a teaching job in Kansas. I grew to love it. That landscape and that culture is so different from the South."
DIRT
McDougall and her husband returned to Arkansas in the mid-1990s, but it was not a happy occasion.
"Our son [Charles William "Duke" McDougall III] suffered a stroke in 1996 and we moved back to Arkansas to help him," McDougall notes.
Three years later, McDougall's daughter, Charla Jo Stone, died at the age of 42.
"As a writer, it didn't stop me. It was a reason to write but not as therapy. Because I don't see writing that way. There is no therapy, there is no closure. You just somehow get through it. The writing was a result of those experiences. They were unexpected and tragic. They were awful.
"My book Dirt came out of my daughter's death and my son's stroke and my dealing with it. I'm still writing about it with a little bit of different perspective. I was gratified to hear from strangers who would write me and say that my book helped them with the loss of their mother, sister or child."
For McDougall, those traumatic experiences did eventually reveal something other than just pain and loss.
"What I learned from that is the resilience of the human spirit," McDougall says. "My son has dealt with his stroke that left him slightly disabled. He has a good sense of humor and faith and he's made a full life for himself. He was 35 when it happened to him. My daughter had a powerful will to live and said to me, in effect, 'I am gonna live life while I have it.' Their attitude makes me ashamed of myself when I get down."
Through the good and the bad, McDougall has amassed an impressive body of work. When asked to name the highlights of her extensive career as a writer, McDougall keeps adding to the list.
"Being named poet laureate of Arkansas was a big surprise and great honor. I thank Gov. Hutchinson for that and the chance to write a poem for the people of Arkansas."
Then McDougall wants to make a special note of the time she found out her first book of poems would be published. Her precise memory of that moment is practically a poem itself -- a sly, sharply observant one in a manner that only McDougall could write.
"I was in Portland, Maine, at a writers' conference when I found out. I celebrated at a bar called Horsefeathers."
Writer Werner Trieschmann is a member of the board of the Porter Fund.
SELF PORTRAIT
• DATE AND PLACE OF BIRTH: Dec. 15, 1935, Little Rock
• NO CHILDHOOD IS COMPLETE WITHOUT: Free time.
• MY FAVORITE DESSERT IS: Apple pie.
• I AM AT MY MOST CREATIVE WHEN I AM: Writing between 1 and 3 a.m.
• THE BEST PIECE OF WRITING ADVICE I'VE EVER RECEIVED: Read. Read everything.
• MY FOUR GUESTS AT MY FANTASY DINNER PARTY: Poet William Butler Yeats, fashion designer Karl Lagerfeld, first lady Jackie Kennedy and poet Donald Hall.
• THE ONE WAY I WOULD IMPROVE THE WORLD IMMEDIATELY WOULD BE: Require driving-courtesy classes
• ONE WORD TO SUM ME UP: Grateful
Photo by Arkansas Democrat-Gazette/JOHN SYKES JR.
"I hope to give [readers] little surprises along the way and keep them reading. I hope they can find something to take home that relates to their lives." - Jo Garot McDougall
High Profile on 05/19/2019
Print Headline: HIGH PROFILE: Jo Garot McDougall, poet laureate of Arkansas
Sponsor Content