Four Arkansas students survived their first day on the Scripps National Spelling Bee stage Tuesday, correctly spelling the two words they were given.
This year's bee, the nation's 92nd annual, is being held in National Harbor, Md., just south of Washington, D.C.
Since the format was overhauled last year, the number of contestants -- 562 -- is roughly double what it was in 2017. As a result, it takes a lot longer to complete each round.
The competitors completed the first round, a written spelling test, on Monday. They were split into five groups for Rounds 2 and 3.
Round 2 -- the first onstage competition -- took most of Tuesday. The third round began later Tuesday; Group 1 finished in the evening. The bee reported on Twitter that 75 spellers in Group 1 made it through the third round, but 28 misspelled.
Pavani Chittemsetty of Bentonville, speller No. 38, correctly spelled "Michaelmas" in the morning round and "abhorrence" in the afternoon afternoon. The 13-year-old, who won the Arkansas title in 2016 and 2018, is a seventh-grader at Northwest Arkansas Classical Academy.
Trinity Foster of Crossett, speller No. 50, had no problem with "chia" in the morning or "opulent" in the afternoon. The 14-year-old eighth-grader attends Crossett Middle School.
Srikar Chittemsetty of Bentonville, speller No. 51, nailed "vitrine" and later disposed of the word "animadversion." The 11-year-old sixth-grader, who attends Creekside Middle School, is Pavani Chittemsetty's younger brother. They are one of nine sets of siblings competing in this year's contest, organizers say.
Ahilan Eraniyan of Bentonville, speller No. 113, wasn't tripped up by his first word -- "Mennonites." Ahilan correctly spelled "fortitude" Tuesday evening. The 14-year-old eighth-grader attends Haas Hall Academy.
Ganesh Nair of Jonesboro, speller No. 11, was eliminated after misspelling "malachite." The 12-year-old sixth-grader attends Blessed Sacrament Catholic School.
More than 11 million schoolchildren participate in the annual contest, organizers say.
Students from all 50 states, plus territories, possessions, the District of Columbia and overseas military posts are competing this week.
The 562 would-be champions range in age from 7-15 and from grades one through eight.
Overall, 270 of the contestants qualified to compete by winning their regional spelling contests. That includes Ahilan, 14, winner of the 2019 Arkansas Spelling Bee.
Another 292 contestants won spots by competing in RSVBee, an alternate route to qualify that was recently added. RSVBee participants have no regional sponsors and must come up with the $1,500 participation fee on their own, organizers said.
The program has expanded access and opportunity, organizers maintain.
Groups 2-5 are to finish Round 3 today.
No more than 50 spellers advance to the finals, which are Thursday. The bee selects the finals field by choosing the top scorers in the preliminaries test who survived Rounds 2 and 3.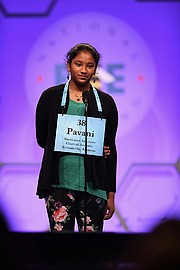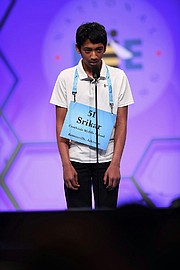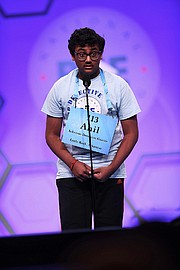 Metro on 05/29/2019