FORT SMITH -- The rain-swollen Arkansas River should crest today at 1.5 feet lower than previously predicted on the state's western edge, according to the U.S. Army Corps of Engineers, and the water level should begin receding today.
But the new forecast won't affect levels downriver, where the water has already topped levees in Logan and Perry counties.
Michael Biggs, chief of the hydraulics and technical services branch for the Corps' Little Rock District, said the river is expected to crest today at 41 feet at the Van Buren gauge. The National Weather Service had previously predicted a crest of 42.5 feet.
Biggs said the U.S. Geological Survey measured river flows Monday and Tuesday after the release of water from bloated reservoirs in Oklahoma led to flooding along the Arkansas River.
He said a better "flow-stage rating" helped the National Weather Service come up with the new crest prediction.
That was good news for Jeff Fenwick, whose house at 9900 Turtle Bay in Fort Smith is basically an island in Massard Creek.
"I think we're almost at that 41 feet already," he said late Tuesday afternoon.
Friends had helped Fenwick and his wife, Shawna, move their furniture out of the house Saturday.
"As we were driving away, I looked back at our house," he said. "It was very emotional. I'm not a crier, but it pulled on my heartstrings. I shed a couple of tears. It was tough."
The river level was at 40.26 feet Tuesday night at Van Buren and flowing at 560,000 cubic feet per second. Previous historic records were 38.1 feet and a flow of 450,000 cubic feet per second, Biggs said.
The Van Buren gauge is across the river from Fort Smith.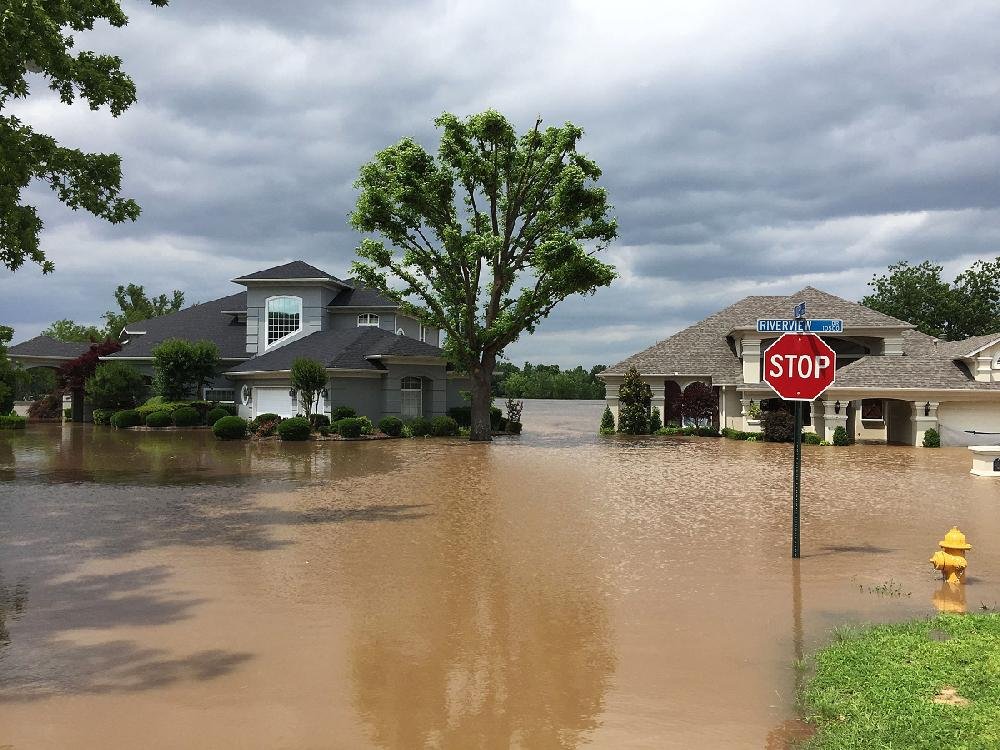 The Arkansas River floods homes Tuesday in Fort Smith. Forecasters say the river will crest lower than first forecast, but still at record highs. More photos are available at arkansasonline.com/529flooding/
Biggs said officials were working with an "unknown." The river is higher and flowing faster than ever before, making it more difficult to make predictions. Biggs said the new estimate could be a little off, but probably only by a fraction of a foot.
"It's not like we're doing this with a scalpel," he said. "We're doing surgery with a chain saw."
The river has already flooded several homes in Fort Smith, sending some people to shelters and causing suspension of Fort Smith Public Schools through Thursday.
State officials closed all but one bridge across the Arkansas River in the Fort Smith area for a time Tuesday, which snarled traffic as drivers were diverted onto the Arkansas 59 bridge. The Interstate 540 and Midland Bridge spans, which were closed beginning Monday night, reopened around midday Tuesday.
Dozens of city streets also have been closed throughout Fort Smith.
LEVEE CONCERNS
Farther down the river, floodwaters overwhelmed the McLean Levee north of Paris in Logan County and the Perry County Levee District No. 1 near Toad Suck, according to the Arkansas Department of Emergency Management.
Barbara Hager, a spokesman for the agency, said many people living in the area protected by the McLean Levee had already evacuated, heeding a voluntary evacuation order.
The breached levee in Logan County protects roughly 11 buildings and 23 people living in mostly farmland, according to a Corps levee database.
Water topped the levee on the Perry County side of the river at Toad Suck, an unincorporated town near Bigelow in Perry County and just outside Conway.
The river was about 5 feet from topping the Lollie Bottoms levee on the Faulkner County side, Conway Mayor Bart Castleberry said.
Faulkner County attorney and spokesman David Hogue, who was touring the flooded rural area in a boat Tuesday, said water on the Faulkner County side of the Lollie Bottoms levee had topped some banks not protected by the levee.
[RELATED: High water on Arkansas River closes ports; impact called 'devastating']
As of late Tuesday afternoon, the water had not reached Arkansas 60, which runs by Toad Suck and connects Perry and Faulkner counties, but Conway police had blocked off a park where people often fish.
Yards away, the Toad Suck One-Stop service station, a hub of activity before past major floods, was closed Tuesday afternoon. Sandbags and black plastic bag lining covered much of the lower part of the older building on Arkansas 60 as a few Perry County deputies gathered in an adjacent parking lot.
With the river expected to continue rising, Hogue said, "We're just preparing for the worst, hoping for the best."
Any river water that tops the Lollie Bottoms levee could cause other flooding in Faulkner County, Hogue said. Places most likely to be affected include areas near Cadron Creek, Palarm Creek and low-lying areas near Lake Conway, he and Castleberry said.
Biggs said during a news briefing Tuesday afternoon at the Fort Smith Regional Chamber of Commerce that there are two primary levees in the area. He said the Southern Enterprise Levee was solid Tuesday, but there were some problems with the older levee on the Crawford County side of the river.
"We are aware of a sliding issue, some sand boils and some seepage," Biggs said. "We are monitoring and providing technical assistance to the local levee board. At this point right now, we are just monitoring there. There's not any failure or anything like that at this point."
WIDESPREAD CONCERNS
National Weather Service estimates forecast significant flooding in every major community along the Arkansas River, including Little Rock, where Pulaski County officials closed the Big Dam Bridge because of rising river levels.
The Corps of Engineers Little Rock District requested that county officials close the span stretching from Little Rock to North Little Rock because the surface of the Arkansas River is approaching a pumping station that is part of Murray Lock and Dam, said Cozetta Jones, a spokesman for the county.
Officials were closing the gates on the Little Rock side of the bridge and cutting power to its lights, according to Jones. Jones said the gates on the North Little Rock side of the bridge were closed over the weekend.
[RELATED: Arkansas River tributaries to fill to flooding also]
The Corps of Engineers was also fortifying the lock and dam beneath the bridge, against rising floodwaters, said Laurie Driver, a spokesman for the Corps.
"The structures on the Arkansas River in Arkansas are not built to hold back floodwaters," Driver said. "They're there to hold back water in low-water conditions to ensure we have a 9-foot channel for barge traffic."
The lock and dam was closed to river traffic Friday, Driver said.
Murky water had already begun to creep into homes along Riverside Drive in Pine Bluff, flooding the yards and driveways of many of the waterfront properties closest to the river. Farther down the street, water had crossed Riverside Drive as it inched higher and higher, inundating more of the roadway with each passing hour.
"It's a slow-motion disaster," Spring Township Constable Steve Tidwell said. "It's taking a long time to rise, and it'll take a long time to fall."
Residents in the Island Harbor Estates subdivision spent the past few days moving vehicles and other possessions out of the area, with many parking their vehicles along the top of the levee next to their homes.
So far the water hadn't gotten into any of the homes, Tidwell said, but he expects that to change.
"I know it's going to get water," he said. "Probably all of them are going to get water."
Tidwell and other law enforcement officers are providing around-the-clock security until the floodwaters recede. He said only neighborhood residents and people helping residents move possessions will be allowed into the area.
"We don't need any sightseers down here," Tidwell said. "They have enough problems already."
[RELATED: Motorist drowns after driving around Arkansas flood barricade, police say]
Even though the flooding along the Arkansas River has been caused by the release of water from reservoirs in Oklahoma, those reservoirs kept things from being much worse, Biggs said.
"If we didn't have the flood-control dams and lakes in Oklahoma, you'd be seeing a 1927-like flood right now," he said, referring to the most destructive and costly flood in Arkansas history.
Audrey Hall said she and her husband, Robert, were vacationing in Greece when their Fort Smith neighborhood began to flood. They monitored it on Facebook.
When they arrived home Monday night, the water was lapping at their driveway, just a few feet from their house. They spent Monday night in their home. A tree frog sat on their brick mailbox and sang through the night.
"It sounded like a symphony," she said.
The mailbox serves as their measuring stick during flooding, and by Tuesday morning the water had gone up one more brick on the mailbox.
Information for the article was contributed by Clara Turnage, Youssef Rddad, Dale Ellis and Josh Snyder of the Arkansas Democrat-Gazette.
Flood shelters
A list of shelters that are open for people affected by flooding along the Arkansas River:
FAULKNER COUNTY
Don Owen Sports Complex, 10 Lower Ridge Road, Conway.
JEFFERSON COUNTY
Swan Lake Volunteer Fire Department, Swan Lake Road, Cornerstone.
Wright-Pastoria Fire Department, 8599 Arkansas 256, Wright.
SEBASTIAN COUNTY
Evangel Temple, 1110 S. 12 St., Fort Smith.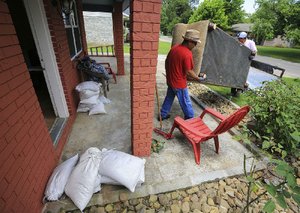 Photo by Staton Breidenthal
Victor Delgado (left) and Adrian Jimenez move furniture out of Delgado's house in Dardanelle on Tuesday as Arkansas River floodwaters threatened his neighborhood.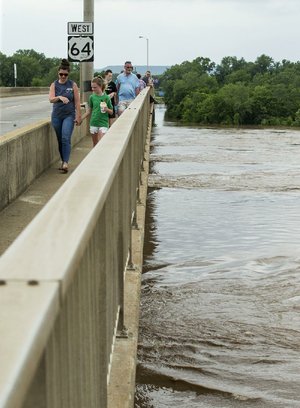 Photo by Ben Goff
People get a view of the rain-swollen Arkansas River on Tuesday from the bridge on Garrison Avenue in downtown Fort Smith.
A Section on 05/29/2019