A North Little Rock emergency official says a levee along the Arkansas River in the city has not failed despite earlier reports that it had been breached.
The National Weather Service previously said a levee in the 3200 block of Gribble Street was reported to have failed shortly before 10:30 p.m., which prompted a flash flood warning for an area along U.S. 70 in North Little Rock.
But Leonard Montgomery, director of emergency services for the city, said the failure was actually an outside berm on the river side of the levee. and that the levee remained stable.
The weather service said it canceled the flash flood warning after speaking with North Little Rock officials.
The levee in North Little Rock was one of two the agency had noted earlier in the night as being in danger of possible failure. The other was said to be south of Little Rock near Wrightsville and Woodson.
6:30 p.m.
The Jefferson County judge declared a mandatory evacuation Friday afternoon for parts of the county, citing rising flood waters. Meanwhile, a levee in Little Rock was leaking and the National Weather Service continued to warn of record Arkansas River flooding.
Jefferson County Judge Gerald Robinson said that residents in the following areas were required to evacuate: Trulock Bay Road in Sherrill, Riverside Drive in Pine Bluff, Tar Camp Creek Road in Redfield, the Island Harbor area, the Wright-Brodie Bend area, the Altheimer area, the Swan Lake area and the Reydell area.
Pine Bluff emergency shelters are available at the Seabrook Family Christian Center at 6808 S. Hazel St. and the Family Church at 2309 S. Poplar St. The Wright-Pastoria Volunteer Fire Department at 8599 Arkansas 256 in Wright and Swan Lake Volunteer Fire Department at 11997 S. Highway 88 in Altheimer are also serving as emergency shelters.
The National Weather Service office in North Little Rock said Friday afternoon that flooding will continue down the Arkansas River from eastern Oklahoma across Arkansas throughout early June.
The weather service said that the river's crest was leveling off at Van Buren and Ozark. The crest is set to reach Dardanelle on Saturday and Morrilton on Sunday, the agency said. A levee that breached Friday morning at Holla Bend, leading to an evacuation, was lowering water levels in the Dardanelle area, according to the bureau. The levels were expected to rise again, but meteorologists said the crest could ultimately be lower due to the breach.
"Major to record flooding is expected at all points along the Arkansas River in Arkansas," meteorologist Dennis Cavanaugh wrote in a news release. Cavanaugh said that weak points along the levees "will be tested as never before."
A levee in Little Rock was leaking, but still holding, officials said Friday. The Little Rock Flood Protection Levee near Birdwood Drive was the first in the city to show strain, the state Department of Emergency Management said.
Cavanaugh said the weather service expects the weekend to be dry, but predicted that 4-5 inches of rain could fall on the upper Arkansas River basin in the next week, adding water to the system.
— Maggie McNeary
2:08 p.m.
Emergency crews in Yell County have been dropping large sandbags and building barriers to protect against floodwater gushing out of a major hole that broke through a levee Friday morning along the Arkansas River.
Fast river currents tore a 40-foot hole in a levee near Holla Bend and led to an evacuation of the area just southeast of Dardanelle, officials said.
Water continued pouring through the hole through the afternoon and has been creeping up bayous. City leaders in Dardanelle worry it'll soon reach the southern part of the city.
Mayor Jimmy Witt said in an afternoon briefing that crews have been dropping large sandbags and building berms with hopes of slowing the water down and preventing it from entering the county's largest city.
"It's maybe enough to keep it from coming," Witt said, adding that officials aren't sure how much water may come. "If we have an evacuation, we will literally go door to door."
Arkansas Red Cross spokeswoman Christina Fowler said 11 people checked into a shelter at the Dardanelle community center as of 9 a.m.
The nonprofit set up two other shelters across Arkansas as areas grappled with river levels not seen in recorded history.
Fowler said about 70 people stayed in shelters in Fort Smith, and about a dozen in its Conway shelter in recent days.
Gov. Asa Hutchinson said earlier this week that some 400 homes have been evacuated around the state.

A rush of water surging down the Arkansas has led to record-setting river levels and major flooding following recent heavy rains in neighboring states.
Earlier this week, state and local officials reported waters overtopped two levees near the Arkansas and others that have begun to show signs of strain.
Friday's breach in Yell County is the first flood system to completely fail.
"At the levee, there's nothing we can do," said Yell County Judge Mark Thone.
The rush of water coming through is too strong, he said, and it would brush away large sandbags officials considered dropping from helicopters. "After it slows down and levels out a little, there will be an opportunity maybe that we can revisit that," he said.
Yell County Manager Jeff Gilkey said hours after the breach that he wasn't aware of any injuries. He said a half-dozen people evacuated the area voluntarily.
State officials have faulted at least one death on the rising waters and resulting flood so far.
— Youssef Rddad
11:31 a.m.
Rapid currents from a rising Arkansas River tore through a large section of a Yell County levee Friday morning, leading to the voluntary evacuation of about a half-dozen people as water poured through the gaping hole, officials said.
The Holla Bend levee just southeast of Dardanelle had been leaking and showing signs of strain before a large section tore off from it sometime before 5 a.m., local authorities said.
Thorn said tremendous pressure from a fast-moving and elevated Arkansas River ripped a roughly 40-foot section off.
"There was nothing we could do to stop it," he said.
Aerial video by the sheriff's office showed large amounts of water continuing to pour through the hole Friday morning.
The National Weather Service issued a flash flood warning in the area, warning that some 5,700 people, four schools and a hospital were potentially exposed to the flooding. The agency urged people to move to higher ground.
Hydrologist Tabitha Clarke said the size of the breach caused a drop in river levels at Dardanelle.
But even with water being diverted through the breach, officials do not expect significant decreases for projected crest levels there or downstream.
"The magnitude of water coming down the channel is so massive," Clarke said, adding that the weather service expects the river in Dardanelle to rise again.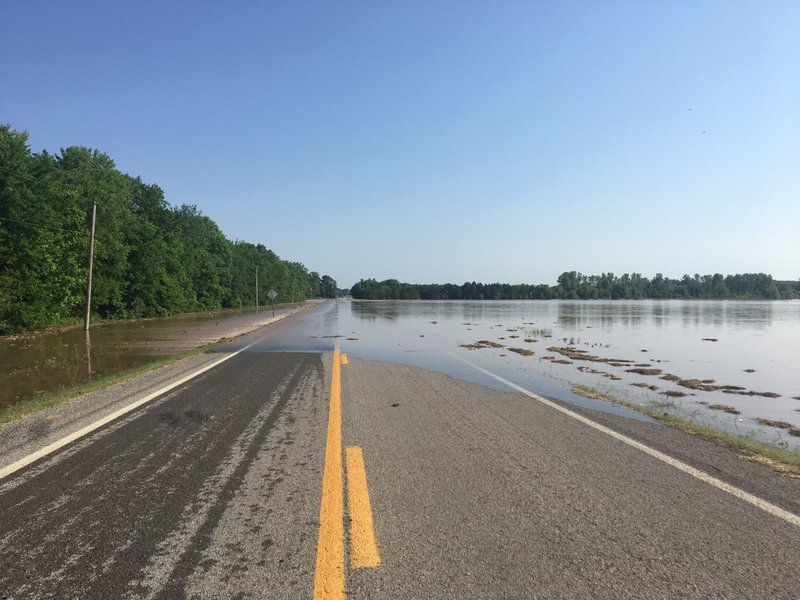 Arkansas 155 is covered by water near Holla Bend after a levee broke nearby early Friday.
Because of the pressure and size of the breach, the Army Corps of Engineers isn't able to repair it, Thone said. Instead, emergency officials are tracking the water's path and warning people.
"We have time to watch and monitor it," he said, noting that the water coming from the breach is slow-moving. "As it starts encroaching on folks we're going to start moving them out."
Six people near the river evacuated voluntarily, he said, and about 150 others may be affected.
Gilkey said crews were also working to keep the water out of Dardanelle, the rural county's largest city located roughly 80 miles northwest of Little Rock.
The weather service included the city in its flash flood warning.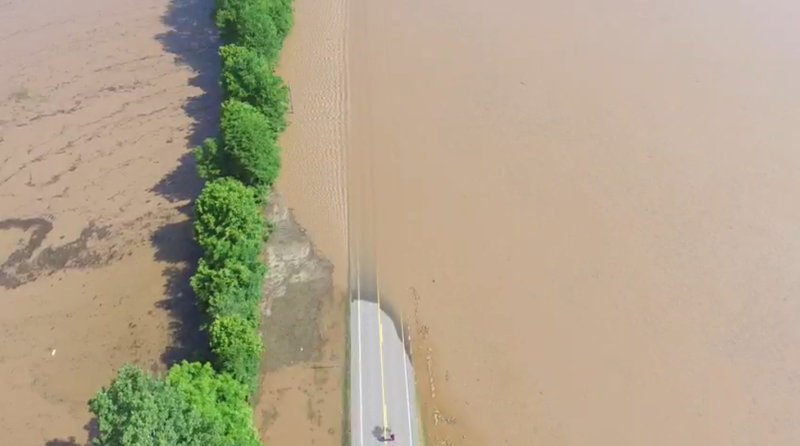 Water covers Arkansas 155 near where water tore through a levee early Friday.
The Arkansas River in Dardanelle shattered its record set more than 75 years ago. Water levels on Friday morning were still nearly 24 feet above the flood level.
Weather officials expect the record-setting trend to continue throughout the next two weeks as a deluge of water moves down the river from rain-soaked Oklahoma and Kansas.
— Youssef Rddad
9:20 a.m.: Trump OKs emergency declaration
President Donald Trump has approved an emergency declaration for Arkansas, giving the state access to federal resources while responding to historic flooding along the Arkansas River.
The order, approved Friday, authorizes the Federal Emergency Management Agency, to coordinate all disaster-relief efforts.
Gov. Asa Hutchinson asked the Trump administration to approve the emergency order. He said earlier this week that state and local agencies don't have the resources to respond to the major flooding.
[GALLERY: Aerial photos show high water at Big Dam Bridge]
The order also allows FEMA to use its equipment and resources in order to "alleviate the impacts of the emergency."
A joint statement issued by members of Arkansas' congressional delegation thanked the Trump administration for the swift response.
"This declaration is critical to protecting Arkansans, preventing further damage and improving public safety," the statement read.
Cities along the Arkansas River have set records this week. Officials have expressed concerns about the enormous pressure it's put on flood infrastructure, which has never had to hold back such high and fast waters.
Hutchinson earlier this week described the flood as being of "historic magnitude."
At least one death had been blamed on the flooding so far, and hundreds of homes in flooded areas were evacuated.
Officials expect a surge of water moving downstream from rain-soaked Oklahoma and Kansas to continue raising levels along the Arkansas for the next two weeks.
— Youssef Rddad
6:15 a.m.: 'Major failure' of 1 levee
A levee on the Arkansas River in Yell County failed overnight, officials confirmed.
The National Weather Service issued a flash flood warning for the areas surrounding a "major failure" at Holla Bend, which is southeast of Dardanelle.
The warning, which urged residents to prepare for "rapidly rising water," continues through 9 a.m.
Officials in Yell County said the levee began leaking on Thursday evening. It wasn't clear precisely when it failed.
National Weather Service data showed a dip in the water level at Dardanelle, likely due to the breach.
The levee breached because of ongoing flooding along the Arkansas River, which began in Oklahoma.
RELATED: State leaders survey flooding
[RELATED: LR's homeless flee flooding]
[WATCH: New aerial videos added]
Check back for updates on this developing story.
The Associated Press contributed to this story.