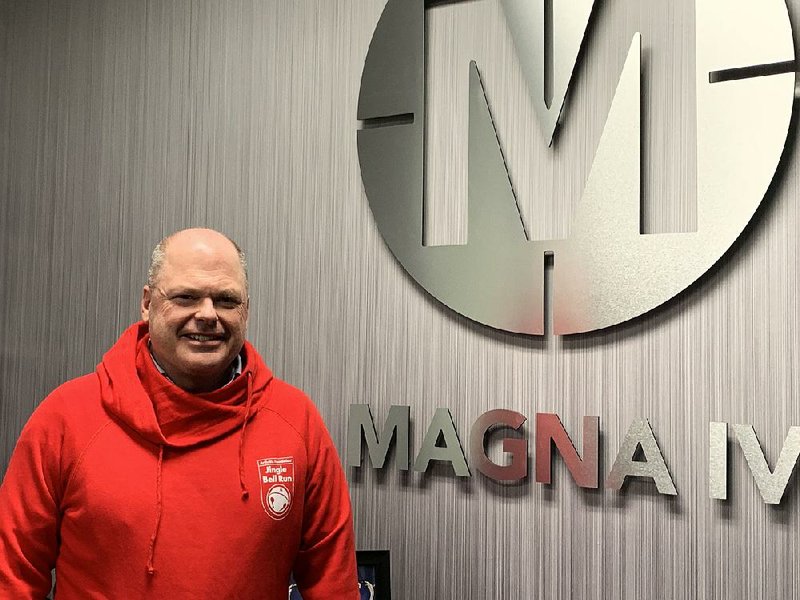 Steven Schilling, director of sales at Magna IV, chairs the Arkansas Arthritis Foundation's Jingle Bell Run, Dec. 7 at the Clinton Presidential Center. ( Eric E. Harrison)
The late Gary Middleton, founder of Little Rock design, marketing and print-solutions company Magna IV, was one of the first chairmen for the Arkansas Arthritis Foundation's Jingle Bell Run/Walk for Arthritis.
As a result, Magna IV has remained a strong supporter of the annual fundraiser, and so has Steven Schilling, the company's director of sales.
Schilling, a longtime Arthritis Foundation board member, has taken over as the Jingle Bell Run chairman for the fourth year in a row. That follows four years as the event's volunteer coordinator.
As chairman, his job, besides the actual raising of the money, is to find sponsors, vendors and volunteers and watch over the logistics, which, considering the scope of the event, can be formidable. It incorporates 10K and 5K runs, a one-mile walk and an Elf Run for kids.
"I've been with Magna IV for 26 years," Schilling says. "The owner was involved, so that's how I got involved."
This year's run is on Dec. 7, starting and ending at the Clinton Presidential Center, 1200 President Clinton Ave., Little Rock. The course takes runners and walkers to the Broadway Bridge, which they traverse into North Little Rock, returning south of the river over the Junction Bridge.
Arthritis Foundation chapters stage an annual Jingle Bell Run in more than 100 cities nationwide. The foundation bills it as the longest-running, holiday-theme 5K race in the United States and "the original festive race for charity, bringing people from all walks of life together to champion arthritis research and resources."
Register at jbr.org/LittleRock. Participants are encouraged to wear a seasonal costume and tie jingle bells to their shoelaces. "Every runner gets jingle bells, so as the race progresses, there's a lot of jingling going on," Schilling says.
They're also encouraged to sign up in teams, although individual runners and walkers are welcome. Last year's event drew 800, most of them forming about 50 teams, Schilling says. He's hoping to have at least that many taking part this year, and to raise as much or more than last year's $75,000 take.
The money comes from sponsorships and registration fees, which range from $40 in advance, $45 day of race, for the timed 10K (which includes T-shirt, timing chip, gear check and bells) to $30 for what the foundation calls "Jingle in Your Jammies" ("Can't attend the event, but still want to be part of the fun? Choose this option to receive a shirt and [raise funds] for a cure!") -- and, Schilling adds "You get to stay in bed."
In addition to T-shirts, participants get goody bags (L'Oreal is a national sponsor, so they usually include makeup and lipsticks) and a small amount of free food, primarily, at least in years past, sliced fruit. Ben E. Keith is supplying water.
The event requires 30-40 volunteers for setup, post-race tear-down and keeping things running in between. Schilling says about two-thirds of those come each year from the Central High ROTC.
"They're required to have community service hours," he explains, and because their mission is military, "they're on time and eager to work." During the race they're out on the course, operating water stations and "making sure runners are where they're supposed to be."
Things kick off around 9:15 a.m., as participants register and pick up packets and timing chips, the Elf Village (kids zone) and vendor booths open, choral groups sing Christmas carols and attendees can take pictures with Santa. The Kids Run begins at 10:15, followed by the 10K at 10:30, the 5K at 11 and the Joe Cook 1 Mile Memorial Walk, named for the chairman who was Schilling's predecessor, at 11:10. An awards ceremony is slated for 11:40.
There are also costume contests for humans -- and pets.
"Some people show up that have nothing to do with the run," Schilling says. "They just want to enter their pet in the contest." It doesn't draw too many unusual pets -- mostly dogs and cats, although Schilling says if you have, say, a monitor lizard, it's welcome. "But you get some crazy costumes," he says. For example: "We've had some very small dogs dressed as very big reindeer."
Humans often show up in very ugly Christmas sweaters. "I've seen some pretty horrendous sweaters," he adds.
It's all part of what he describes as the event's family-friendly, laid-back approach and fun vibe.
More than 54 million Americans live with arthritis, including 673,000 in Arkansas, according to foundation statistics. Schilling says he's one of those.
"The Jingle Bell Run is a 28-year tradition in Little Rock and known nationally as the original festive race for charity," says Angela Harris, the state chapter's executive director.
"Our honorees and volunteers are what make this event successful and memorable every year, and this year we're humbled to honor Sherry Little, who is a true Arthritis Warrior and continually commits her time to raising awareness and funds for our cause year after year." Little has walked more than 15 years in honor of her daughter, Michelle, and to "spread awareness [that] arthritis can strike at any age."
Lindee and Lola Throckmorton are this year's young honorees; other laureates include Brian Barnett of the University of Arkansas for Medical Sciences Spine Institute, corporate chair; Dr. Joel Smith, medical honoree; Martin Orthopedics; and presenting sponsor BKD.
Schilling's volunteer credentials include four years as a coach for Resurrecting Baseball in the Inner City, based at Little Rock's Lamar Porter Field, aimed at giving at-risk teens something to do in the summers. He also volunteered for more than 20 years as a coach for his three kids' youth soccer, baseball, basketball and football teams, but that's over -- his youngest is turning 21.
He stepped away from the foundation for a while but returned to the board eight years ago.
"The race was so important to Mr. Middleton, and out of my relationship to and respect for him, it became important to me. And my employer, Magna IV, has been very supportive of my involvement."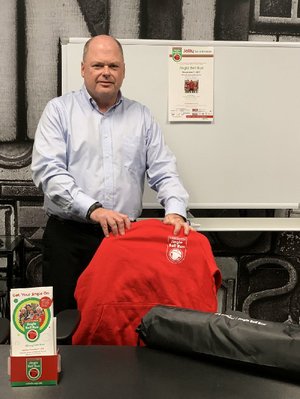 Photo by Eric E. Harrison
Steven Schilling credits his relationship with and respect for Gary Middleton, founder of Magna IV and a strong supporter of the Arkansas Arthritis Foundation and its Jingle Bell Run, for his involvement with the foundation.
High Profile on 11/10/2019
Print Headline: Magna IV true to tradition in jingling run for arthritis
Sponsor Content