Marietta Measeles and Tommy Lynch were married on Aug. 6, 1954. Tommy remembers the day he fell for her, when she showed up in a strapless red dress to watch his baseball game. "I could not imagine anyone else in my life," he says. "When we got married we were really young and stupid, but it's been so wonderful that we very much did the right thing at the right time."
Marietta Measeles was amused when Tommy Lynch flirtatiously instructed her to "take a letter" in 1951.
It was their first day of 10th grade at Little Rock High School (now Central High School) and they were in the same homeroom. Tommy had just been elected homeroom president, and Marietta was voted secretary, hence his joke about dictation.
"He was just being funny," she says. "That was our first acquaintance."
They had art together that year.
"Our art teacher would let us go do our drawings and paintings outside together, like with trees and the school building and that sort of thing," he says.
Tommy wasn't old enough to drive when they went on their first date, so they took the bus to the Center Theater in downtown Little Rock to see All the King's Men.
"When we got back, my mother was sitting on the front porch in her bathrobe waiting for us," Marietta laughs. "I was horrified. Certainly, no goodnight kisses for us."
They dated off and on that year, and just before the start of 11th grade, Tommy and his family moved to Memphis. He didn't see anyone from Little Rock for about six months. After that his parents let him return to Little Rock to play with the baseball team he had been on before they left.
The following summer, Tommy was playing baseball at Lamar Porter Athletic Field in Little Rock.
"I was doing my best to make it to the big leagues and become a huge star," says Tommy, who was being scouted at the time. "Marietta came to the ballgame and was wearing a strapless red dress. Oh, wow. I was totally awed. I didn't play very well that day because I could not keep my eyes off her."
Throughout that summer Marietta watched Tommy play baseball, and during their senior year, they saw each other as often as they could. There were hayrides, drive-in movies, sock hops, school activities and more.
When they graduated from high school in 1954, the first class at Little Rock Central High, Marietta started classes at Arkansas State Teachers College (now University of Central Arkansas) in Conway and Tommy signed a contract with the New York Giants.
"He played in spring training with them, and he played on a farm team in Muskogee, Okla., for them," Marietta says. "We were a thing then."
She went to Muskogee to see him play a couple of games, with his grandmother as chaperone, but mostly she cheered him on from Arkansas.
A year later, when he was back in Little Rock, they got engaged.
"We were 19 years old," she says. "He said, 'Let's go to Greenville [Mississippi] and get married, and I think I said, 'OK.'"
They got their wedding rings at Caves Jewelry in Little Rock. Marietta's was $50 and Tommy's was $35, and they paid $15 a month until the cost was covered.
On the morning of Aug. 6, 1955, Marietta and Tommy picked up Tommy's longtime friend, Rowe Huggins, who was to stand up for them at their wedding.
"His sweet mother asked where we were going and Rowe replied, 'We're going fishing,'" Marietta says. "Rowe still loves to tell this story."
Marietta's parents thought she was going to visit a friend and were unaware she was leaving the county.
Marietta and Tommy got their marriage license and found a Methodist preacher to perform the ceremony after they arrived in Greenville.
"We kept the marriage a secret and hid the rings for two weeks before telling our parents," Marietta says. "When I told my parents, my mother, through her tears, said 'Well, I'll give it two years.' In two years we had our first child and that kind of sealed the deal."
A year after they were married, Tommy signed on with the Brooklyn Dodgers.
"We thought we were set for life with that $5,000 signing contract," Marietta says.
In 1957, he was federalized for six months during the desegregation crisis at their alma mater, Central.
Marietta and Tommy have five children -- Susan Meyer of Bossier City; Chip Lynch and Kerry Ribble, both of Texarkana; and Chris Lynch and Kim Keith, both of Magnolia. They also have 10 grandchildren and 12 great-grandchildren.
Tommy was working as a salesman in 1970 when they moved to Magnolia, which was in his sales region as well as home to Southern Arkansas University, where Marietta got her teaching degree. She taught at Eastside Elementary in Magnolia for 28 years.
Over the years, Tommy has enjoyed duck hunting, and Marietta loved to travel.
"In our retirement years we have come together in our interests and pursuits," she says.
Tommy goes with her on annual trips to the beach, and he joined her for the Phantom of the Opera on Broadway.
In the 1980s, Tommy started a horse racing publication, Inside Connection, for Oaklawn Racing Casino and Harrah's Louisiana Downs.
"When I retired, I learned it with him," Marietta says.
That business keeps them in Hot Springs for three months out of the year.
"At 83, we are still doing that," she says. "I think that's pretty neat -- and we do it together."
If you have an interesting how-we-met story or if you know someone who does, please call (501) 425-7228 or email:
kimdishongh@gmail.com
The first time I saw my future spouse:
She says: "My innocent young eyes thought he was the cutest thing I had seen in my first day at Little Rock High School."
He says: "I was in class at Little Rock High School.
On our wedding day I wore:
She says: " A Sunday dress."
He says: "I wore a suit. When Marietta Measeles said the words 'I do,' I became the luckiest man on the face of the earth."
My advice for a long happy marriage:
She says: "Marriage requires years of maintenance and repair but 'staying the course' brings immeasurable joy and satisfaction. It only gets better."
He says: "Each person has their ups and downs but as long as they respect each other everything comes together at the end."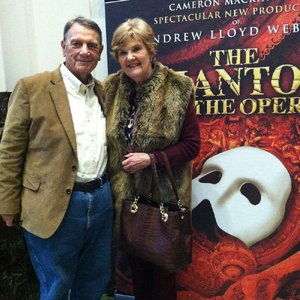 Photo by Special to the Democrat-Gazette
Marietta and Tommy Lynch met on their first day of 10th grade at Little Rock High School, now Central High School. They just celebrated their 65th wedding anniversary. "In the late season of our lives we have come together stronger and thankful for each other," Marietta says.
High Profile on 11/10/2019
Print Headline: Major League couldn't keep couple from eloping
Sponsor Content