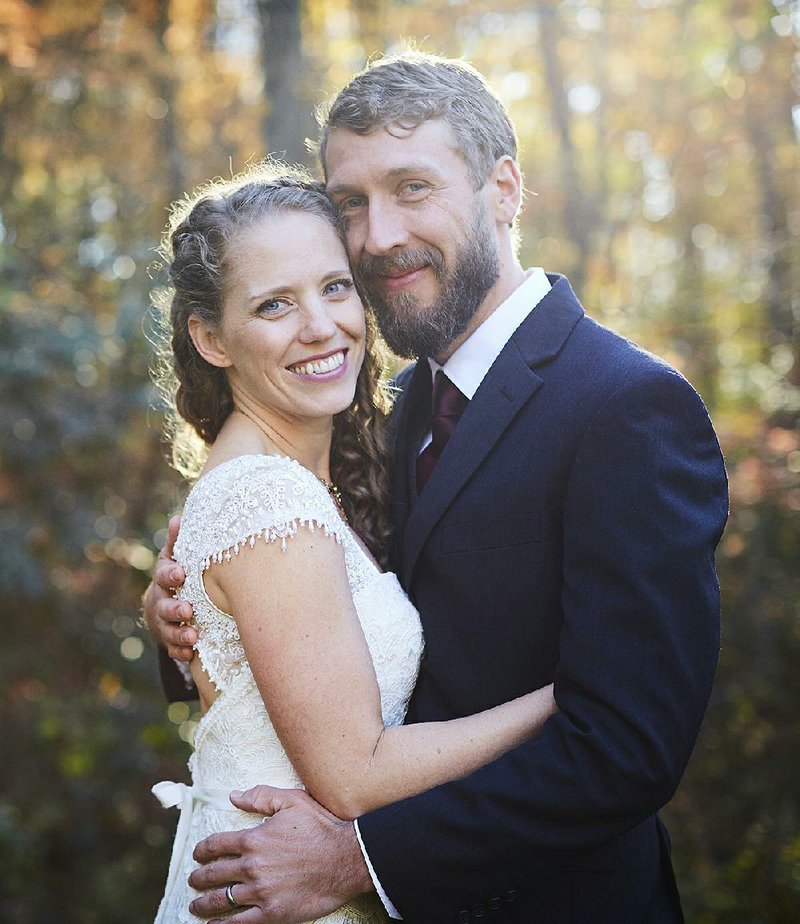 Becca and Tucker Wilson
Rebecca Michelle Odom became the bride of Samuel Tucker Wilson at 4 p.m. Saturday, Nov. 2, at Brahma Ridge Event Center, Candler, N.C. The Rev. Shannon Carney officiated.
Parents of the bride are Deborah and Darrel Odom of Little Rock. Her grandparents are Dale and the late Helen Odom of Norphlet and the late Kay and George Treeter of Geneva, N.Y.
The groom is the son of Alice Coblentz and Dudley Wilson of Asheville, N.C. His grandparents are the late Nancy and Dr. John Wilson of Black Mountain, N.C.
Vows were exchanged outdoors under a wooden arbor decorated with burgundy sumac, maiden grass, eucalyptus and pale green dried hydrangeas. Music was by Lorraine Lordi on the hammered dulcimer.
The bride, given in marriage by her parents, wore an ivory sheath with an overlay of Battenberg lace. The cap sleeves were embellished with soutache trim and edged with dangling pearls. She carried a bouquet of dried flowers including lunaria annua, purple statice, burgundy amaranth and eucalyptus.
Bridesmaids were Katie Hartz of Dallas, sister of the bride; Ginger Albers of Crested Butte, Colo.; Betsy Burnett, Sonya Costello and Jenny Parris-Cossu, all of Asheville, N.C.; and Erin Killeen of Fayetteville. They wore burgundy gowns in the style of their choice and carried bouquets similar to the bride's.
Wyatt and Nate Hartz of Dallas, nephews of the bride, tossed autumn leaves as they walked down the aisle.
The groom's attendants were Asher Flynt and Rose Wilson, sister of the groom, both of Durham, N.C.; Xander Ellenbogen of Asheville; Chris Ellenbogen of Washington; and John Cohn and Ian Silberman, both of Denver.
A reception was held at the Event Center's open-air pavilion. Tables were centered with Mason jars holding flowers and candles on rustic live-edge round platters of cherry wood made by the groom's father.
The bride has a master's degree in social work from the University of Arkansas, Fayetteville. She is a licensed clinical social worker, counselor, registered yoga teacher and owner of Soulful Mountain Therapy in Asheville.
The groom has a bachelor's degree in industrial design from Appalachian State University, Boone, N.C., and is owner/manager of Blueridge Radon Solutions in Asheville.
After a honeymoon in Cherry Log, Ga., the couple will live in Asheville.
High Profile on 11/10/2019
Print Headline: Rebecca Michelle Odom - Samuel Tucker Wilson
Sponsor Content