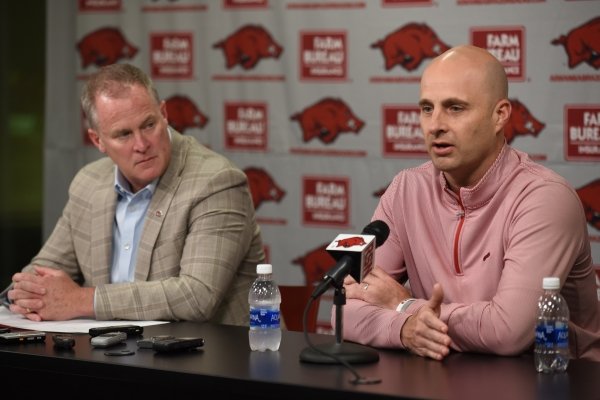 University of Arkansas Athletic Director Hunter Yurachek (left) listens to new interim head coach Barry Lunney Jr. on Monday, November 11, 2019, during a press conference at the Broyles Athletic Center in Fayetteville. Lunney is replacing Chad Morris, who was fired on Nov. 10. ( David Gottschalk)
Hunter Yurachek
• I would be remiss if I did not thank the men and women who proudly served and are serving our country so we can do what we enjoy doing.
• It's been a tough couple of days for myself and everyone involved in the Razorbacks program. I felt like I needed to make a change, and I thank those around me for support. I feel like it was the best decision for the program at the time. What makes it challenging is that this decision has an impact on the many people involved.
• I thought the football program had taken a step backward. I think it was clear over the last several weeks that we were no longer competitive on the football field. I got the sense that players were no longer enjoying playing the game. We had 120 student-athletes who were no longer experiencing the success they desire.
• I asked Barry Lunney Jr. to step up and take a leadership role with our football program, and without pause he said, 'Yes.' He is invested in this state and this program and the young men in our program.
• As I begin this search, I have no doubt we will have a strong candidate pool. We are the University of Arkansas and have a very proud history in football. We have a passionate fan base that desperately wants this program to be successful.
• I made a decision on Morris on Saturday night. I made a recommendation and a final decision was made. I'm not going to comment on who could be a candidate for the head coaching job at this time.
• On the buyout: We will follow Morris' employment agreement. We will pay 70 percent of his contract value over the next four years. We have the means to do so, and we were comfortable doing so.
• Candidates: I want to get the best person in here to lead our program. We will look at head coaches, former head coaches and others. All will be considered.
• The buyout situation across college athletics is not great. Losing football games should be condition for your contract to be nullified. It is hard to be a pioneer in that because it could hurt your candidate pool. I don't see any significant changes in how we will structure our contracts.
• I do not think Morris lost control of the locker room. I don't think we competed very well. We did not compete well against Mississippi State and Western Kentucky. I did not have tremendously high expectations for us this season, but I expected us to compete at a high level.
• I would say our Razorback Nation is committed to getting the right person in here to lead this program.
• I consulted with the chancellor, but I did not really reach out to people in the fan base. I think fans made their feelings known on various outlets, including social media.
• There is plenty of talent in this locker room. It may not be Alabama-type talent, but there is talent. I'm not going to put myself in a box and say I'm going to bring in a guy with a specific style. I want the best guy for the job.
• I look back to the second half of the Kentucky game. We played well against Texas A&M and in the first half at UK. The season turned when we couldn't get that win in Lexington. I felt things turned a bit after that game.
• I know I have to get this search right. We have to make sure we get the right candidate in here. We have to put a competitive product on the field.
• Meeting with the players: Barry handled it great. I gave some remarks, and the first thing I did was apologize for how they found out. As is often the case, someone gets the story and they found out the wrong way. I then talked about my decision to appoint coach Lunney, and they were excited about him. He has walked in their footsteps. He's got them thinking there can be some special things happen in the last few weeks.
• I'm excited to have Barry as our interim. He did a great job energizing our young men in a difficult set of circumstances. He has a great chance to do some great things the next few weeks.
• I believe it is my role to identify candidates who are best for Arkansas. A search firm may help me with the management of the search, but is is my job to identify the best candidate for the position.
• Morris' reaction: Chad and I meet on Sundays. After the Mississippi State game, he knew the Western Kentucky game would be important. It was a tough meeting Sunday, and we left it with a hug and some tears. I do not think it caught him by surprise.
• Timeframe: It is key because there are kids committed who we want to retain. We've still got three weeks left in the season and conference championship week, so we have some time. ... I have developed a list of candidates. I did not put out out any feelers while I still had a sitting head coach.
Barry Lunney Jr.
• First of all, thanks to Hunter for the opportunity and belief he had in me in a very difficult circumstance. I would be remiss, too, if I did not thank Chad Morris for keeping me in a transitional time two years ago. Twenty-seven years ago I was thrust into a similar situation. Joe Kines took over in 1992, and he said at that time, 'We're all interim.' I told the players last night that I saw firsthand what it was like. This is a little bit different. This is all about our players, and it's about giving them their best chance to succeed these last few weeks. I know what they are going through. Hunter felt like I was the right guy in this moment, and there's no doubt in my mind I'm the right guy for this moment.
• We've lost what it's like to be Razorbacks the last few weeks, but we're going to do our best to pump that back into the players the next few weeks.
• My father is someone I've leaned on. He had a tremendous career here in Arkansas. His father played here in the 1940s. He started bringing me to games at 8 years old. My father, it started there with him, and it's been such a whirlwind that it ended there, too. We went to eat lunch yesterday and I don't even remember where we ate or what I ate. I've been using my dad as a resource. We've got Turner Gill, who is a tremendous resource for me. Bobby Allen, too, and Ron Cooper as well. I'm also going to use my best judgement, and I'm ready and prepared to do that.
• The thing you can't lose sight of is we don't owe anything to anyone other than our players and ourselves to have some success the next few weeks. Football is so unique. You work year-round and you get 12 chances to reap the benefits of a win, and when you don't it can become tiring and becomes a burden. We have two weeks left for them to go try to reap benefits of the work and effort they put in. I'm confident we're going to do that.
• You're limited in what you can do with a short turnaround. LSU plays a game this week, so that in itself is an advantage in terms of what we can do from a gameplanning standpoint. What it comes down to, we have to play with more heart. If our guys don't believe they can win, it doesn't matter. That's what we've seen the last few weeks. We lost some heart after the Kentucky game. My main concern and priority is not scheme-based. My main concern is to get these guys to put their best foot forward and play their best football of the year in Baton Rouge.
• There's no doubt Hunter is going to find a guy who understands this place, this state and the culture. Anyone from the outside who has had success has understood that - not saying Chad didn't do that. He had a good plan in recruiting from a footprint standpoint. We've seen the Razorbacks spike several times, and I'm a believer in what has been done before can be done again. What one team in history can do, another can do. There has to be a perfect storm of events, and we have to keep these seniors together. Sticking together is going to be important.
• We're going to take Daniel Da Prato from special teams and bring him to the field. Other than that, you won't see many other changes. Joe Craddock will call the plays and John Chavis will lead the defense.
• Spent plenty of time on the phone Sunday with many of our commitments. Our message to them is to sit tight. Let the dust settle, sit tight and let's see how this thing plays out.
• Being the head coach at Arkansas is a dream of mine, but my sole focus is getting our players to play their best game when we go to LSU. I just want it to be the best we've played. That is my sole focus.
• I would be lying to you if I didn't tell you it is a mix of emotions. It feels natural. I was the right fit for this time, so I'm flooded with memories and things of the past. I remember how Kines invigorated the football team when I was a player. He gave us hope and confidence, and I want to do that for our players.
• I will still be involved with tight ends. Da Prato will continue to collaborate on special teams, but I will need him to step up. He's very good at that job.
• I have not decided on a starting quarterback - or starting punter, he joked.
Sponsor Content