[Gallery not loading above? Click here for photos » arkansasonline.com/galleries/27713/album/]
3:50 p.m.
Official attendance numbers from the Little Rock School District showed more than half of all students and about one-third of all teachers did not show up to school Thursday.
A total of 13,188 students were absent Thursday, of 23,337 enrolled.
Of 12,605 students enrolled in elementary school, about half, 6,542, showed up Thursday.
A little less than half of all middle school students went to school, 2,132 of 4,829, and about a quarter of high school students showed up, 1,475 out of 5,903.
For teachers, 491 called in sick while 116 did not call or show. That total, 607, represents about one-third of the 1,800 or so teachers in the district.
Superintendent Michael Poore said an average of 150 call in sick on any given day.
In addition to teachers, absences were also reported among staff. Of the roughly 1400 certified staff members, 98 called in sick and 20 did not call or show.
1:30 p.m.
Hundreds of teachers, students and supporters of the Little Rock Education Association gathered on the steps of the state Capitol and chanted for the Little Rock School District's complete return to local control.
Teresa Knapp Gordon, president of the LREA, told the crowd that she was in awe of what they had accomplished with the strike call.
"We knew this day would come," she said. "We know the fight might not be won today, but we are willing to fight as long as it takes. We will fight until the battle is won."
[Video not loading above? Click here to watch » youtube.com/watch?v=HIrWr_5FfoI]
George Sheridan with the National Education Association Executive Committee, Rev. C.E. McAdoo, Dr. Anika Whitfield with Grassroots Arkansas and Carol Fleming, president of the Arkansas Education Association, all spoke at the rally on the Capitol steps.
State Sen. Joyce Elliott also voiced her support at the rally to supporters' cheers of "Beat French Hill" "Joyce is the choice," and "French is toast."
After the rally, Gordon told the Arkansas Democrat-Gazette that the next steps for the union would be discussed.
"Everything is on the table," she said. "We will decide later on."
— Stephen Simpson
11:35 a.m.
Teachers, students, parents and residents are protesting outside the Arch Ford Education Building, where the state Board of Education is meeting.
Emily Jefferson, a student at Central High School, stood alongside some of her classmates at the demonstration.
"My mom is a teacher so I have seen firsthand how hard it can be for teachers that can't teach the way they want," she said. "As students we are the ones who are being affected. We are the future teachers and leaders. We had to be out here."
[Video not loading above? Click here to watch » youtube.com/watch?v=qMo6PO_AJyA]
Teresa Knapp Gordon, president of the Little Rock Education Association, said the support from the community was uplifting.
"Teachers, students, and community leaders coming together has been beautiful," she said.
Gordon said she hopes the show of support will encourage the board to give the school district full local control.
"If they looked outside these windows, they wouldn't have a problem making the right decision," she said.
Courtney Baker, a parent in Little Rock, said she was supporting the teachers because her three year-old son was going to be in the school district next year.
"I think what is happening right now is not right and it has been going on for far too long," she said. "I believe what is happening is being motivated by money."
— Stephen Simpson
Parents, teachers, students and young people of various ages have come to the strike outside the Education Building including Courtney Baker who brought her two daughters with her. She said she was out here because her son was about to be in the school district. pic.twitter.com/NkdhaCJcLU

— Stephen Simpson (@Steve55Simpson) November 14, 2019
11:10 a.m.
About 13 people picketed at Brady Elementary Thursday morning, and some teachers wished for more.
Amber Allison, a second grade teacher at Brady Elementary and a union member, said she was striking because things have gone downhill since the state takeover.
"Scores have gone down and they have made our jobs harder with less support," she said.
Allison said the teachers just want what is best for the students, even if it means striking to accomplish it.
One substitute teacher left as soon as she arrived when she noticed the strikers' signs.
"I didn't know," she yelled from her car. "I never cross the picket line."
Rod Gilreatch, a parent of a student at Brady Elementary School, dropped his child off at the normal time.
"It was my day to bring him to school," he said. He added that he supported the teachers.
10 a.m.
Little Rock School District Superintendent Michael Poore said things have gone as planned on Thursday morning as the district keeps schools running during a teacher strike.
He said officials have met three main goals: getting kids to school, ensuring campus safety and keeping students in classrooms so they can learn.
Poore said all district buses ran Thursday morning, and he knew of no reports of delays.
The district has monitored the number of picketers and protesters at the campuses and said Central High School appeared to have the most, with around 250 at its peak so far. Poore said all school resources officers and the majority of district security officers were on hand across campuses to ensure "safety and security."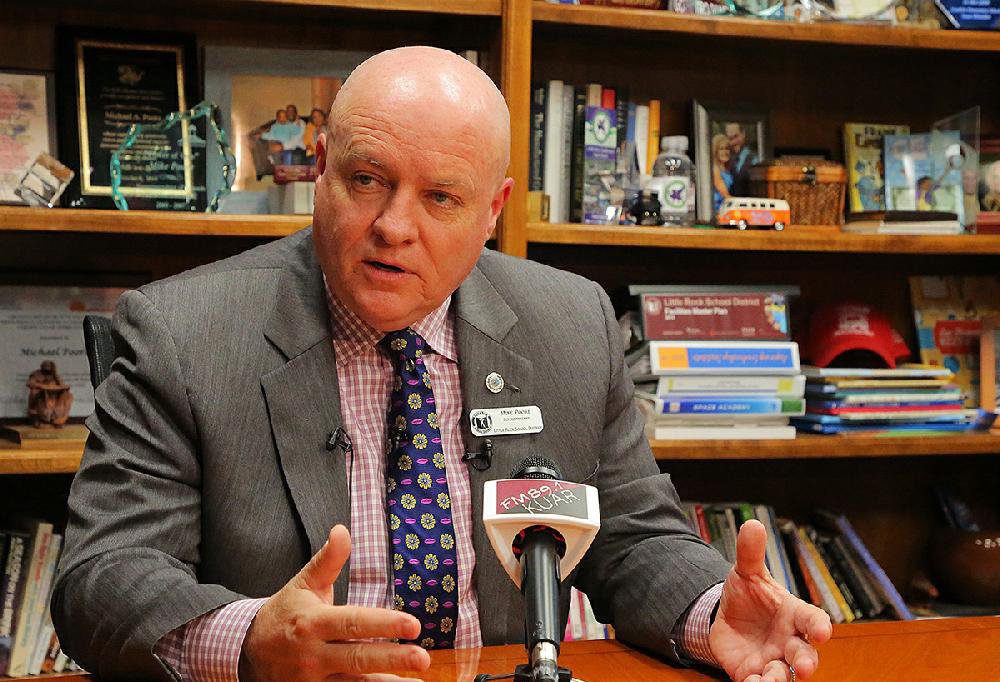 In this file photo Little Rock School District Superintendent Mike Poore talks to reporters at his office in Little Rock.
About 500 teachers called in sick, much more than the daily average of about 150, but Poore said he is also not aware of any classes combining or students being relocated to a different campus. He said all classrooms in need of a substitute have one.
Substitutes are being paid at the normal daily substitute rate of $70 to $90, depending on the person's qualifications, he said. Pay would increase to $180 daily if the strike continues additional days, though organizers announced it as a one-day protest.
More students were also absent Thursday morning than normal, Poore said, though it was too early to know exactly how many did not come to school. But he said no more than 10 kids have checked in to any one community center across the city.
The centers, at libraries, churches and other locations, were intended to be safe places with adult supervision for students during the strike.
Poore said while it's not a normal day for the district, it is going according to plan.
"We did what we said we were going to do," Poore said. "When you accomplish your goal, it's positive."
— Nyssa Kruse
9:08 a.m.
The number of picketers at Central High School has grown to more than 200 people.
The picket line started with several dozen people, but more have arrived as the morning progressed
8:40 a.m.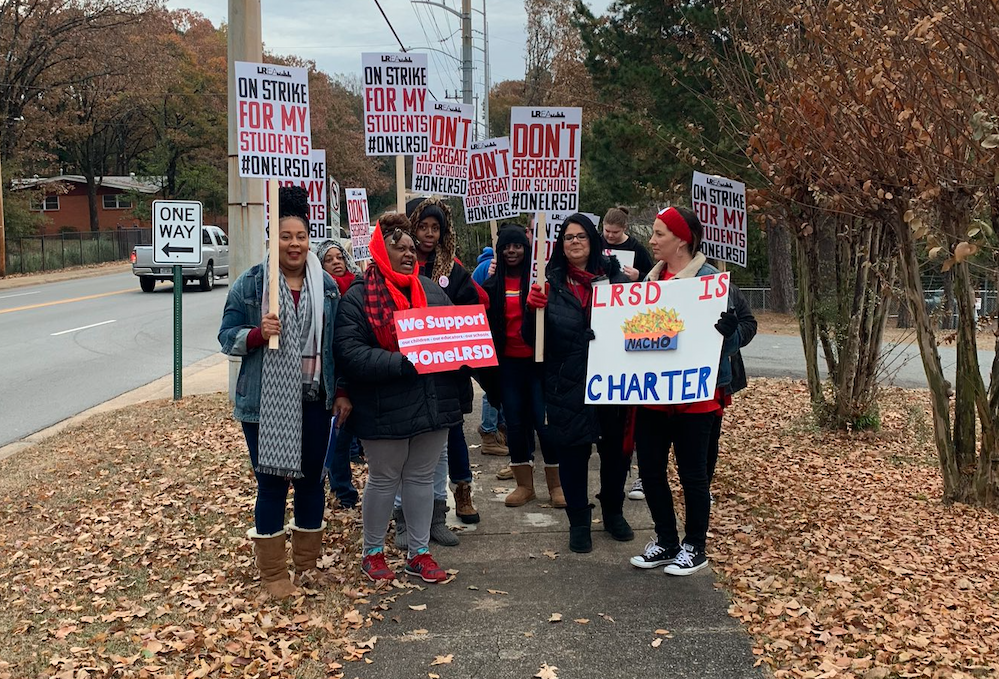 Protesters outside Brady Elementary. (Photo by Stephen Simpson)
Brady Elementary teachers and Little Rock residents have been marching for almost an hour now in support of the strike.
Marchers have received honks of support from passersby and students have been waving at their teachers from windows and playgrounds.
— Stephen Simpson
8:30 a.m.
With traffic fairly light on Evergreen Drive, the picket line at Forest Heights Stem Academy moved to the intersection with North University Avenue about 8 a.m. Protesters waved signs from the both sides of the street and the median.
Ward 3 City Director Kathy Webb and state Rep. Tippi McCullough, D-Little Rock, joined in. Webb said the elected officials came from Hall High School, which had a similar turnout, and were headed to Pulaski Heights.
[GRADE POINT ARKANSAS: Sign up for the Democrat-Gazette's new education newsletter » arkansasonline.com/emails/gpa]
McCullough, a former teacher, said she was always going to stand with educators, whose conditions had not improved under state control.
"The teachers, they're the experts, and they're the last people they're listening to," she said.
— Rachel Herzog
8:20 a.m.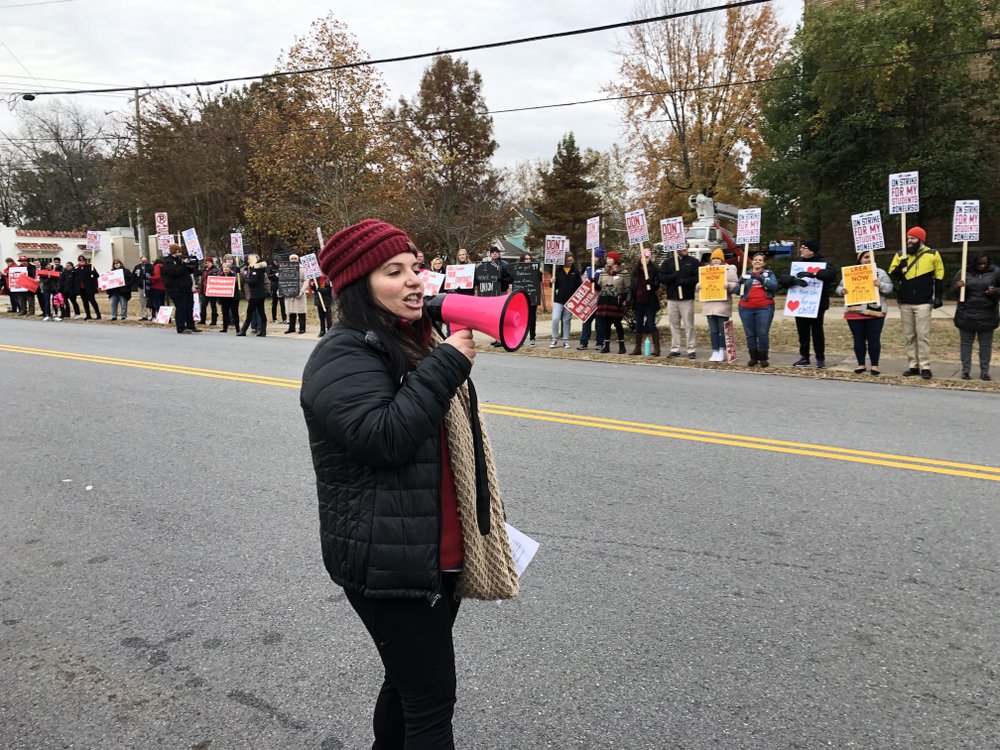 Alyce Zottoli, economics teacher at Central High, leads the picketers in chants outside the school Thursday morning. The crowd swelled to more than 100 participants by 8 a.m.
The picket line at Central High School in Little Rock is growing.
By 8 a.m., more than 100 participants were lining the sidewalk and protesting outside the school.
"I'm here because I'm indignant," Jennifer Lusk, a German teacher at Central said. "I'm indignant about what they're doing to public education in this city and I'm not going down without a fight."
[Video not loading above? Click here to watch » youtube.com/watch?v=BLdRygNbnRA]
Chris Dorer, chair of the school's history department, was also among the protesters.
"It's important to note that all of us are here losing a day of salary and putting our jobs at risk to make sure the governor, the State Board of Education and big corporations know that what they're trying to do is unethical and immoral," he said.
Laine Rainbolt, a 17-year-old senior at the school, participated in the protest, saying the teachers "deserve their union back."
"Their working conditions dictate our learning conditions," Rainbolt said.
— Tony Holt
8 a.m.
The buses are rolling in and parents are dropping off kids at Brady Elementary. The attendance numbers for teacher and kids are currently unknown but school officials said they are trying to keep it as normal as possible. pic.twitter.com/f0LGS1cOMU

— Stephen Simpson (@Steve55Simpson) November 14, 2019
At Brady Elementary, school officials are telling protesters they are not allowed to park on the school grounds.
Buses were rolling in around 7:30 a.m. and parents were dropping off kids, though it wasn't clear how the strike was affecting attendance for students or teachers.
Officials at the school said they were trying to keep the day as normal as possible.
— Stephen Simpson
7:45 a.m.
Shortly after 7 a.m., two dozen teachers and parents lined the sidewalk along Evergreen Drive as buses and cars filled with sleepy kindergarten through eighth graders pulled in to Forest Heights Stem Academy.
Some passing cars honked or pressed signs — "We support our LRSD teachers" — to their windows as protesters chanted and waved red and black-lettered signs.
[Video not showing up above? Click here to watch » youtube.com/watch?v=FC7iMOxmQG8]
Leigh Ann Wilson, who has a second-grader at the school, stood at the picket line. She said she supported teachers' right to be union representation.
She said state control had not helped schools and parents.
"I do not think things have gotten better. My real frustration is the lack of partnership," Wilson said. "We have no voice. We have no way to be heard."
— Rachel Herzog
7:15 a.m.
Little Rock School District teachers and support staff members are on strike on Thursday — the first teacher strike in the district in 32 years.
Striking employees -- who have invited parents, students and community members to join with them -- are expected to picket at the 41 campuses from 7 a.m. to 9:30 a.m. today.
At Central High School, several dozen people lined the sidewalk in front of the school holding signs imploring the state to return the district to local control and to restore recognition of the teachers union. Amanda Heinbockel, an art teacher at the school, led the picketers in a chant.
[Video not showing up above? Click here to watch » https://www.youtube.com/watch?v=lNJSZtKy3qg]
Schools are open during the strike with substitutes and state staff members filling in.
— Tony Holt
7:10 a.m.
Little Rock teachers are striking for the first time in more than three decades over the state's control of the local school system and a panel's decision to strip their union's collective bargaining rights.
Members of the Little Rock Education Association are picketing across the 23,000-school district on Thursday in what's being billed as a one-day strike to protest Arkansas' takeover of the local system. Arkansas has run the school district since 2015, when it was taken over because of low scores at several schools.
Union leaders have left open the possibility of the strike stretching beyond Thursday if full local control isn't restored. The district has said schools will remain open Thursday.
The strike follows the state Board of Education's decision to strip the union of its bargaining power. The strike is the first in Little Rock since 1987.
— The Associated Press
Check back for updates all day.
This story was originally published at 7:10 a.m.
CORRECTION: An incorrect name was listed for a parent in a photo caption. Leigh Ann Wilson is the parent of a student at Forest Heights.