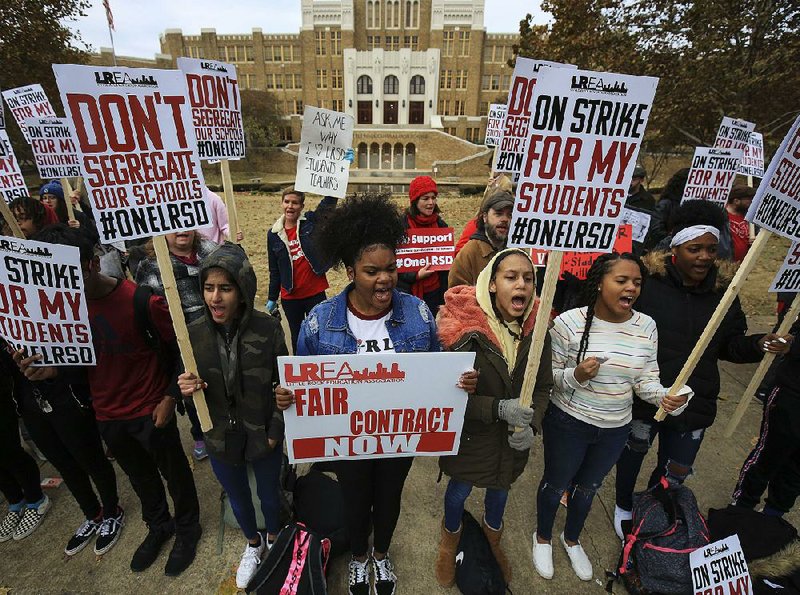 Little Rock Central High School students Arrsh Ali (from left), Taniyah Mays, Genesis Harris and Mya Conway, all 14, join the picket line Thursday outside their school. More photos at arkansasonline.com/1115lrsd/ ( Arkansas Democrat-Gazette / Staton Breidenthal)
Battalions of angry teachers stood, marched, chanted and belted out a song by Bob Marley and Peter Tosh in 30-degree weather Thursday to show their desire for an autonomous local school board and a fully recognized teachers union.
More than a third of Little Rock's public school teachers and more than 56% of students were absent Thursday because of the strike, the first of its kind in 32 years.
Many of the teachers showed up outside schools, wearing mittens and heavy coats, to form picket lines. One of the largest crowds, more than 250 people, was outside Little Rock Central High School, where Little Rock Education Association President Teresa Knapp Gordon spoke through a megaphone thanking participants for showing up and supporting the cause.
"It's just what I expected," Gordon said of the robust crowd. "It's beautiful. This energy is awesome."
[Video not showing up above? Click here to watch » https://www.youtube.com/watch?v=dnAXx6Dmcw0]
On Monday, the association announced the one-day strike for Thursday.
On Thursday evening, Gordon said "all options are on the table" in regard to extending the strike beyond a single day.
The state, which has overseen the Little Rock district since January 2015, is making plans to allow for a locally elected school board in November 2020, but it still aims to maintain some oversight, particularly over some of the district's lower-performing schools. The Arkansas Board of Education voted in October to end collective bargaining with the employees' union, effective Oct. 31. Thursday's strike was a full-throated objection by association members to the state's actions.
Of the certified teachers employed by the district, 491 called in sick and another 116 were no-shows Thursday. District spokeswoman Pamela Smith said she would not speculate on whether those who called in sick were among those picketing.
The 607 teacher absences far exceeded the typical, noninclement-weather average of 150.
Superintendent Mike Poore said those employees who called in sick and showed up anywhere to picket would potentially end up "creating a different [disciplinary] situation" for themselves, up to and including firing. He also suggested that some people may have called in sick because they didn't want to cross the picket line and face the wrath of their co-workers.
Arkansas Education Secretary Johnny Key said he was pleased that two-thirds of the district's certified employees were in their classrooms Thursday. But he said he was disappointed with reports he had received of strikers blocking entrances and school bus lanes.
[RELATED: State board's day spent on Little Rock School District » arkansasonline.com/news/2019/nov/15/state-board-s-day-spent-on-lrsd-2019111/]
Tamra Wiley, a fifth-grade teacher at Brady Elementary and a union member, said joining the strike was a tough decision and she didn't know if she was going to do it until Thursday morning.
"I wanted to show my solidarity," she said from the picket line outside Brady. "My presence here speaks for itself. That we are unified as teachers. That we are willing to risk what we love for an equal chance for our students."
Gallery: Little Rock School District teacher strike
[GALLERY: Little Rock School District teacher strike » arkansasonline.com/1115lrsd/]
Wiley said watching her students go into school without her was especially tough.
"I am never absent," she said. "Not to be in my classroom is difficult for me. I have been peeking in windows and wondering how my class is going."
All schools were open Thursday to students and nonstriking employees. Substitutes, including administrators from the central office and state Department of Education, were assigned to classrooms to make sure students had lessons for the day. Students arrived on campus to see many of their teachers standing along the streets yelling fight songs and decrying union-busting.
"It's important to note that all of us are here losing a day of salary and putting our jobs at risk to make sure the governor, state Board of Education and big corporations know that what they're doing is unethical and immoral," said Chris Dorer, the history department chairman at Central High.
Later in the day, hundreds of teachers, students and supporters of the union gathered on the steps of the state Capitol and chanted for the district's complete return to local control.
Gordon told the crowd that she was in awe of what they had accomplished with the strike call.
"We knew this day would come," she said. "We know the fight might not be won today, but we are willing to fight as long as it takes. We will fight until the battle is won."
In the morning, many of those on strike also assembled outside Forest Heights STEM Academy on Evergreen Drive.
Traffic was light on Evergreen Drive as pickets waved signs from the sidewalk in front of the elementary school. Though some cars pulled into the school parking lot to drop off children, more passed by and honked in support, some with red-lettered signs pressed to their windows.
Leigh Ann Wilson, parent to a second grader at the school, held a sign reading "NO BOARD = NO VOICE." She said she supported teachers and their right to be represented by a union, and she did not think that state control had improved their situation.
"I do not think things have gotten better, and my real frustration is the lack of partnership," Wilson said. "We have no voice. We have no way to be heard."
Talk of low attendance in Forest Heights circulated through the group. Some drivers on North University stopped to offer doughnuts, coffee and hand warmers to pickets.
Another dozen or so people picketed outside Brady Elementary on West Markham Street.
One school official sneaked out of the building to take food to the strikers, which brought tears to a few people's eyes, before she rushed back inside.
Not all of the drivers in passing vehicles were friendly. One man yelled at the teachers to get inside and educate the kids.
Stephani Franklin, a prekindergarten teacher at Brady Elementary and a union member, said she disagreed with the notion that teachers who are striking don't care about their students.
"We care about our kids," she said. "None of us are getting paid today, but we are doing this for them."
The lively crowd at Central High consisted of more than teachers. It included students, parents, public education advocates and people who were in the activism spirit.
Among those taking part was Laine Rainbolt, a 17-year-old senior at Central. To her, teachers who have all of the support and resources they need leads to students getting better educations.
"Our teachers deserve their union back," Rainbolt said. "Their working conditions dictate our learning conditions."
Gordon suggested that the strike may not be a one-day event. A lot was riding on Thursday's meeting of the Arkansas Board of Education and whether board members took the teacher's union demands seriously.
"All options are still on the table," she said, adding that the strike was the "first battle in a longer fight."
It is up to the union members whether the strike extends beyond Thursday, she said.
Outside schools early Thursday, there were more open parking spaces than typical on the start of a school day. The flow of arriving students was noticeably below normal. Student absences were 48% at elementary schools, 56% at middle schools and 75% at high schools, according to the district.
In all, more than 13,200 students were absent Thursday. By comparison, the average daily absence number is 1,443, Smith said.
At Central, some of the arriving students walked across campus with their eyes glued on South Park Street, where the picket line had formed. A few of the students pumped their fists in solidarity.
Jennifer Lusk, a German teacher at Central, said there wasn't a single moment that caused the strike. It was a series of refusals at the state level to compromise and negotiate in good faith with teachers.
"There have been so many [moments]," she said. "Teachers give and give and give. There comes a time when you can't give anymore.
"Teachers' voices have to be heard," she said. "We're not being listened to at all."
Leon Kaplan, a retiree and father of a Forest Heights teacher, said the union's disenfranchisement is wrong and violates state law.
He said he moved to Little Rock in 1967, when the city was still dealing with the Central High desegregation crisis from 10 years earlier.
"There was still a lot of pain and embarrassment and disagreement from the two sides," he said. "In time, I did see healing begin to happen, and I thought it was to the betterment of the community, but lately it seems it has returned back to '57."
The group standing outside Forest Heights was joined by Ward 3 City Director Kathy Webb and state Rep. Tippi McCullough, D-Little Rock.
Webb said she showed up to support the teachers' right to be in a union and to call for a return to full local control for the district. She said the state's current framework for November 2020 Little Rock School Board elections and local control with limits doesn't go far enough.
"I think obviously we have more schools now that the state considers to be in distress," she said. "I think it's time to restore local control."
McCullough, a former teacher, said the strike had been brewing for a long time.
"I know what it's like to work and continually have your rights taken away from you. The teachers, they're the experts, and they're the last people anyone listens to. It's gotten to the point where teachers have to stand up. Things aren't getting better," she said. "I'm proud of all these teachers for taking this stand."
Thursday's was the second Arkansas' teacher strike for Joan Gage, who said her conviction was the same as it was when she was a teacher at Hall High in 1987.
"When I walked that picket line back then it was because we were going through an education crisis," she said. "I consider this a crisis, as well."
The crowd's rhetoric in front of Central varied from garden-variety boycott language to the more pointed and personal. Many of the chants were aimed at Key, the state's education secretary, demanding that he be fired.
"Privatizers take a hike. Education is a right!" was one of the chants.
"Get up, stand up. Stand up for your rights," was repeated during the two-hour demonstration.
Dorer said teachers are digging in deeper than ever to protect their students from the special interest, pro-charter school pursuits of the likes of the Walton family, majority owners of Wal-Mart, and Walter E. Hussman Jr., the publisher of the Democrat-Gazette.
Tara Shephard, the mother of a Forest Heights seventh grader, who was a member of the Little Rock School Board at the time the state took over the district, said she was protesting to demand "that our schools be returned back to the people" and added that she "refused to allow the [state board] to resegregate" the district.
Gordon said she hoped the show of support at the Capitol would encourage the state Education Board to give the school district full local control.
"If they looked outside these windows, they wouldn't have a problem making the right decision," she said.
Information for this article was contributed by Cynthia Howell of the Arkansas Democrat-Gazette.
A Section on 11/15/2019
Print Headline: Single-day strike pulls in a crowd as Little Rock teachers take case to streets
Sponsor Content