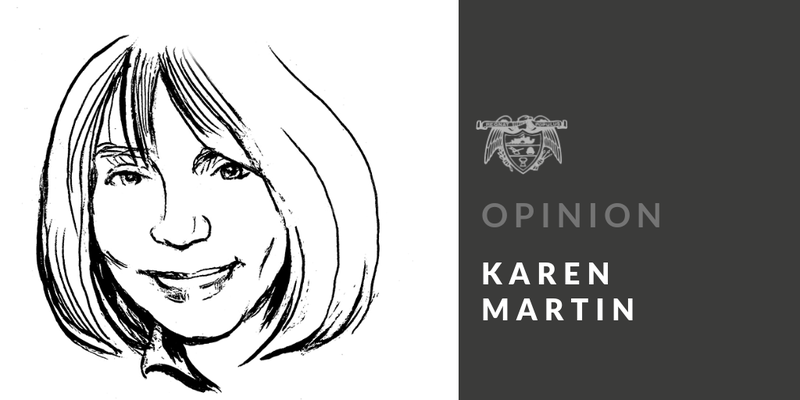 Karen Martin
There's nothing quite like a swanky hotel. A really swanky hotel.
Back when I was writing about men's fashion at the Arkansas Gazette and later about movies for the Arkansas Democrat-Gazette, I was fortunate to get acquainted with such hotels. Movie junkets, in particular, brought members of the entertainment press to Los Angeles, New York, Atlanta, San Fransico, and other cities regularly to screen a soon-to-be-released big-budget film and interview its filmmakers and cast members.
Not only did I find myself sitting in a handsomely furnished suite with the likes of Johnny Depp, Matt Damon, Halle Berry, Robert Downey Jr., Denzel Washington, and Anne Hathaway, but I often spent the night in the hotel hosting the junket.
I was at the Four Seasons in Los Angeles so often the front-desk folks greeted me by name. Other destinations include Ritz-Carlton in Manhattan's Battery Park, W near UCLA, Rosewood Mansion on Turtle Creek in Dallas, Shutters on the Beach in Santa Monica, and my absolute favorite, Raffles L'Ermitage in Beverly Hills.
The Arlington Hotel was once considered a member of this class. Built in the 19th century in Hot Springs National Park, it's thought to be one of the South's premier resorts, famed for its elegant architecture, restorative thermal bathhouse, glamorous social events, and popularity among the wealthy and famous including politicians, dignitaries, actors, gangsters and entertainment and sports legends.
The guest book mentions stays by gangster Al Capone (he liked room 443), Babe Ruth, Will Rogers, Kate Smith, George Raft, Tony Bennett, Barbra Streisand and Yoko Ono.
But the passing of time has taken its toll. Like many of our country's renowned old buildings (the current version of the Arlington was constructed in 1924; two others preceded it), maintenance hasn't kept up with the pace of deterioration. Stuff wears out, infrastructure needs repairs and replacing. Like an aging movie star who looks glamorous thanks to talented makeup artists and artful staging and lighting, the Arlington looks better from a distance than it does close-up.
The kindest comments found on Internet sites recently deliver a forward spin with the use of descriptive terms like super-vintage. Visitors remark that it has so much history; it's a trip back in time, it uses real keys, it has cool architecture, it's nostalgic, it has a wonderful spa and an excellent staff.
Some guests, although not cruel, are not as generous in their opinions. They mention rooms that are in bad shape, lots of leaks and cracks in bathrooms, rust, saggy beds, the presence of dust, bugs, dirt and mold, peeling paint, extension cords struggling to make up for inadequate electrical wiring, overpriced accommodations, slow registration, and lack of accessibility for disabled guests.
A comment on hotels.com is succinct: "It was a pretty neat place to see, but recommend staying somewhere else and just visiting the Arlington."
And this stinging opinion on Google: "This hotel isn't 'historic.' It's decrepit."
My attitude is more charitable. When I come here each October to serve as a moderator at the Hot Springs Documentary Film Festival, it's always a pleasure to get re-acquainted with the high-ceilinged lobby. For the first time in a long time, changes are evident: The floors are covered in uniform pale rectangles of tile. The parquet dance floor is gone, as is the raised seating area that awkwardly bisected the room. The bandstand and oddly flashy bar remain, as does a stylish array of chat-friendly couches and armchairs. On each side of the lobby are curving carpeted stairways with ornately carved railings that lead upstairs to the ballrooms.
Those ballrooms are transformed into Cinema 1 and Cinema 2 for the festival, which was formerly held in the exhausted chic of the Malco Theatre a few blocks away on Central Avenue.
In an interview with this newspaper's Rex Nelson in 2018, Arlington owner Al Rajabi explained that his goal is to attract older folks who love the Arlington as well as affluent younger couples for three-day weekends. To do so, he knows that the old hotel needs more than the busy Starbucks that's just off the lobby near the front desk. It must offer amenities such as a bowling alley, better fitness facilities (the most basic budget hotels have better equipment), a new pool, an updated spa, healthy dining options and trendy bars.
"This isn't just a Hot Springs project," he said. "It's an Arkansas project since people across the state have expressed their love for this hotel."
Although the Arlington, with over 500 rooms, is the biggest hotel in the state, that's not Rajabi's goal. "We want to be the best," he said.
After visiting during the 28th annual HSDFF, it's not unkind to say that he's got a ways to go.
Karen Martin is senior editor of Perspective.
kmartin@arkansasonline.com
Editorial on 11/17/2019
Print Headline: Cleaning up the welcome mat
Sponsor Content