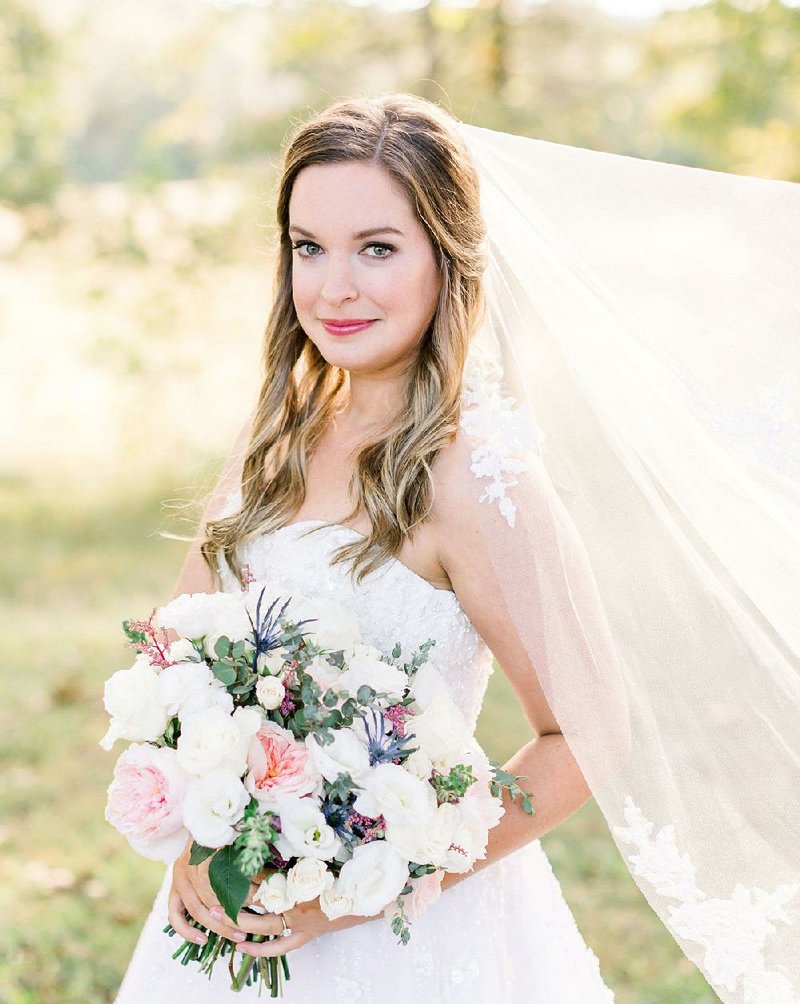 Erin Farr Melton
Erin Farr Hearnsberger became the bride of Alex Hayden Melton at 5 p.m. Saturday, Nov. 9, at Cold Springs Events in Paron. Jim Bob Baker of City Point Church in Fayetteville officiated.
The bride is the daughter of Cheryl and Dr. Henry Graves Hearnsberger III of Little Rock. Her grandparents are Cecil Hill Jr., the late Linda Chism, and the late Charlyne and Dr. Henry Graves Hearnsberger Jr., all of Little Rock.
Charlotte and Scott Melton of Fayetteville are the parents of the groom. He is the grandson of the late Virginia and Charles Turner of Newport and the late Katie and Jim Melton of Hot Springs.
The chapel, lighted with candles, was decorated with an arrangement of wedding flowers on the altar. Music was by guitarist Michael Carenbauer and soloist Dr. Scott Stern.
Given in marriage by her father, the bride wore a white gown with a strapless bodice and A-line skirt embellished with floral embroidery and beading. She carried a gathered bouquet of white anemone, blush astilbe, white ranunculus, majolica spray roses and blush garden roses.
Matron of honor was Allie Hearnsberger Bullock of Nashville, sister of the bride. Bridesmaids were Mallory Carew and Grace McAlister, both of Houston; Anne Marie Doramus, Amelia Ray and Meredith Thomas, all of Little Rock; Olivia Geels and Elizabeth Marino, both of Memphis; Jordan Hajek of Atlanta; and Alyssa Hammonds of Dallas. The attendants wore chiffon gowns with thin shoulder straps and flounced necklines and carried a smaller version of the bridal bouquet.
Flower girl was Collins Belle Melton of Fayetteville, niece of the groom.
Serving as his brother's best man was Andrew Ryan Melton of Fayetteville. Groomsmen were John Broyles II of Dallas; Colin Cornett of Denver; Randall Fant of Little Elm, Texas; Ronald Fields III of Atlanta; Colt Galloway and Grainger Rath, both of Fayetteville; James Hughes of Nashville, Tenn.; David Johnson of Indianapolis; Mason McMillan of Chicago; and William Ovenden of Mount Pleasant, S.C. Guests were seated by William Bruce of Greenville, S.C.; Kevin Bullock of Nashville; Brian Colley of Dallas; Christopher Stalnaker of Little Rock; and Blake Winkles of Charleston, S.C.
A reception at Cold Springs followed the ceremony. Tables were covered with ivory velvet cloths and centered with candles and flower arrangements. Music was by the Party Planet Band of Memphis.
The bride is a graduate of the University of Mississippi with a bachelor's degree in accountancy. She is a certified public accountant and is a consultant at Windstream.
The groom has a bachelor's degree in business administration from the University of Arkansas, Fayetteville, and a master's degree in business administration from the University of Arkansas at Little Rock. He has a law degree from the UALR William H. Bowen School of Law.
After a wedding trip to Jamaica, the couple will live in Little Rock.
High Profile on 11/17/2019
Print Headline: Erin Farr Hearnsberger - Alex Hayden Melton
Sponsor Content