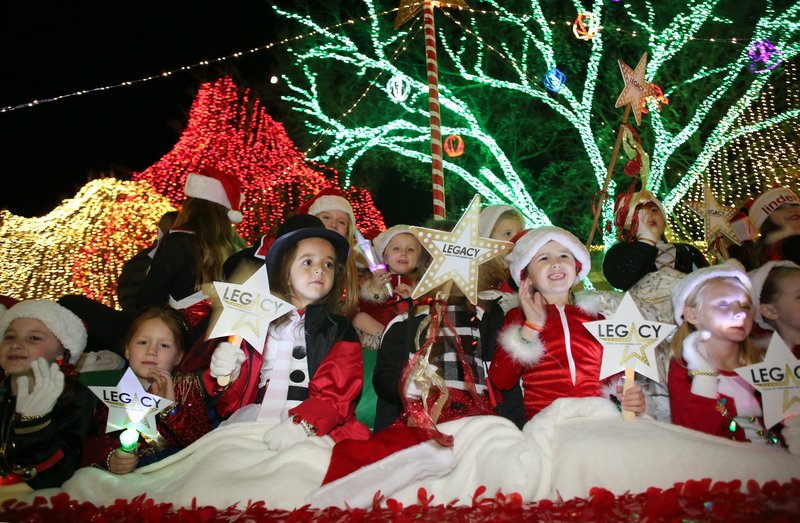 Performers with the Legacy Studio of Performing Arts of Johnson ride on a float in the kick-off parade for the 2018 Lights of the Ozarks event. NWA Democrat-Gazette/David Gottschalk
"IncARceraTed Series: Art Transforming Lives," a pop-up exhibit of artwork that Kenneth Reams created as an inmate on death row at the Varner/Varner Supermax Prison Unit, will be on display 5:30-8:30 p.m. Tuesday at the Mosaic Templars Cultural Center, 501 W. Ninth St., Little Rock.
The event, put together by Brandon House Cultural & Performing Arts Center in partnership with Visionari Enterprise and Who Decides Inc., also features musical performances from area art entrepreneurs, students of Brandon House's iHUSTLE and Arts Over Tobacco programs. Reams will read his poetry, live by telephone from the prison. Host is Crystal C. Mercer, a Little Rock poet, performance artist, social justice activist and a member of the City of Little Rock Arts and Culture Commission. Admission is free, Call (501) 725-5757 or visit truvisionairi.com/incarcerated.
MacArthur movie
The MacArthur Museum of Arkansas Military History in MacArthur Park, 503 E. Ninth St., Little Rock, screens at 6:30 p.m. Tuesday the documentary Return to Dak To, recounting the experience of some of the survivors from the 600 American soldiers of a 61-day siege near the end of the Vietnam War. It's part of the museum's Movies at MacArthur series. Admission, popcorn and beverages are free. Call (501) 376-4602 or visit arkmilitaryheritage.com.
Lighting Fayetteville
Fayetteville Mayor Lioneld Jordan will flip the switch on the city's annual Lights of the Ozarks at 6 p.m. Friday in the Fayetteville Town Center Plaza, 15 W. Mountain St., Fayetteville. This year's kick-off parade begins and ends in the West Avenue parking lot, just west of Walton Arts Center, along West Avenue to the Fayetteville Public Library, turning onto Mountain Street, and leading to the square, then turning onto East Avenue and down to Dickson Street. More than 400,000 lights will blaze in the square, 5 p.m.-1 a.m. through Dec. 31. Visit experiencefayetteville.com/lights-of-the-ozarks.
Sugar Plum tea
Join Nutcracker characters for lunch, desserts, snacks and photographs, plus Nutcracker and Christmas crafts, as the Western Arkansas Ballet hosts its annual Sugar Plum Fairy Tea, 2:30-4:30 p.m. today at the Fort Smith Riverfront Glass Pavilion, 100 N. B St., Fort Smith. Admission is $30. Call (479) 785-0152 or visit waballet.org.
The tea is in conjunction with the ballet company's production of The Nutcracker, Dec. 14-15 at the ArcBest Corp. Performing Arts Center, 55 S. Seventh St., Fort Smith.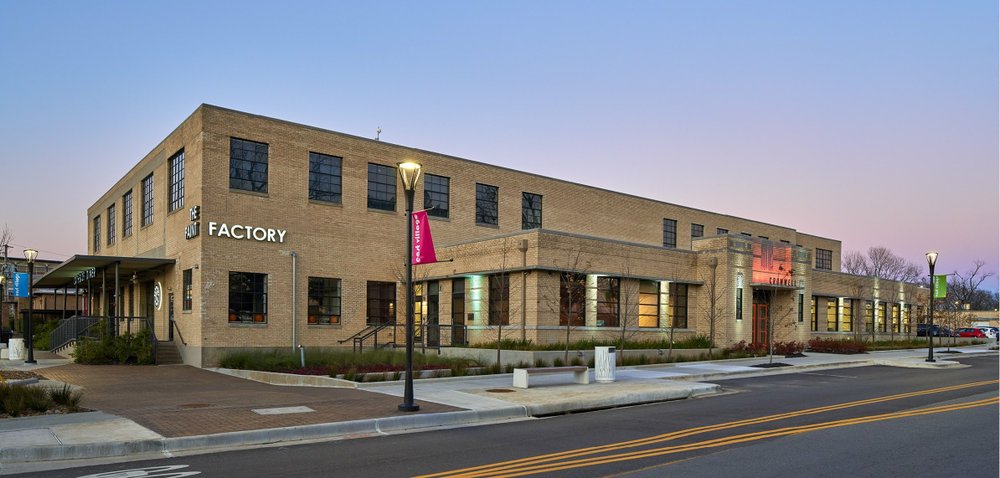 The Stebbins and Roberts Office Building and Factory, now known as the Paint Factory, 1300 East Sixth St., Little Rockwas one of the recipients of the Quapaw Quarter Association's 2019 Greater Little Rock Preservation awards of merit. Special to the Democrat-Gazette
Preservation awards
The Quapaw Quarter Association issued its 2019 Greater Little Rock Preservation awards of merit Oct. 23:
• Sam Scull House, 2300 State St. in the Governor's Mansion Historic District, to property owners Ted Holder and Joe van den Heuvel and contractors Michael Erwin and Tim Biggs
• The Dr. Martin A. Sharp House, 1422 S. Summit St. in the Central High School Neighborhood Historic District, to Angela and Bobby Matthews and Lynn Boyd
• Darragh Building (DARCO Building), 1403 E. Sixth St., in the East Village, to Entegrity
• The Stebbins and Roberts Office Building and Factory, now known as the Paint Factory, 1300 East Sixth St., East Village, to Cromwell Architects Engineers
• The Powell House, 2623 W. Markham St. in the Capitol View Neighborhood Historic District, to Beverly Foster and T. Martin Davis
• The 2019 Jimmy Strawn Award, instituted in 1980, bestowed upon a person or people whose efforts on behalf of the preservation of Greater Little Rock's architectural heritage are an inspiration to the entire community, to Jill Judy and Mark Brown.
Style on 11/17/2019
Print Headline: 'IncARceraTed' exhibition shows inmates' work
Sponsor Content