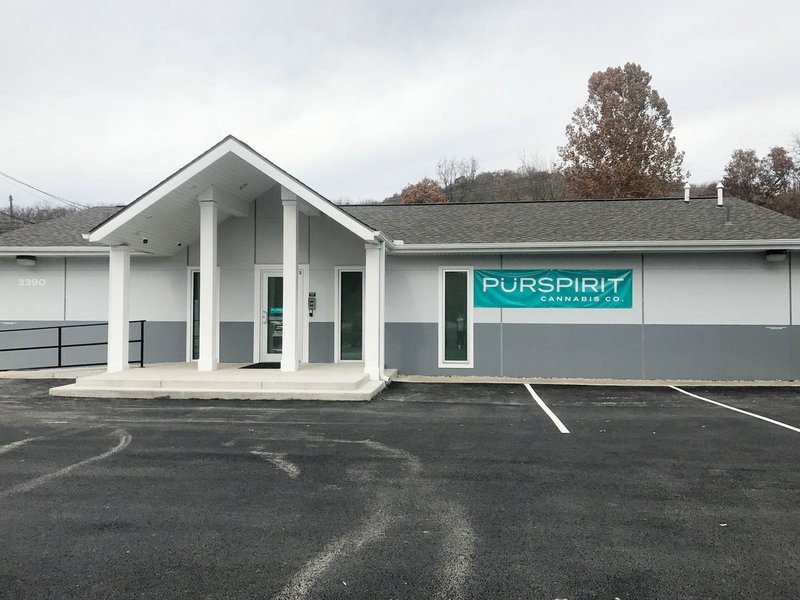 NWA Democrat-Gazette/ALEX GOLDEN Purspirit Cannabis Co., a medical marijuana dispensary, is open at 3390 Martin Luther King Jr. Blvd. in Fayetteville. Purspirit is the 11th medical marijuana dispensary to open in Arkansas and the fourth dispensary to open in Northwest Arkansas.
FAYETTEVILLE — The city's second medical marijuana dispensary opened Wednesday afternoon. It's the last of four dispensaries allowed to open in the region.
Purspirit Cannabis Co., 3390 Martin Luther King Jr. Blvd., offers marijuana in its traditional flower form as well as concentrates and edibles, said Zack Erickson, a budtender at the dispensary.
Purspirit is the 11th medical marijuana dispensary to open in Arkansas and the fourth dispensary to open in Northwest Arkansas. The region's first dispensary, The ReLeaf Center, opened in Bentonville in August, followed by The Source in Bentonville and Acanza in Fayetteville.
No other dispensaries are planned for Northwest Arkansas, said Scott Hardin, spokesman for the Arkansas Department of Finance and Administration. The state is authorized to have 32 dispensaries. The state is divided geographically into eight zones, and the intent is for four dispensaries to be in each zone. Zone 1 includes Benton, Washington, Madison and Carroll counties, which means Purspirit is the fourth and last dispensary the region can expect to see. Zone 1 is the first zone to have all of its dispensaries in operation, Hardin said.
Purspirit has about 20 employees, and Erickson said the dispensary's purpose is to provide medication for patients who need it.
"We're not drug dealers. We're professionals in a new industry," he said.
The state's final inspection of Purspirit went well Friday, Hardin said.
Purspirit received its approval to open Monday, said Gates McKnight of Purspirit.
Jessica Jordan, 31, of Fayetteville was one of Purspirit's first customers Wednesday. Jordan said she has chronic pain and post traumatic stress disorder, for which she's been prescribed a "never-ending list" of depression and anxiety medications.
"I couldn't remember what grade my daughter was in," she said.
Jordan no longer takes those medications now that she can purchase medical marijuana, she said.
Arkansas voters approved the legalization of medical marijuana in 2016, but legal and regulatory hurdles slowed the program's rollout. The first dispensary, Doctor's Orders, opened May 10 in Hot Springs.
Dispensaries in Arkansas sold about 2,900 pounds of marijuana, more than $20 million worth, as of Monday, Hardin said.
A patient or caregiver ID card is necessary to buy medical marijuana products.
About 28,600 people in Arkansas had the cards as of Friday, according to the Arkansas Department of Health.
Purspirit's operating hours are 9 a.m. to 7 p.m. Monday through Saturday and 11 a.m. to 5 p.m. Sunday.
Medical marijuana registry card
To qualify for a registry card to legally purchase medical marijuana, one must:
• Be 18 or older or be a minor patient with parental consent
• Be diagnosed with a qualifying medical condition
• Have the official written certification from a physician
• Be an Arkansas resident with proof of residency State law prohibits members of the Arkansas National Guard and U.S. military from obtaining a registry ID card.
Qualifying medical conditions:
• Cancer
• Glaucoma
• Positive status for human immunodeficiency virus/acquired immune deficiency syndrome
• Hepatitis C
• Amyotrophic lateral sclerosis, or ALS
• Tourette's syndrome
• Crohn's disease
• Ulcerative colitis
• Post-traumatic stress disorder
• Severe arthritis
• Fibromyalgia
• Alzheimer's disease
• Cachexia or wasting syndrome
• Peripheral neuropathy
• Intractable pain, which is pain not responding to ordinary medications, treatment or surgical measures for more than six months
• Severe nausea
• Seizures, including without limitation those characteristic of epilepsy
• Severe and persistent muscle spasms, including without limitation those characteristic of multiple sclerosis
• And, any other medical condition or its treatment approved by the Department of Health
Sources: Arkansas Department of
Health, Arkansas Department of
Finance and Administration
Alex Golden can be reached by email at agolden@nwadg.com or on Twitter @NWAalexgolden.
Print Headline: Second marijuana dispensary opens in Fayetteville
Sponsor Content