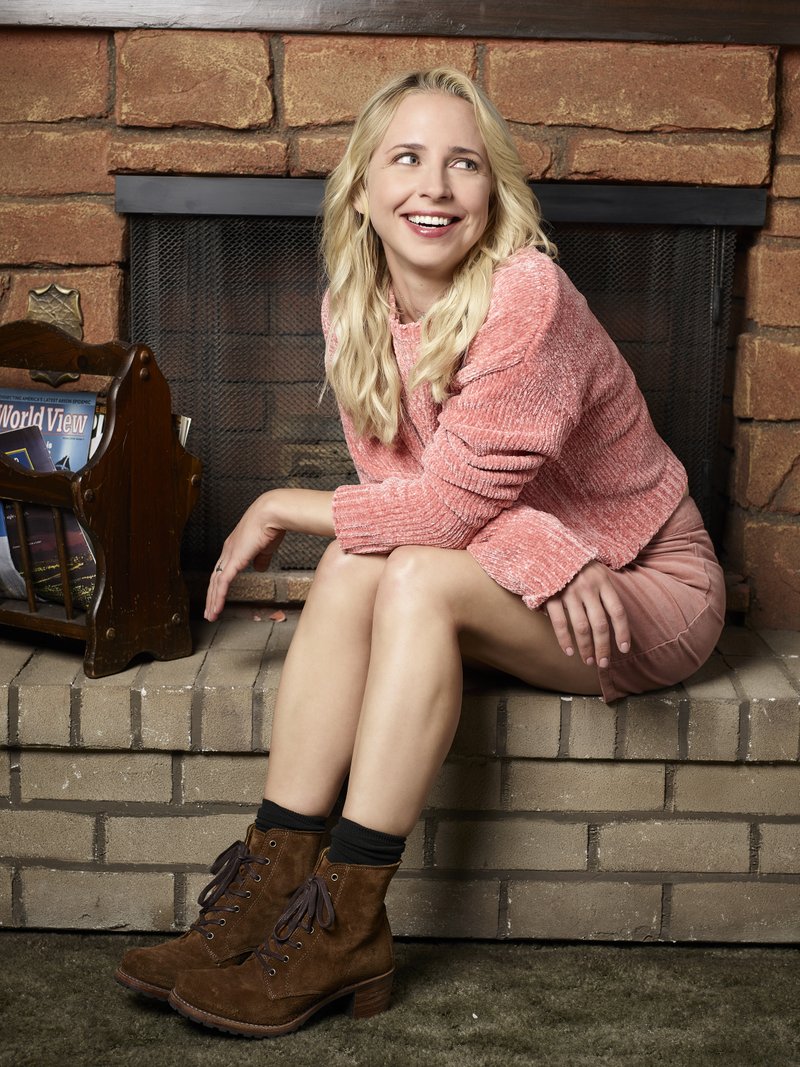 Lecy Goranson stars as Becky on ABC's The Conners. Although she originally wanted to be a poet, Goranson began playing the older daugher on Roseanne when she was just 12. (Photo by Robert Trachtenberg via ABC)
PASADENA, Calif. — Although actress Lecy Goranson has tried most of her life to resist fate, it's won out every time. She began by playing Becky, the older daughter on Roseanne, when she was just 12. Thirty-one years later she finds herself portraying the grown-up Becky in the spinoff, The Conners, which returned to ABC Sept. 24.
But that's not what she ever planned to do. What she really wanted to do while playing the sassy teenage Becky was be a poet. And she quit the show to study at Vassar with high hopes.
"I went to college, left the business and studied English — was a poetry major," she says.
"I actually got kicked out of college after my freshman year because I failed acting and dance," she says. "That was a really hard year. I thought I wanted to go to art school, but I moved back out here and went to UCLA. I'd left the show. I'd left college, wasn't where my family was, so I felt totally alone. It was so isolating," she says.
Part of the pressure she'd experienced at Vassar came from people's expectations. "I felt everybody wanted me to be something like the 'Entitled Hollywood Famous Person.' I felt it was really hard to fight that projection. So I was smoking too much pot and skipping class — which is what a lot of freshmen do. But I did feel stigmatized, and it really affected me because I think I went into college with rose-colored glasses," says Goranson.
"I was thinking of all the things I didn't have on the show — like a schoolroom full of friends, homework like normal kids, sports and dance, and all the things that I loved, that I was longing for. This reaction to me was totally not me. And I feel at that age my ego was ill-equipped to deal with it."
So she bounced back and forth between college and the sitcom, studying for a year at UCLA and then vowing to return to Vassar. "And I decided to just be me and be really ruthless about being me," she says.
"If someone complains that I'm in the school play or that my poems are in the literary magazine, I have to be strong and say, 'Too bad.' I'm not going to say this didn't get in on merit because who would I be? Why would I deny that? Long before I got on the show I was a poet and got into the Northwestern writing class when I was a kid. It wasn't just my ego. It was something I really loved and worked on."
Goranson had even taken an advanced UCLA college course while still in high school during Roseanne. "But no one was supposed to know," she whispers. "It wasn't allowed."
After college, she headed for New York, her head filled with lofty ambitions.
"I landed in New York and thought: 'I'm going to be a poet and going to have this new identity, and I'm never going back!'
"And then somehow one of my friends from college, who graduated before me, was working for a casting agency, called me in and said, 'You have to come in (and audition). You've no choice.' I went in, and I just lost my mind and cried and got the part. And I went, 'Why is it I keep doing this?'"
That role was her very first play and became the impetus for her dream of performing in every off-Broadway venue.
"One thing I really admired about actors is that some have an amazing knack for finding a second career or for finding a waitressing job," she nods. "That was hard for me. I couldn't waitress because I didn't feel comfortable with that because people would say, 'Oh, there's Becky from Roseanne … waitressing. There she is, everybody come take a picture with her!'"
She did land one job at a warehouse for an online flower company. "And I thought, 'You know, I've never really had a normal job except babysitting before I got Roseanne. Maybe I'll work in the flower district, I'll make bouquets. That sounds fun.'"
She labored the weeks before all holidays. "And I'll tell you, I never want to see a rose again," she says, "because roses are rough and filling the big vases, lifting them, cutting the stems over and over again. I was working with a woman in her late 60s, early 70s, and that was her second job. She drove a school bus in the morning. I thought, 'How does she do this?' Because it was exhausting work. But so is theater."
Goranson has been happily performing in the theater ever since until Destiny interfered again. Two years ago, her Roseanne costar Sara Gilbert phoned to ask if she would be willing to return to the show. "I went, 'Well, I'm still doing it, so why not?'"
She doesn't blame fate for her folly but says, "On a spiritual level, as bizarre at it is, you do have a sense of a path in life. As much as I respect religion, I also feel there is something about having a connection with life that's personal and (you need) to be aware of that."
Even when she was a preteen and cast in Roseanne after only her second audition, she felt that "path," she says, and roundly resisted her parents' objections. "At that moment I thought, 'Oh, my gosh, I'm supposed to be going somewhere. where is it?'"
Print Headline: Roseanne star on her fated full-circle journey
Sponsor Content