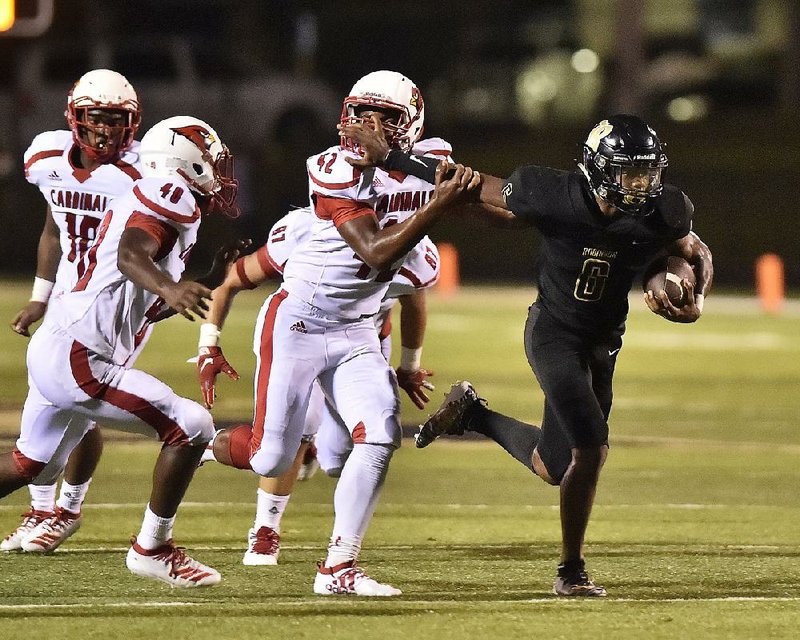 Running back Hunter Smith (right) had 117 yards and 2 touchdowns on 3 carries during the first half of Joe T. Robinson's victory over Fountain Lake last week.
Joe T. Robinson wasn't happy with its performance in its final nonconference game Sept. 20 against Camden Fairview at Charlie George Stadium in Little Rock.
The Senators held off the Cardinals 20-14 despite not scoring inside the 10-yard line four times.
Catholic QB player of week
Little Rock Catholic senior quarterback Jordan Edington is the Arkansas Democrat-Gazette's All-Arkansas Preps player of the week.
Edington accounted for 278 yards running and passing, and 3 touchdowns in a 28-26 victory over Cabot on Friday at War Memorial Stadium in Little Rock.
Through the air, Edington completed 14 of 25 passes for 198 yards and 1 touchdown. He also rushed 15 times for 80 yards and 2 touchdowns.
Edington will be honored at the Little Rock Touchdown Club's meeting Monday. Former college football coach Urban Meyer, who won three national championships in his career (2006 and 2008 at Florida, and 2014 at Ohio State), is the guest speaker.
Catholic (3-1, 1-0 7A-Central Conference) travels to Bryant on Friday.
— Jeremy Muck
But Robinson (4-0) put that performance behind them with a 60-12 rout at Fountain Lake to open 7-4A Conference play Friday in Garland County.
[HIGH SCHOOL FOOTBALL: Scores, photos, stories, rankings + more » arkansasonline.com/arpreps/]
Juniors Buddy Gaston at quarterback and Hunter Smith at running back guided the Senators against the Cobras.
Gaston completed 10 of 13 passes for 148 yards and 2 touchdowns, and Smith had 3 carries for 117 yards and 2 scores as Robinson led 20-0 after the first quarter and 53-12 at halftime.
Coach Todd Eskola said the Senators, the No. 1 team in the Arkansas Democrat-Gazette's Class 4A Super Six, were more focused last Friday.
"We felt like we played poorly against Camden Fairview," Eskola said.
Eskola said the Senators are trying to avoid what happened last season. They started 6-1, then lost at Bauxite 41-35 and felt that they didn't meet their standards down the stretch, even with a trip to the Class 4A state championship game against Arkadelphia.
"Last year, we were good in the middle of the season," Eskola said. "Our kids felt like they relaxed. That was the beginning of the downward turn.
"It's been a topic among the kids. We have to get better every week."
The Senators begin a tough two-game stretch Friday night with two-time defending Class 4A state champion Arkadelphia at home. Arkadelphia (3-1, 0-1 7-4A Conference) lost 22-21 to Nashville on Friday as senior kicker Jhonny Pioquinto hit a 30-yard field goal with 20 seconds remaining.
After Arkadelphia, Nashville comes to Charlie George Stadium.
But first things first, and the Senators are focusing on Arkadelphia, which features seniors Cannon Turner at quarterback and Kyren Harrison at running back. Turner and Harrison have been part of the Badgers' past two state title teams and have the respect of Eskola, whose Senators have faced them the three previous seasons.
"They probably got two of my favorite players in the state of Arkansas not wearing Robinson colors," Eskola said of Turner and Harrison. "I can't say enough about them. I've gotten to know them at the different award shows. They're top-notch. They're the type of kids you want in every program.
"They're the two-time state champs. We expect their best Friday night."
NORTH LITTLE ROCK
Thomas injured
North Little Rock senior running back Brandon Thomas, who missed the first three games with a hand injury, hyperextended his left knee Friday night at Little Rock Central.
Charging Wildcats Coach Jamie Mitchell said that the anterior cruciate ligament in Thomas' knee was not torn when he visited doctors Monday. Thomas had 130 yards and 1 touchdown on 9 carries before being injured with 6:27 left in the second quarter at the end of a 29-yard run in North Little Rock's 35-21 victory at Quigley-Cox Stadium in Little Rock.
Thomas returned Friday after being out three games with a hand injury suffered in a Fourth of July fireworks incident. He was a Democrat-Gazette All-Arkansas Preps second-team running back in 2018 after rushing for 1,805 yards and 14 touchdowns on 186 carries, averaging 128.9 yards per game and 9.7 yards per carry.
Mitchell said he feels for Thomas, who has orally committed to Memphis.
"That dude has been through more than any human could be," Mitchell said. "Something good's gotta happen for him."
Doctors will examine Thomas again today, and Mitchell said there's a chance he will be fitted for a brace. He is out indefinitely, Mitchell said.
North Little Rock also lost sophomore running back Fredrick O'Donald with a high ankle sprain. His status is not known for Friday's game against Conway, Mitchell said.
LR CATHOLIC
Rockets rolling
Little Rock Catholic has been one of the state's surprising teams in 2019.
The Rockets are 3-1 and won their 7A-Central Conference opener Friday night with a 28-26 victory over Cabot at War Memorial Stadium in Little Rock.
"It was a huge win for us," Catholic Coach John Fogleman said.
Senior quarterback Jordan Edington accounted for 278 yards running and passing, and 3 touchdowns against the Panthers.
Catholic beat Cabot (3-1, 0-1 7A-Central) for the first time in consecutive seasons since 2007-2008. The Rockets also defeated the Panthers 15-13 last season in a game that spanned from Friday to Saturday in the teams' conference opener because of inclement weather.
The Rockets forced three turnovers Friday, and they also stopped the Panthers' two-point try with 38 seconds remaining.
Fogleman, who is in his seventh year as head coach, said he appreciates how well his team has played and come together.
"Our guys, we got a little more experience this year," said Fogleman, who led Malvern to a 2011 Class 4A state championship game appearance. "Those guys are producing."
Edington completed 14 of 25 passes for 198 yards and 1 touchdown, and rushed 15 times for 80 yards and 2 touchdowns.
Fogleman said Edington, who also plays defensive line, is one of the big reasons why the Rockets are off to a good start.
"We don't have a lot of guys as strong as him," Edington said. "He's so coachable."
Catholic will have its toughest test of the season Friday at Bryant (4-0, 1-0 7A-Central), the Arkansas Democrat-Gazette's overall No. 1 team in the state.
The Hornets are led by junior quarterback Austin Ledbetter and senior running back Ahmad Adams. Ledbetter passed for 287 yards and 4 touchdowns in Bryant's 42-7 victory at Fort Smith Northside on Friday.
Fogleman understands the challenge the Rockets face.
"They're as good of a high school football team as I've seen the last five years," Fogleman said. "You just have to play solid football. They're good without our help."
GLEN ROSE
12 is enough
Glen Rose had 12 players available against Two Rivers on Friday night in its 4-3A Conference opener.
The Beavers were not overwhelmed, though, defeating the Gators 48-6.
Glen Rose was without 26 players because of their involvement in a fight at Fouke on Sept. 20. The Beavers won that game 41-0 after it was stopped in the third quarter.
On Friday against Two Rivers, junior quarterback Wesley Launius accounted for 375 yards offensively and six touchdowns. He completed 11 of 20 passes for 200 yards and 3 touchdowns, and rushed for 175 yards and 3 scores on 17 carries.
Junior wide receiver Noah Wright finished with 6 receptions for 151 yards and 3 touchdowns. Junior running back Jace Cheatham added 95 rushing yards and a score.
Glen Rose (2-2, 1-0) travels to Mayflower on Friday.
Sports on 10/03/2019
Print Headline: Robinson didn't rest on victory
Sponsor Content