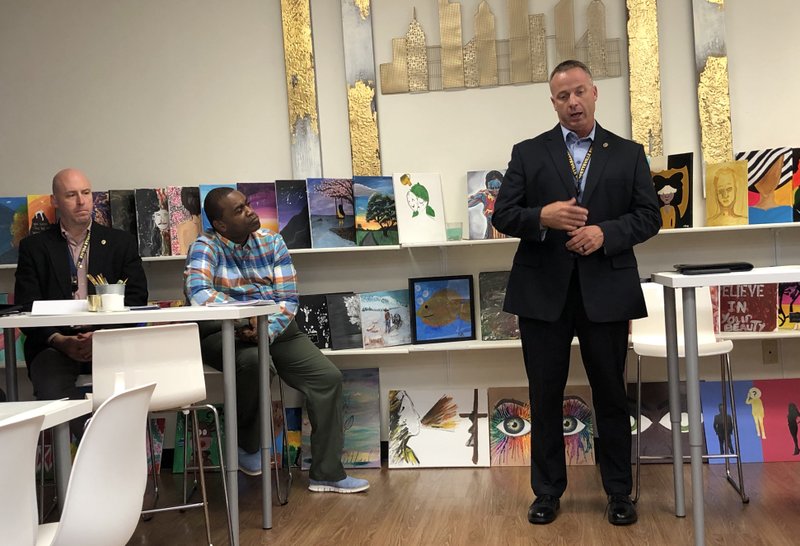 NWA Democrat-Gazette/STACY RYBURN Mike Reynolds (right), Fayetteville police chief, speaks Thursday at My-T-By-Design, 392 E. Sunbridge Drive, while Officer Brad Renfro (left) and D'Andre Jones (middle), chairman of the city's African American Advisory Council, look on. The council invited Reynolds to have a discussion about quality of life for the city's black community.
FAYETTEVILLE -- The Police Department overall has engaged with the community well, but could stand to interact with black residents better, Chief Mike Reynolds said Thursday to members of the city's African American Advisory Council.
It might be a reason why the department has only three black officers out of 129, Reynolds said. He asked the council for advice on recruitment and how to be better received in largely black neighborhoods.
Web watch
To learn more about Fayetteville's Police Department, go to:
bit.ly/faypdinfo
Mayor Lioneld Jordan formed the council to advise him on numerous issues facing the black community. Issues include health and public safety, workforce training, poverty, outreach and business advancement, Chairman D'Andre Jones said.
Members met at My-T-By-Design, 392 E. Sunbridge Drive, with Reynolds, Officer Brad Renfro and Capt. Jamie Fields. Reynolds, who became police chief Sept. 23 upon Greg Tabor's retirement, said Thursday he intends to name Fields as deputy chief.
Reynolds has served with the Police Department for 26 years. He said the agency has made great strides in the educational makeup of its officers and training, and it has a history of being ahead of the curve. The department was engaging in diversity training in the 1990s when Reynolds started under then-Chief Frank Johnson, who was a trendsetter on the topic, Reynolds said.
A 2003 state law prohibited racial profiling, requiring annual training. The department also became accredited under the Commission on Accreditation for Law Enforcement Agencies in 2011, with 155 standards the department has to follow to maintain its status.
Raven Cook asked Reynolds to ensure officers' training is sustained, not just with spotty sessions here and there. The political climate is heated, especially with an election coming up, she said.
"With what we have approaching, there are going to be some incidents, I'm sure, around in this area and this region, that you will need to be prepared for," Cook said.
Reynolds said he has asked Renfro to contact the Office of Diversity and Inclusion at the University of Arkansas for recommendations on best practices. He also said he wanted to be conscious of international communities, partnering with organizations such as Canopy NWA.
Dorothy Marcy, a local therapist, said officers being in the community for reasons other than to make an arrest will make a lasting impression. Young black people especially need to know the police aren't against them, she said.
"We tell our children, traditionally, don't look to the police for help," Marcy said.
Denise Hoy, principal of Agee Lierly Life Preparation Services school, said children who grow up with good relationships with school resource officers tend to have a more positive perception of police.
"They're able to not see them as the bad guys," she said.
Reynolds said the department has been working with the School District to hire two more resource officers, bringing the total to seven. The Youth Citizen Police Academy also began a few years ago to help recruit teens into law enforcement, he said.
Perception also plays a role, Reynolds said. The public needs to know why the police do what they do, and officers need to understand where the community is coming from, he said.
"We understand as a Police Department we can't arrest our way out of a problem," Reynolds said. "It takes all of us together."
NW News on 10/04/2019
Print Headline: Understanding focus of meeting between black council, police chief
Sponsor Content