Renée Zellweger has Judy Garland down; effortlessly imitating the Wizard of Oz star's delivery and mannerisms. She approaches the title role in Judy with conviction, raising the biopic above the level of cheap novelty. But had the film consisted simply of Zellweger bellowing show tunes, it might have been more substantial.
That drugs and demanding working conditions shortened her life is an unavoidable part of the story. To keep movies like Meet Me in St. Louis moving like clockwork, MGM officials loaded the young Judy (Darci Shaw) with uppers and downers that would ironically make her unemployable later.
Judy
82 Cast: Renée Zellweger, Jessie Buckley, Finn Wittrock, Rufus Sewell, Gemma-Leah Devereux, Michael Gambon, Bella Ramsey, Andy Nyman, Gaia Weiss
Director: Rupert Goold
Rating: PG-13, for substance abuse, thematic content, some strong language, and smoking
Running time: 1 hour, 58 minutes
Now, in 1968 Los Angeles, Garland's movies and recordings are still beloved, but she and her children Lorna (Bella Ramsey) and Joey (Lewin Lloyd) are reduced to the '60s version of couch surfing. Hotels kick her out, and her inability to maintain schedules prevents her from getting more work.
If simply finding a place to live wasn't challenging enough, she and her ex-husband Sidney Luft (an unrecognizable Rufus Sewell) are only speaking because they're haggling over child custody. She obviously loves the youngsters but can't seem to find them a decent place to live with her.
In London, however, Garland is still a bankable star, and a promoter named Bernard Delfont (Michael Gambon) is eager to book her for a series of lucrative shows to revive her flagging career. She has to leave her children with Sid, but the proceeds could help her afford a home when she gets back.
The screenplay by Tom Edge (The Crown), which is based on Peter Quilter's play End of the Rainbow, understandably reminds viewers of how Garland got hooked on drugs, but Judy might have been more worthy of its subject if it viewed her as more than a casualty of the Hollywood studio system.
Dying at age 47 certainly qualifies as a casualty of the Hollywood studio system, but Judy would have done better than to simply remind us of her misfortunes.
There are a few scenes where she interacts with her kids and some of her fans. That misfit spirit makes her work still worth catching and explains why she hasn't faded into obscurity. A few more scenes like these might have made her bad club dates and deprivations seem more tragic. After all, she probably wouldn't have been so beloved if she were constantly morose.
In an interview I conducted with actor Paul Sand last year, he recalled how when his stomach was emptying before an audition. He said, "There's the little hand sort of holding my forehead. I turned around, and it was Judy Garland ... I said, 'I'm sorry. I do this when I get nervous.' And she said, 'Don't worry. When we're on the road, you can use my bucket.'"
This Judy deserves a movie just as much as her more lachrymose counterpart. Her final marriage to disco operator Mickey Deans (Finn Wittrock) feels so obviously doomed that his forthcoming betrayals practically seem to be broadcast via satellite.
Director Rupert Goold's direction is tepid and rote. It also seems pointless to hire supporting performers like Jessie Buckley and Gambon if they aren't asked to do anything interesting.
Fortunately, Zellweger imbues the proceedings with just enough vitality to make viewers feel as if the rainbow is nearby.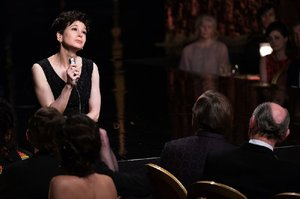 Renée Zellweger does her own singing in Judy, which focuses on a series of concerts Judy Garland performed in London near the end of her life.
MovieStyle on 10/04/2019