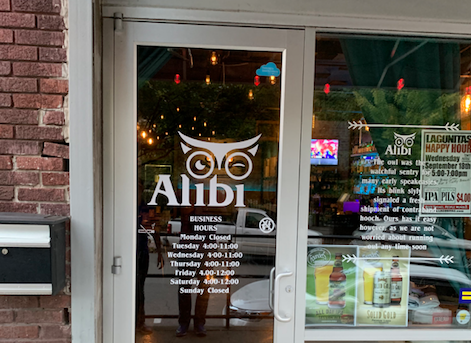 Alibi, located at 300 River Market Ave.
A downtown Little Rock bar is closing, less than a year after first opening its doors.
Alibi, located at 300 River Market Ave., posted on its Facebook page Thursday saying the bar would be open at 5:30 p.m. Friday for a "final farewell."
Jessica McEntire, owner of the bar, confirmed the closing to the Democrat-Gazette and said the bar is doing well, but its hours keep her from spending time with her young daughter.
"I now have an opportunity to turn Alibi into something new that downtown does not have yet," McEntire said in an email. "This new venture will allow us to be open during the day rather than late night and I believe that it will be a wonderful thing for everyone living and working downtown."
[RESTAURANTS & RECIPES: Delicious recipes + the latest eatery openings and closings. Sign up for free newsletter here » arkansasonline.com/emails/restaurants]
The bar is themed as an early 20th century speakeasy. Before opening as Alibi, the location housed Zin Urban Wine & Beer Bar.
Alibi's Facebook post teased the future plans without detail, and although McEntire did not elaborate on what the venue might become, she said it won't be long until she can welcome people into the "new Alibi."
"Don't forget our name just yet," the Facebook post said.
Sponsor Content