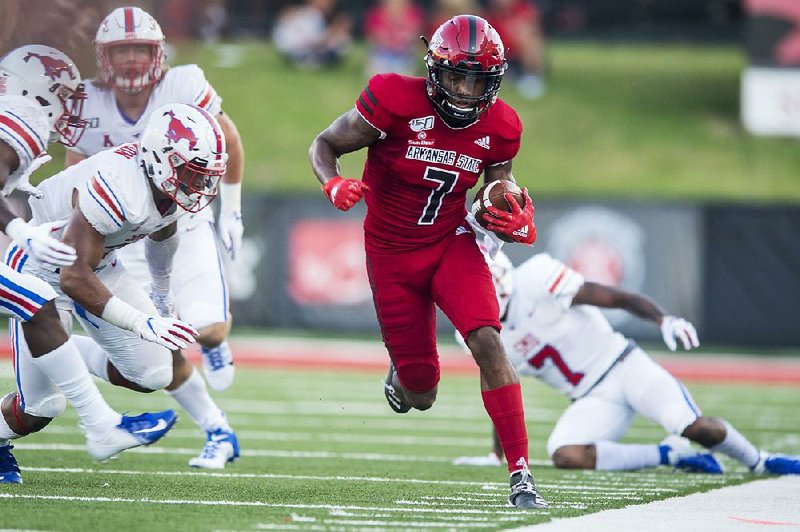 Arkansas State wide receiver Omar Bayless is the nation's leading receiver with 689 yards, 1 yard ahead of Liberty's Antonio Gandy-Golden. ( Jeff Gammons)
Arkansas State University Coach Blake Anderson has said repeatedly and defiantly that he doesn't mind his defense giving up yards — so long as the Red Wolves can sprinkle in a few timely stops here and there. On Saturday at Georgia State Stadium in Atlanta, the Red Wolves' defense stretched that philosophy and looked merciless.
Georgia State built up a 21-0 lead early in the first half, before the Red Wolves finally showed some life and clawed back. Redshirt freshman quarterback Layne Hatcher's 5-yard touchdown pass to senior wide receiver Omar Bayless with 10:30 left in the fourth quarter cut Georgia State's lead to 38-35.
But ASU's defense, much like the entire afternoon, couldn't give its offense much help.
Georgia State running back Destin Coates punched in touchdown runs from 1 and 2 yards out over the final quarter, while ASU managed a 44-yard field goal, as the Panthers claimed a 52-38 victory over the Red Wolves. It was Georgia State's first win over ASU (3-3, 1-1 Sun Belt) in program history, after dropping the previous five meetings.
Another big performance by the nation's leading receiver in Bayless — who caught eight passes for 154 yards and 3 touchdowns and became ASU's all-time receiving touchdowns leader with 19 — was overshadowed by a Red Wolves defense that simply could not get off the field.
Bend-don't-break? More like bend, bend some more, and then break.
The Panthers (3-2, 1-1 Sun Belt) gashed a depleted ASU defense, which was missing four starters, all afternoon. Georgia State posted 722 yards of offense and six rushing touchdowns — each school records — and dominated possession time, 39:19 to 20:41. Georgia State scored on six of its first eight drives and was held to one three and out all day. The Panthers' 52 points were the most they've ever scored against an FBS team.
ASU's big-play passing offense was stuck in neutral for much of the first half.
The Red Wolves punted on their first three drives, accumulating a mere five passing yards during that stretch. Georgia State raced to a 21-0 lead with 8:56 left before halftime.
But then the Red Wolves' offense finally woke up. Hatcher hit junior receiver Jonathan Adams deep for 42 yards on the first play of the ensuing drive, putting ASU at GSU's 33. Two plays later, Hatcher found senior receiver Kirk Merritt wide open over the middle for a 24-yard touchdown pass, giving ASU its first points of the day and cutting the deficit to 21-7 with 8 minutes left before halftime.
After an ensuing 43-yard field goal by the Panthers to go up 24-7, the Red Wolves responded with their second consecutive 3-play, 75-yard scoring drive. Sophomore running back Marcel Murray scampered outside and raced down the sideline for a 28-yard touchdown run, which Merritt aided with some critical downfield blocking, and the Red Wolves trailed 24-14 with 4:40 left before the break.
ASU and GSU then traded touchdowns, and the Panthers missed a 46-yard field goal in the closing seconds of the half as the Red Wolves trailed 31-21. Hatcher hooked up with Bayless for a 31-yard touchdown on a third and 11 with 47 seconds left in the half, making Bayless ASU's all-time touchdown receptions leader.
The game appeared ready to get away from the Red Wolves in the third quarter. After Georgia State quarterback Dan Ellington rushed for a 10-yard touchdown with 10:26 left in the quarter to put the Panthers up 38-21, Hatcher was picked off over the middle on the first play of the next drive.
But ASU's defense came back onto the field and finally forced a punt — Georgia State's second of the day — and the Red Wolves responded with a four-play, 80-yard touchdown drive. Bayless snagged a 4-yard back-shoulder pass from Hatcher in with one hand in the back corner of the end zone while getting mauled by a Georgia State defender, and the Red Wolves trailed 38-28 with 4:21 left in the third quarter.
Early in the fourth quarter, Bayless hauled in another touchdown catch with one hand — this one from five yards out — and ASU was within three at 38-35 with 10:30 left in the game. But that was the closest the Red Wolves got the rest of the way.
With ASU trailing 52-38 late in the fourth quarter, Hatcher threw his second pick of the day with under two minutes remaining, effectively ending the game.
Hatcher completed 21 of 32 passes for 299 yards, 4 touchdowns and 2 picks in his second career start.
Sponsor Content