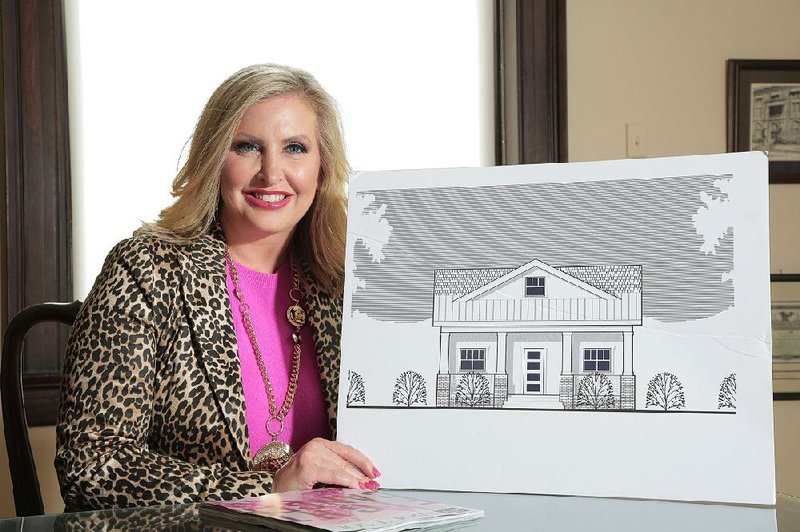 Heather Baker, publisher of AY magazine, is this year's Women's Own Worth Woman of the Year. Baker is shown with a rendering of the first of five transition homes for survivors of violence planned by WOW. The group's annual WOWapalooza event on Saturday will raise money to build the home in Saline County.
This year's WOWapalooza fundraiser for Little Rock nonprofit Women's Own Worth will honor Heather Baker, publisher of AY magazine, who became aware of the organization when its founder, Jajuan Archer, was featured in her magazine.
"She does so much for so many people and organizations not only through her job but also in her personal life," Archer says of the 42-year-old Baker.
"What was really inspiring is that she's not a victim, she's a survivor," Baker says of Archer. "She has made it her mission to help people ... she is always helping and looking for solutions. That's the same mission I have, to help anybody I can. This is a great partnership between two strong women."
Another strong woman, Brandi Passante of the A&E reality series Storage Wars, will host the sixth annual event Saturday, which raises money so the advocacy group can provide services for survivors of domestic abuse and other violence.
Half of the proceeds from this year's event, which will feature a performance by singer-songwriter Bailey Hefley and a silent auction, will help pay for the first of five transition homes the group is planning to build on 2 acres of donated land in Saline County.
"They are homes for families to live in as they transition back into the community after they have suffered any kind of violence," says Archer, a survivor of violence who is also the group's president. "It will be a place where they can prosper and thrive."
Archer started Women's Own Worth after she was twice kidnapped at gunpoint in 2011 by an ex-boyfriend. During the second abduction, at her home in Bryant, she used a pistol she kept in her purse to shoot the man and escape.
Therapy has played an important role in her survival, Archer has said, and WOW helps survivors of violence get free counseling. It's another reason Baker, who publishes the print and digital Arkansas Mental Health Guide annually, supports WOW.
"WOWapalooza goes to the transition homes, but it also helps those with mental health needs," she says of money raised during the event. "The stigma of mental health is so heavy, if we can lift it and just talk about it, that is really important."
Beyond housing and counseling, WOW helps survivors navigate the legal system and assists with getting other needs like dental work, doctor's visits, transportation, food and money for college.
Archer says that WOW has already raised $100,000 toward the first transition home.
"We're hoping to raise another $100,000 and get it up with a family in it by June," she says.
WOW is taking cues from the Black Apple Community in Bentonville, which features a cluster of small, "pocket homes." The single-family WOW houses are designed by North Little Rock firm Garver, where Archer's husband, Greg, is director of architecture.
"The first home will be around 1,800 square feet, three bedrooms, two baths," Archer says. "Most of the homes will have a smaller footprint, some will be two stories and some will be one story."
Archer says she also hopes to expand the project.
"We want to build homes in other towns in Arkansas, but we had to start somewhere."
Passante and Archer met through a mutual friend last year at a NASCAR VIP event.
"I kept looking at her because I thought I recognized her," Archer says.
The reality show star, after hearing Archer's story, asked if there was something she could do to help WOW, Archer says.
"I knew if she could emcee for us, it would take us to the next level."
All Passante asked for, Archer says, was a couch to sleep on.
"She is the greatest person. It is going to be awesome."
Little Rock native Hefley, who lives in Nashville, Tenn., will be performing her latest single, "Dust on a Diamond."
"That song is basically about a girl realizing her worth," Archer says. "She realizes that she is the diamond and the guy who has been treating her bad is the dust."
"It is going to be such a great event, especially with the entertainment that will be there this year," Baker says. "It will be powerful."
Sixth Annual WOWapalooza. 5:30-8:30 p.m., Saturday, Arkansas Governor's Mansion, 1800 Center St., Little Rock. Tickets, $150. See womensownworth.com/event-information.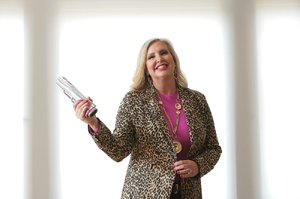 Photo by Arkansas Democrat-Gazette/JOHN SYKES JR.
Women's Own Worth will honor AY magazine publisher Heather Baker at Saturday's WOWapalooza fundraiser.
CORRECTION: The annual Mental Health Guide printed by About You magazine is available in print and digital forms. An earlier version of this story incorrectly stated the forms in which the magazine is available.
High Profile on 10/06/2019
Print Headline: AY publisher to be lauded at WOWapalooza event
Sponsor Content