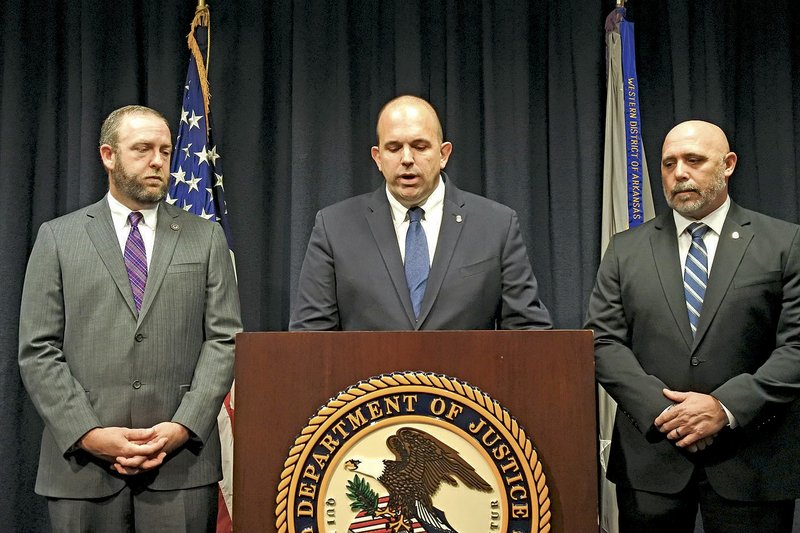 Duane "DAK" Kees (center), U.S. attorney for the Western District of Arkansas, speaks Tuesday as Clay Fowlkes (left), first assistant U.S. attorney for the Western District of Arkansas, and Justin King, assistant special agent in charge of the Drug Enforcement Administration in Arkansas, listen during a news conference Tuesday in Fort Smith. ( Thomas Saccente)
FORT SMITH -- A Texarkana physician is facing numerous charges after authorities said he overprescribed controlled substances.
Duane Kees, U.S. attorney for the Western District of Arkansas, announced that Dr. Lonnie Joseph Parker was arrested Tuesday morning in Texarkana on federal charges. A federal grand jury indicted Parker on nine counts of prescribing without a legitimate medical purpose outside the scope of a professional practice, a news release stated. The dates of these nine counts, according to the indictment, range from July 21, 2018, to March 8.
Kees said the investigation started in November 2018, when the Drug Enforcement Administration received complaints from law enforcement officials that Parker was operating a pill mill under the name Primary Care Specialists at 502 E. 24th St. in Texarkana.
The complaints also stated that Parker overprescribed to his patients, was only accepting payments in cash and was writing numerous prescriptions for hydrocodone and oxycodone to patients in Arkansas, Louisiana and Texas.
"The complaint also stated that one of Dr. Parker's patients, who had been prescribed multiple pain medications by Dr. Parker, had died of a fatal overdose," Kees said at a news conference Tuesday afternoon.
The investigation revealed "an extraordinary level" of opioid prescribing by Parker over a two-year period, Kees said.
"The level and frequency of prescribing, along with the indications that patients could be diverting the narcotics by selling them in the community, concerned numerous peers in the medical community," Kees said.
"These concerns were corroborated by witnesses and patient interviews, as well as prescription data that established the level of opioid and benzodiazepine prescribing and the operation of Primary Care Specialists as a pill mill."
The news release stated the investigation revealed Parker was an overprescriber of controlled substances, including opioids, benzodiazepines and promethazine with codeine cough syrup. Parker reportedly prescribed about 1.2 million dosage units of opioids, including oxycodone and hydrocodone, to about 1,508 patients within the two-year period that was analyzed. This translates to about 847 dosage units per patient.
Parker also reportedly prescribed about 16 gallons of promethazine with codeine cough syrup to about 29 patients during the same period, the release states. These prescriptions included several that were written in combination with narcotics and sedatives to high diversion risk patients.
Kees said he and Justin King, assistant special agent in charge of the DEA in Arkansas, wanted to acknowledge the FBI, the Texarkana Police Department, the U.S. Department of Health and Human Services' inspector general, and special assistant U.S. Attorney Anne Gardner from the Eastern District of Arkansas for their help and cooperation in the matter.
Kees said the abuse of prescription pills is one of the greatest drug problems facing Arkansans today.
"It goes without saying that it is terrible when anyone is hurt by the abuse of prescription medication, but when that abuse comes at the hands of those that have a duty to help us, those that have taken an oath to do no harm, that misconduct must be met with the full extent of the criminal justice system, and that is what I pledge here today: the full extent of the criminal justice system," Kees said.
King said the Centers for Disease Control and Prevention has reported that 130 Americans die every day of an opioid-related overdose.
Kees said Parker's arraignment will take place today. Gardner is prosecuting this case for the United States, according to the news release.
State Desk on 10/09/2019
Sponsor Content