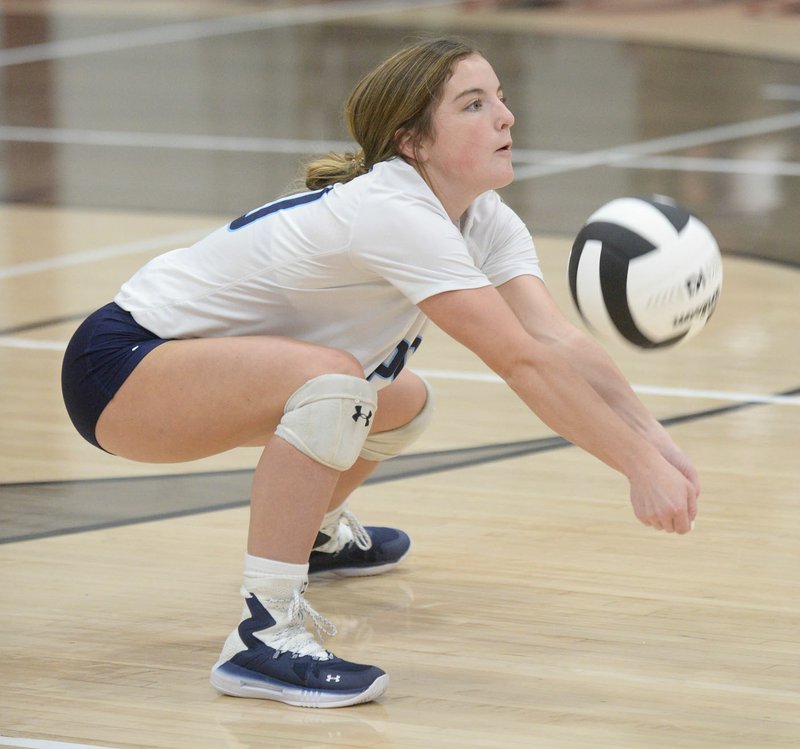 NWA Democrat-Gazette/ANDY SHUPE Har-Ber's Maddux McCrackin digs a ball Tuesday, Oct. 8, 2019, during play against Springdale at Springdale High School. Visit nwadg.com/photos to see more photographs from the match.
SPRINGDALE -- Springdale Har-Ber is on the move again following consecutive losses in 6A-West Conference play.
Har-Ber swept Springdale High 3-0 (25-11, 25-6, 25-22) Tuesday for its sixth win in its last seven games. Caylan Koons led the way with eight kills, 23 assists, and 12 digs for the Lady Wildcats, who swept Rogers Heritage last week before winning four of five games at the Fort Smith Invitational. Har-Ber (20-7, 8-2) won four consecutive in the tournament before losing to Fort Smith Southside in the semifinals.
Har-Ber's turnaround began two weeks ago after consecutive losses to Fayetteville and Bentonville, the co-leaders in the 6A-West Conference. Kyler Greenlee had 11 kills and Mackenize White nine kills for Har-Ber against Springdale on Tuesday. Maddux McCrackin added 16 digs while Taina Miller led Springdale with five kills.
"We knew playing at Fayetteville and Bentonville back-to-back was going to be very tough, but our goal was to stay positive," Springdale Har-Ber coach Cassie Loyd said. "With the tournament over the weekend, we had an opportunity to get some games under our belts and we got better."
Har-Ber will attempt to continue its momentum against Bentonville West at home on Thursday.
Har-Ber won the first two games easily on Tuesday then completed the sweep with contributions from its substitutes off the bench. Har-Ber used runs of 6-0 and 9-0 to take the opener, 25-11.
Springdale closed to within 14-10 when Har-Ber began to pull away again with a kill from Caylan Koons. Kat Cooper added a kill then Koons and Cooper combined for a block before the game ended when Springdale (6-15, 1-9) hit a return volley out of bounds.
"Caylan is amazing, especially being a sophomore," Loyd said.
Har-Ber surged to leads of 7-1 and 15-4 while winning the second match 25-6. Springdale forced a 22-22 tie in the third match before Har-Ber pulled ahead again and won 25-22. Skylar Fernandez found the open court with a return and Mackenzie White added a kill down the stretch for the Lady Wildcats.
Fort Smith Southside 3, North Little Rock 0
Avery Fitzgerald finished with 12 kills and five aces to lead the Mavericks to a 25-16, 27-25, 25-23 win over North Little Rock in 6A-Central Conference play.
Aleigha Johnson chipped in seven kills, two blocks and two aces, while Hannah Hogue added 28 assists and five aces for Fort Smith (24-5, 9-1).
Bentonville High 3, Rogers Heritage 0
Savannah Riney had a team-high 13 kills as Bentonville retained its share of the 6A-West lead with a 25-10, 25-18, 25-14 sweep of Heritage.
Ava Hoyord added eight kills, while Trinity Hamilton and Maddie Breed chipped in six apiece for the Lady Tigers (17-6, 9-1). Hamilton and Kloey Eakin shared the team lead with 12 digs, while Taylor Shapley contributed a team-high 27 assists.
Rogers High 3, Bentonville West 2
Rogers led the decisive fifth set from start to finish to take a 21-25, 25-23, 19-25, 25-21, 15-7 win over West in Wolverine Arena.
The Lady Mounties (10-18, 4-6) scored four of the last five points to take the fourth set, then set up match point with an 8-1 run for a 14-6 lead.
Gracie Carr led Rogers with 13 kills, 18 digs and 4 aces, while Abby Harris had 11 kills, 15 assists and eight aces -- four of them in the fourth set. Lilly Dennis contributed 16 assists, while Brooke Park chipped in 7 kills and 16 digs.
Kortney Puckett, who recorded her 1,000 career kill last week, led West (7-21, 3-7) with 27, followed by Mackey Wolfe with 11. Ally McCasland had 39 assists and Baylee Lester had 13 digs for the Lady Wolverines.
Fayetteville 3, Van Buren 2
Rosana Hicks had 17 kills and Perry Flannigan 15 kills to lead Fayetteville to a 25-11, 25-19, 19-25, 22-25, 15-12 victory over Van Buren.
Amelia Whatley added 13 kills while Kennedy Phelan had 54 assists and Gracyn Spresser 20 digs for the Lady Bulldogs. Grace Doolittle led Van Buren with 18 kills, while Madalyn Doolittle added 11. Brianna Ball dished out 32 assists, while Brooke Moore added 15 digs.
Sports on 10/09/2019
Print Headline: Har-Ber continues surge with sweep over Springdale High
Sponsor Content