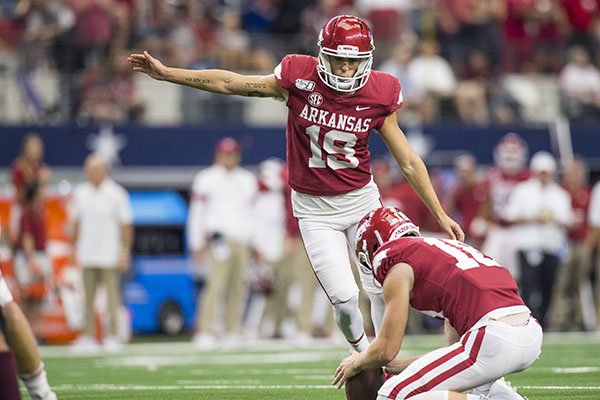 Arkansas kicker Connor Limpert attempts an extra point during a game against Texas A&M on Saturday, Sept. 28, 2019, in Arlington, Texas. ( Ben Goff)
FAYETTEVILLE -- One of the mantras espoused by University of Arkansas Coach Chad Morris the past two weeks and repeated by quarterback Nick Starkel on Tuesday has been "end every drive with a kick."
Of course that means a field goal, an extra point, a kickoff or a punt, as opposed to a turnover or a loss of downs. The Razorbacks have had their share of the latter two recently, with six interceptions and three failed fourth-down conversions in the past two games, a 31-24 loss to San Jose State and a 31-27 loss to Texas A&M.
Morris was asked Wednesday how to balance holding to that mantra while allowing Starkel to be aggressive with his decisions against Kentucky on Saturday.
"We've got to do a great job of him understanding the plan," Morris said. "He's had two weeks to understand exactly what we're asking of him. We have to protect the football. He's got to protect the football better, and he knows that.
[Video not showing up above? Click here to watch » https://www.youtube.com/watch?v=hPoiUZjIQqM]
"We want every drive to end with a kick, and there's nothing wrong with that. That's just something with managing a game. It's part of this whole thing and running this offense. Not every ball's going to be a touchdown pass. There's going to be opportunities for us. When those times hit, we have to take advantage of them."
Personnel report
Center Ty Clary was sporting a green no-contact jersey at practice again Wednesday, though Coach Chad Morris expects him to be cleared from concussion protocol and ready to start at Kentucky.
Left tackle Colton Jackson was not at practice, but wide receiver Jordan Jones was there in a white No. 10 jersey. Jones was still slightly favoring his left ankle, which was surgically repaired in August.
Morris said he's still unsure of Jackson's availability for the game, but he said Jones was "very doubtful" to go through practice.
[Video not showing up above? Click here to watch » https://www.youtube.com/watch?v=KJ9xM4GGA60]
Emotional Boyd
Running backs coach Jeff Traylor said last week that running back Rakeem Boyd has been so affected by the Arkansas losses this season that he has cried after some of the games.
Boyd confirmed that this week.
"Yeah, I'm pretty emotional after games," Boyd said. "I think there are about three games we should have won this year if we had just left it on the field.
"I'm taking [the losses] pretty hard. I'm learning something from every loss. I take every loss we had and look at what I did and see what I could have done better."
Cunningham in?
Offensive lineman Myron Cunningham could be back in the starting lineup at Kentucky after not playing the previous game against Texas A&M.
Cunningham started the first three games at right guard, then started at left tackle against San Jose State when Colton Jackson sat out in concussion protocol.
Jackson started against the Aggies, but he has been back in concussion protocol the past two weeks.
"Of course, Myron has gotten game experience this year," Coach Chad Morris said. "So I expect Myron to step in at left tackle and be just fine. I don't have a problem with that."
Morris was asked whether Jackson could play if he's able to practice today.
"It all depends on where we are and if we feel he's confident of playing," Morris said. "We'd like for our guys to go through practice as much as possible if we can and get some type of run-through and some type of contact on them. So we're just going to wait and see."
Weather watch
The weather has changed drastically at Arkansas practices over the past week. It felt like summer last week, when temperatures at practice time were in the high 80s and touched the 90s.
The Razorbacks practiced in 72-degree weather Tuesday and in 70 degrees Wednesday.
"The weather has been fantastic," Coach Chad Morris said. "It's going to be a great night for football Saturday night. You can't ask for much better than this."
The forecast for Saturday's 6:30 p.m. Central kickoff at Kentucky will make it feel like a different climate.
The Weather Channel's website projects morning showers and a high temperature of 59 degrees in Lexington, Ky., with an overnight low of 36 degrees.
"I know we'll probably have some cold-weather gear, but we really haven't talked too much about that," Morris said.
Captain Johnson
Senior tight end Hayden Johnson will be Arkansas' rotating team captain on offense for the Kentucky game.
Johnson has played extensively as a blocking tight end as well as on special teams this season.
"He's done a great job for us in all aspects, on special teams and on offense," Coach Chad Morris said. "We like to use him as our utility back. He goes in and does a great job blocking at the point of attack. Hayden's definitely an asset to us and really beneficial on special teams."
Arkansas' permanent team captains on defense are tackles McTelvin Agim and T.J. Smith, and linebacker De'Jon Harris.
Make or break?
Kentucky Coach Mark Stoops was asked at his Monday news conference whether he views Arkansas as a make-or-break game for the Wildcats to get their season back on track after they've lost three consecutive SEC games.
"No, I'll leave that to y'all," said Stoops, referring to the media. "I haven't heard that for a while
"Kind of comical to me, about how every game was a make or break for me. I'm like, 'What game isn't?' You know what I mean?"
Stoops has a 38-42 record at Kentucky and survived going 2-10, 5-7 and 5-7 from 2013-15 before leading the Wildcats to three consecutive bowl games, capped by a 10-3 mark last year.
"I think that's all I heard for six years every week in here," Stoops said of the make-or-break scenario. "So actually I had to chuckle inside because every game's important to us, and I don't mean any disrespect by that answer.
"I don't care who we're playing, what we're doing, the way we lead up to a game, the way we prepare, all that is really most important to me. The results are the results. We all want to win, but things happen in games that you can't predict. That's why everybody loves watching it."
Uni combo
The Razorbacks released their uniform combo for the Kentucky game in an interesting way on social media Wednesday evening.
Arkansas will wear red helmets, white jerseys with red trim, and red pants with white trim against the Wildcats. The Arkansas football Twitter site revealed the combo as part of a commercial for the team's laundry detergent, with an unseen person removing the jersey from a dryer before displaying the entire outfit.
Open, loss
When Arkansas hosts Auburn next week, the matchup will feature a trend that has run strong for the Razorbacks this year.
The Tigers will be the third Arkansas opponent in four games to be coming off an open date after a loss, joining San Jose State and Kentucky. Ole Miss came off a season-opening loss, but not an open date, before downing the Razorbacks 31-17 in Week 2.
Colorado State remains the only Arkansas opponent through the Hogs' first six games that won its previous game.
Sports on 10/10/2019
Print Headline: Hogs want to end up with kicks
Sponsor Content