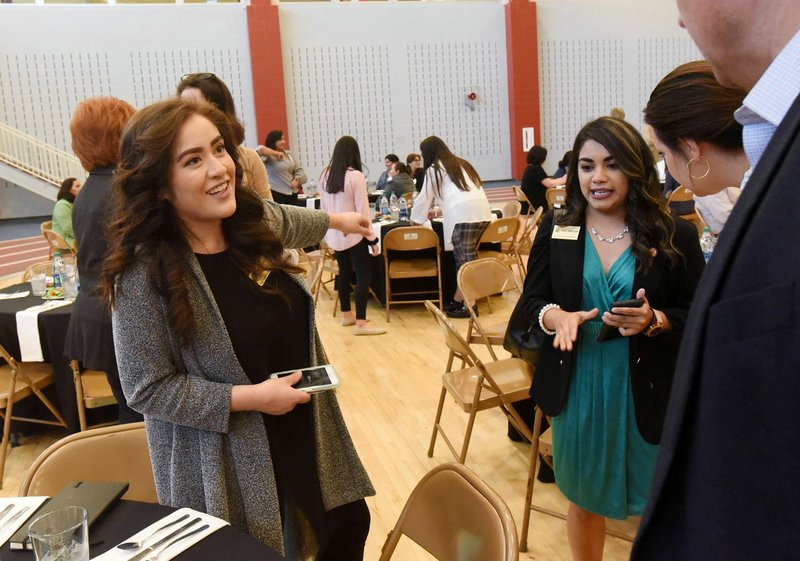 NWA Democrat-Gazette/FLIP PUTTHOFF Rebeca Soto (left) with Hispanic Women of Arkansas seats guests Friday at the group's awards luncheon at the Jones Center in Springdale. The featured speaker was Steven Dillingham, director of the U.S. Census Bureau.
SPRINGDALE -- Steven Dillingham, director of the U.S. Census Bureau, shared a message about the coming 2020 Census: "It's easy. It's safe. It's important."
Dillingham spoke Friday at the annual conference of the Hispanic Women's Organization of Arkansas at The Jones Center.
State and federal money is tied to the census, Dillingham said. The amount of money the state and cities receive is determined by the number of residents in those areas. It helps pay for medical care, education, food and more.
"It's important that every member of the community, that everyone gets counted," said Mayor Doug Sprouse. "It impacts our ability to return services to our residents."
Dillinghamsaid he spent the morning before his presentation with Chamber of Commerce leaders who took him on a tour of some of the city's areas traditionally known by the Census Bureau as "hard to count."
He said the bureau has spent many years studying ways to reach residents of those type of areas.
The bureau is counting on partnerships with local organizations and businesses. Dillingham hopes local leaders already trusted by members of under-represented populations will share the importance of the census with them.
In addition, the bureau will hire 32,000 part-time federal employees from local communities to find residents who don't register their information.
Melisa Laelan, director of the Arkansas Coalition of Marshallese said enumerators need to look like the community they're in.
"People won't open the door if they're afraid," she said.
The Census Bureau also understands language stands as a barrier for some, Dillingham said. He said help in registration by phone will come in 13 languages. Paper versions of the census questionnaire will be available in 59 languages.
His remarks concerned Laelan.
"He said help will be available in 13 languages. There aren't 13 languages in Northwest Arkansas. In Northwest Arkansas there are 50 or 60 languages."
President Donald Trump tried last year to insert a question about residents' citizenship in the 2020 Census. The U.S. Supreme Court blocked the question in June disputing Trump's rationale for it.
Critics said the question would discourage participation by people in the country without documentation and their family members not wanting to disclose their location.
Government experts predicted asking the question would cause many immigrants to refuse to participate in the census, leading to an undercount of about 6.5 million people, according to a New York Times report. That could reduce Democratic representation when congressional districts are allocated in 2021 and affect how hundreds of billions of dollars in federal money is distributed, the June 27 article said.
The case -- U.S. Department of Commerce v. New York, No. 18-966 -- has its roots in the text of the Constitution, which requires an "actual enumeration" every 10 years, with the House to be apportioned based on "the whole number of persons in each state."
Dillingham said the technology used by the Bureau will be encrypted automatically and immediately.
"It will be guarded by the best computer system around," he said.
Strong federal laws dating to the 1950s prohibit census and government officials from sharing any personal information collected, Dillingham said. Census takers will receive professional training and take a lifetime oath they will not share information.
"It has not happened, and it will not happen," he said.
Data collected can be used only to develop population statistics, Dillingham said. He noted many organizations and governmental agencies use the data daily.
"I'm glad to hear that because it so important," said Maria Solis, a volunteer with the Hispanic Women's Organization. "The count is not about where you are from. It's about money allocated to the community for needs and resources."
The technology protecting the census information also makes registration easier. Residents can participate in the count by filling out and returning the traditional paper forms, or they can register online or via smart phones, Dillingham said.
"It's our national goal to achieve higher response rate than any other census," he said. "Our goal is to count every single person in living in the United States, and count them only once, and in the right area. We think we will reach more than 99 percent of the population with our plan."
NW News on 10/12/2019
Print Headline: Census leader says personal information safe
Sponsor Content